31 July 2020
Jérôme Voutaz, with a 20 horse hitch through the Swiss countryside
Drivers are a special sort of people. When the covid-19 crisis hit at the beginning of March, a number of four-in-hand drivers came up with the idea of doing a 'long-hitch challenge': who could hitch the largest number of horses in front of the carriage while still being able to drive without any outside help. The Swiss international four-in-hand driver Jerome Voutaz blew the competition out of the water when he hitched 20 Freiberger horses and drove across 20 kilometers of the Swiss country side. The Swiss equine magazine Pferdewoche interviewed Voutaz, and Hoefnet has used that source material for this article.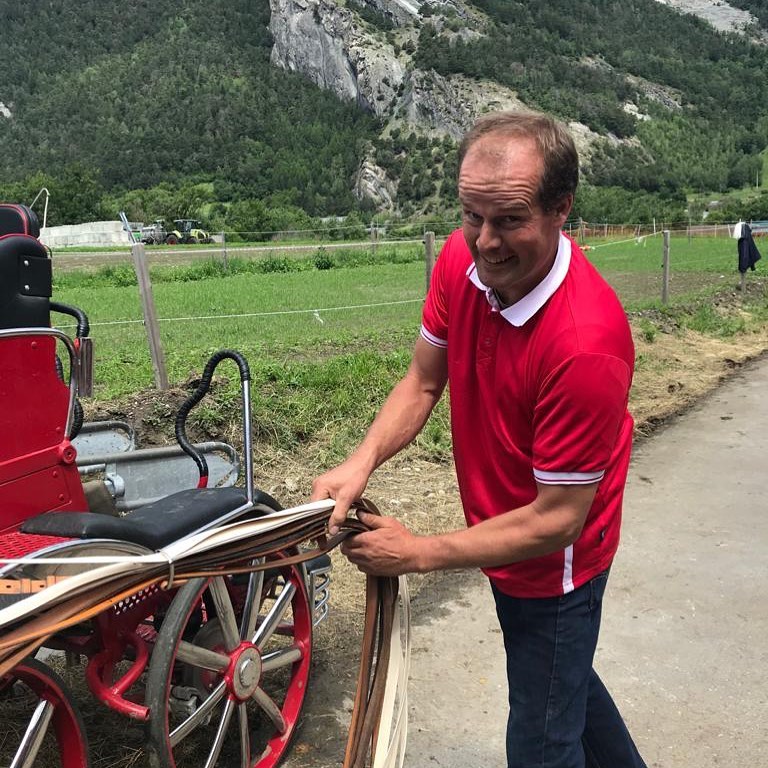 Add another horse
The challenge began with Bram Chardon in March when he posted a video on Facebook of himself driving a six-in-hand. Other drivers followed suit, each time adding another horse or two in front until Bram's father IJsbrand drove fourteen horses over the Dutch roadways. Jérôme then made the decision to take some time and figure out how he could put together a truly long-hitch and the course over which he was going to drive them.
Three weeks of preparation
In the three weeks leading up to the drive there was a lot to be organized. Before he could ask friends to loan their horses there were a few practical issues to be solved. "It began with the reins. It took a long time to figure out what would work. Normal leather reins would be both too expensive and too heavy to use. We finally came up with roller shutter belt: it was light, strong and readily available. With the help of my girlfriend we also made alterations to the pole and leader bars. As well as fabricating our own terrets for the lead horses. "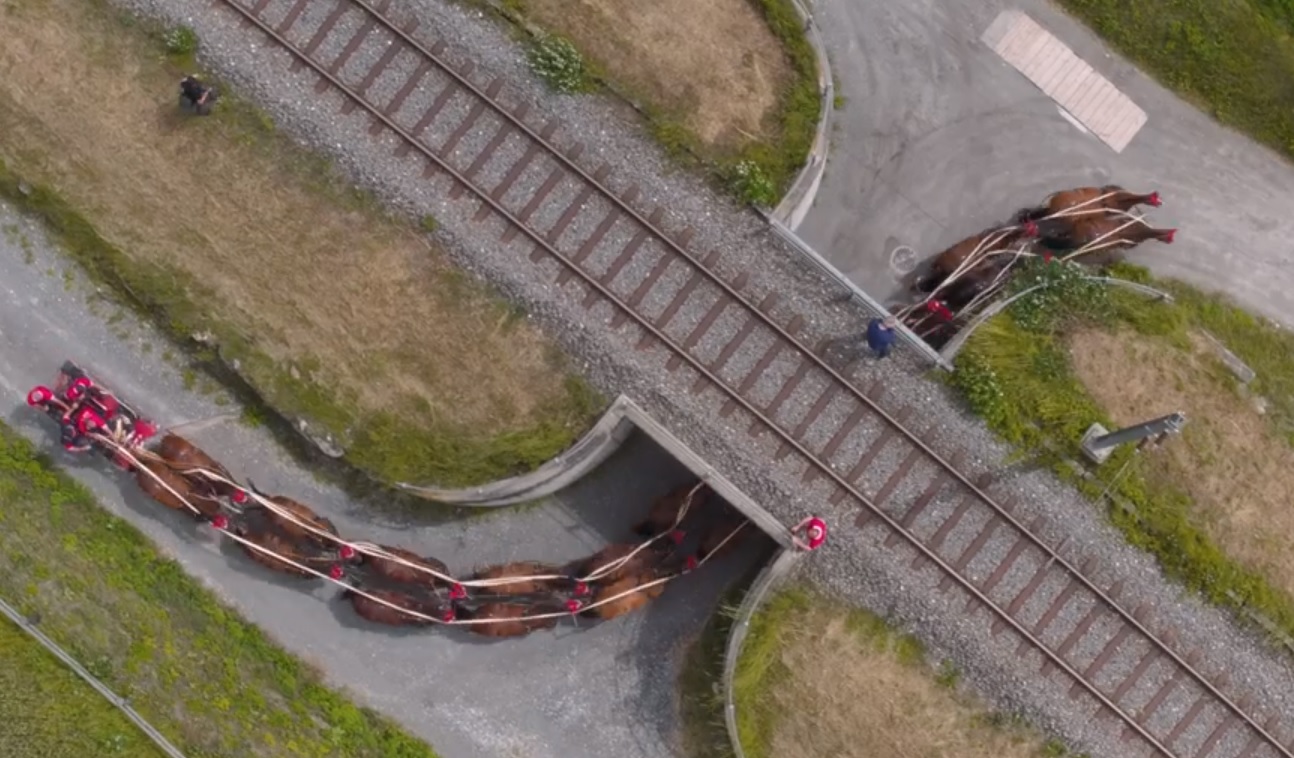 20 horsepower and 25 'man'-power
Now they 'only' needed to find motivated people to help and suitable horses to borrow. Eric Renaud, international single driver Mathieu Alimann and Didier Barras were called and didn't hesitate to join in this adventure. In addition to the three horses the drivers and grooms were also enthousiastic to help. "Marie-Danièle de Buman offered to hire a cameraman and drone to follow the horses and make photos and videos. We were of course thrilled to be able to document this moment." tells Voutaz
The twenty experienced driving horses were tested out on Saturday 13 June in five four-in-hands so that Voutaz could get the feeling for the horses. Thirteen horses came from his own stables, four horses from a friend in a village close by and the three horses from Renaud, Alimann and Barras. The next day, Sunday 14 June the challenge began.
With the help of 25 people there were grooms on the carriage, a lead vehicle, traffic control, the cameraman and two other hitches that joined in on the drive for fun.
Jérôme: "We didn't want to just drive two kilometers in a straight line, we wanted a real challenge. We ended up choosing a course of 23 kilometers in the area around our town which included bridges, tunnels, inclines and small roads through villages. At the half-way point a stop for some Walliser Apéro (a regional delicacy of dried meat) was a must for our region in Switzerland.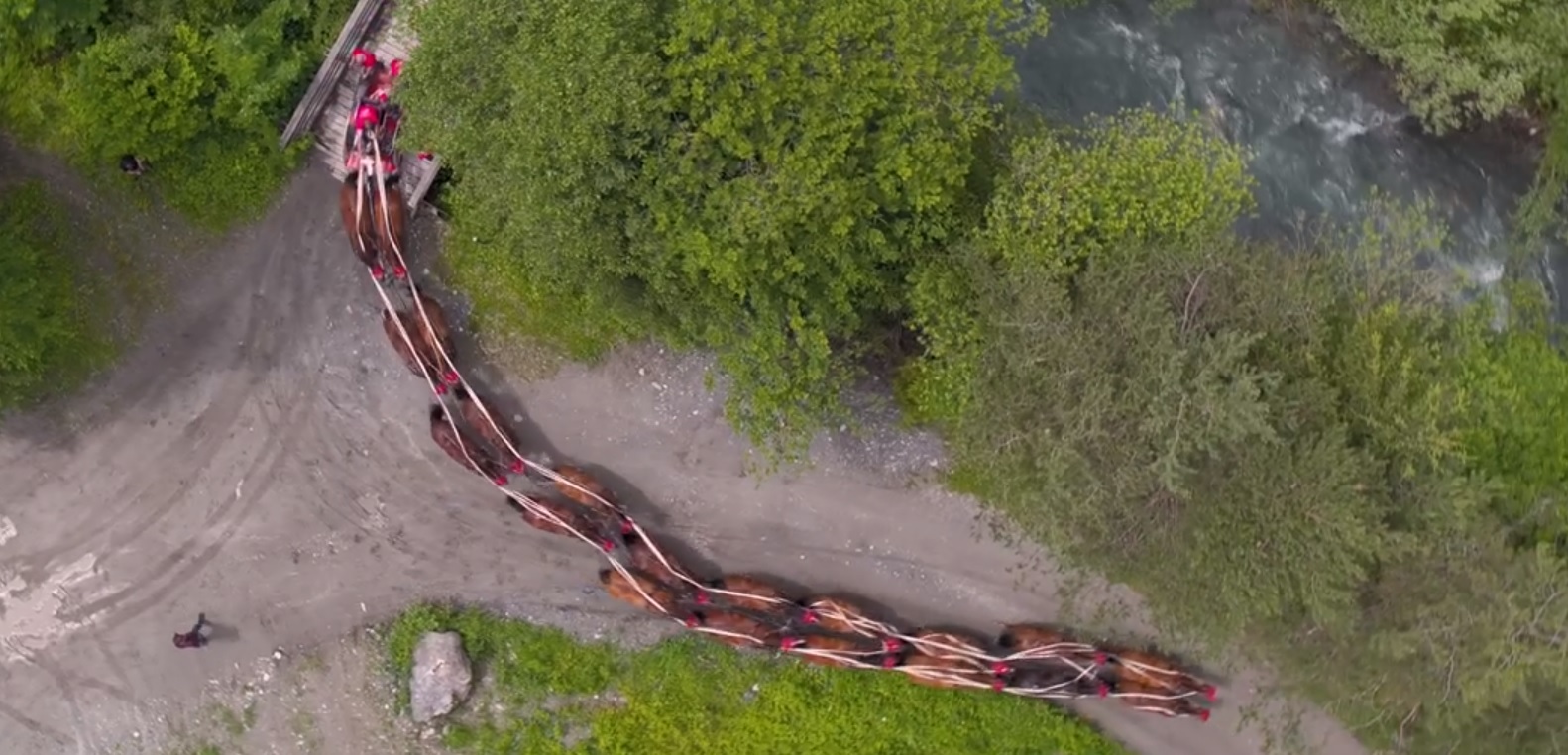 The driving world comes together during crisis
For Jérôme the challenge just had one goal: to have fun. The fun of a challenge, to bring the driving world together, and to have a great day. To share our passion for the sport of driving and for the Freiberger horses!
source: Pferdewoche