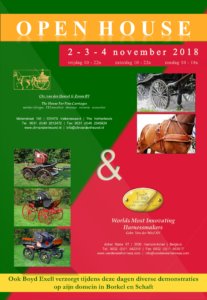 Friday from 10-22 hrs.
Saturday from 10-22 hrs.
Sunday from 10-18 hrs.
Carriage Museum Valkenswaard is open to the public during these days (free admission).
Various interesting horse-related stands at Chr. van den Heuvel & Sons + heated indoor terrace.
Boyd Exell will give several clinics at his home in Borkel en Schaft.
Over the course of the Open Days, Van der Wiel Harness will be presenting the newest innovative techniques in harness making. There are various new and second-hand (showroom model) harnesses to admire in the exclusive showroom. A number of diverse vendors will also be present and the bar is open. The Van der Wiel family welcomes you to take a peek inside their historic family business.
Chr. van den Heuvel & Zn. BV
The House for Fine Carriages!
Molenstraat 195 Valkenswaard (NL)
www.chrvandenheuvel.nl | info@chrvandenheuvel.nl
Facebook Chr. Van den Heuvel & Zn. BV
Van der Wiel Harness
Worlds Most Innovating Harnessmakers
Achel Statie 97 Hamont-Achel (BE)
www.vanderwielharness.com | info@vanderwielharness.be
Facebook Van der Wiel Harness