26 September 2019
Kisbér-Ászár: German pair ponies on top
Under beautiful sunny skies the pair ponies entered the dressage ring today at the World Championships for pony driving in Kisbér-Ászár. German drivers Christof Weihe and Jan Felix Pfeffer hold on to the top two spots with Rodinde Rutjens (NED) currently in third.

Much in the same manner as the previous day was Germany extremely strong and Christof Weihe took a very early lead with his 42, 45 penalty points, a score not to be surpassed the rest of the day. Unfortunately for Germany, Christof was not a member of the team and his points won't count towards the team medals. Luckily the second place score for Jan-Felix Pfeffer does count and with his score of 43,92 penalty points had to take second place after winning the dressage at the last two World Championships in 2015 and 2017.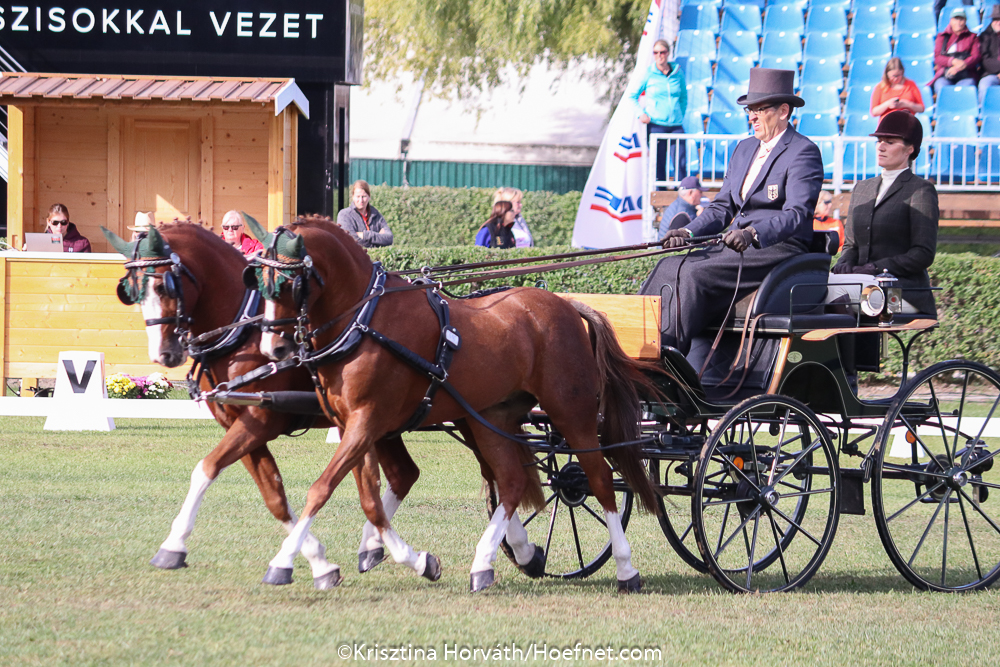 Christof Weihe
Photo:
Krisztina Horváth
Top Five
At the end of the afternoon Rodinde Rutjens drove her ponies to an impressive third place with 45,18 penalty points and will be breathing down her German colleuges necks in the marathon. Estonian driver Pille-Riin Roosileht is currently in fourth place with 46,18 and Swiss driver Lea Schmidlin is in fifth with 48,11.
A number of pair drivers made their World Championship debut in Kisbér with Canadian driver Carina Crawford finishing in 23rd and American driver Mary Phelps finishing in 29th. British team members Averina Snow and Joseph Adams finished in 20th and 29th place.
Program
Tomorrow the four-in-hand ponies will drive dressage and Saturday all competitors will drive marathon. The competition will close Sunday with cones driving.
Click here for the starting orders and results