25 September 2019
Kisbér-Ászár: Tamara Pijl takes lead in Single Pony division
Tamara Pijl drove an outstanding dressage test and with it took the lead in the provisional standings for single ponies at the World Championships for Pony Driving in Kisbér-Ászár. The German team was also extremely strong with top presentations by Katja Berlage and Fabian Gänshirt who are currently sitting in second and third place.

For quite a while it looked like the Germans would stay in the lead after Katja Berlage scored 51,09 penalty points and held onto that lead for most of the day. Her team mate Fabian Gänshirt was a close second with 52,03. It was at the very end of the day that Dutch champion Tamara Pijl and her pony Dex put down an impressive score of 46,37 penalty points giving her an almost five point lead in front of her German rivals. The Belgian driver Gilles Pirotte and French driver Claire Lefort are currently holding on to the fourth and fifth positions respectively.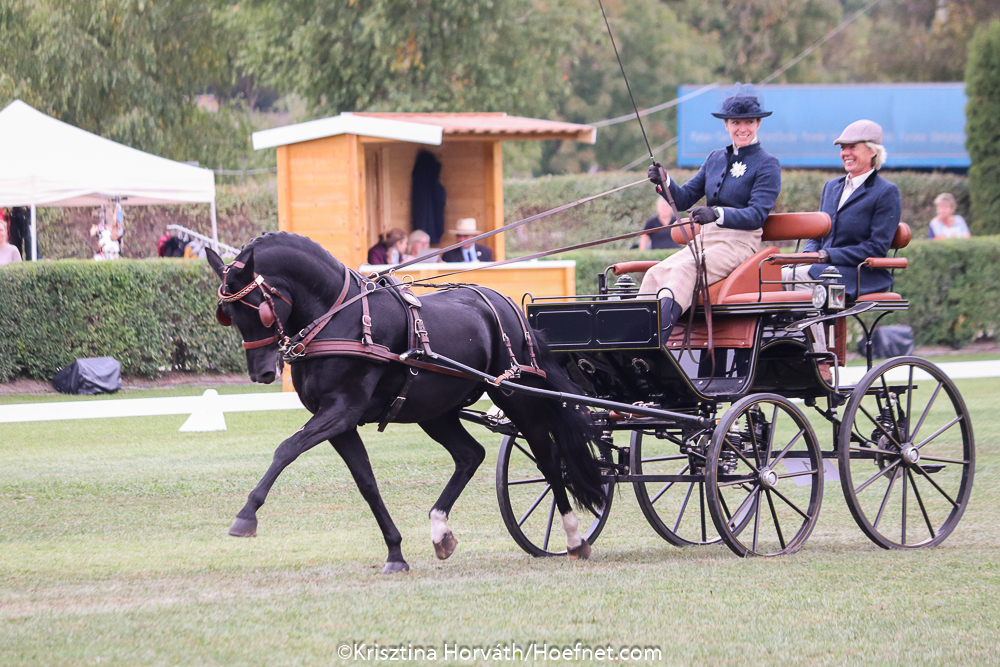 Photo:
Krisztina Horváth
Programma
On Thursday the World Championships will begin for the pair drivers and on Friday the four-in-hand ponies will make their debut in the dressage ring. On Saturday the marathon will be driven by all competitors and on Sunday the competition will close and the Champions will be crowned after the cones driving.
Click here for the starting orders and results
Click here for the photo album
Copyright reserved. Acquisition without acknowledgment and permission from info@hoefnet.nl is not allowed.