14 September 2020
CAI Lähden 2020: A nail-biting finish
No less than four German Championships were on the agenda at the 13th Lähdener Pferdetage this past weekend. Both the pair and four-in-hand horses and ponies competed for national titles. An international competition was also offered to the single, pair and four-in-hand horses.
Signal
The four-in-hand horse division was exciting right up to the last minute of competition. In the well represented international field, Boyd Exell stood out above the rest with an excellent dressage test. With a score of 30,08 penalty points he sent a very clear signal to his opponents of his intentions heading towards the World Championships in Valkenswaard. Dressage specialist Mareike Harm drove her team to second place and host Christhoph Sandmann finished third.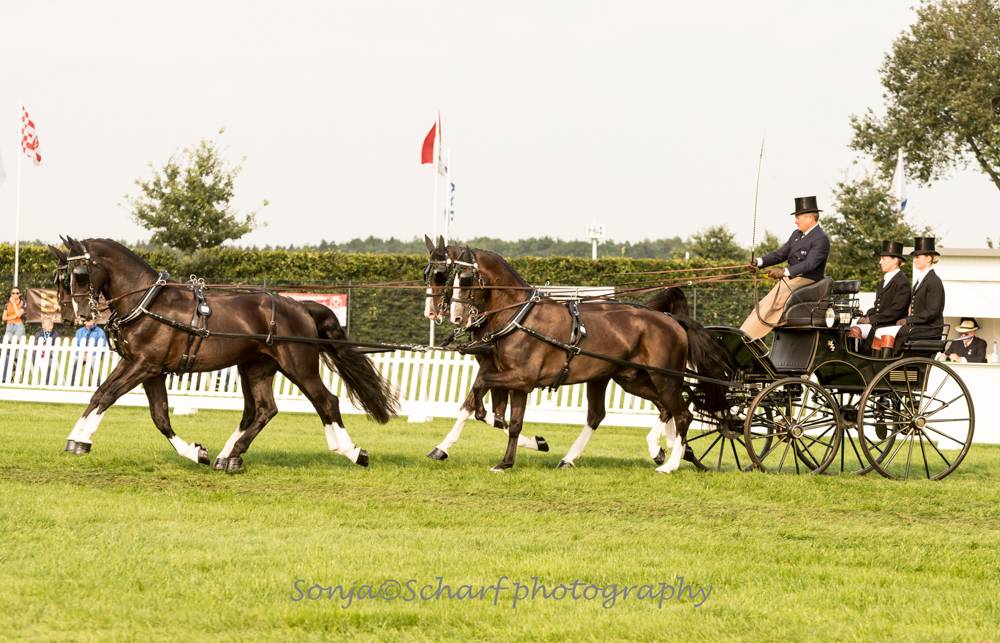 Boyd Exell
Photo:
Sonja Scharf
Brauchle's day
The marathon was won by Michael Brauchle. The 2015 European Champion drove a fast and clear round that was a pleasure to watch. Without even grazing a post he drove his team with ease through the obstacles and claimed victory in the marathon. Koos de Ronde was not far behind and placed second, just in front of Christoph Sandmann. For Boyd Exell the marathon did not go exactly as planned. In the first obstacle he had to accept the expensive penalty points of a groom down when one of his leaders had a leg over the trace. But the Australian driver fought back in the last six obstacles built by Jeroen Houterman, and kept the damage to a minimum only falling two places in the rankings behind Christoph Sandmann and Koos de Ronde.
Hold your breath
Only 0,18 penalty points separated Sandmann and De Ronde and Exell was also just 2,99 penalty points behind the leader as the cones began. Exell drove a double clear round and put the pressure on his opponents. Koos de Ronde knocked one ball and fell to fourth place. Christoph Sandmann drove in the arena and could not afford to even take down one ball. The spectators held their breath but unfortunately one ball fell, which put Sandmann just 0,01 penalty points in second place behind Exell. Sandmann did however win the German Championship with Georg von Stein taking silver and Mareike Harm bronze.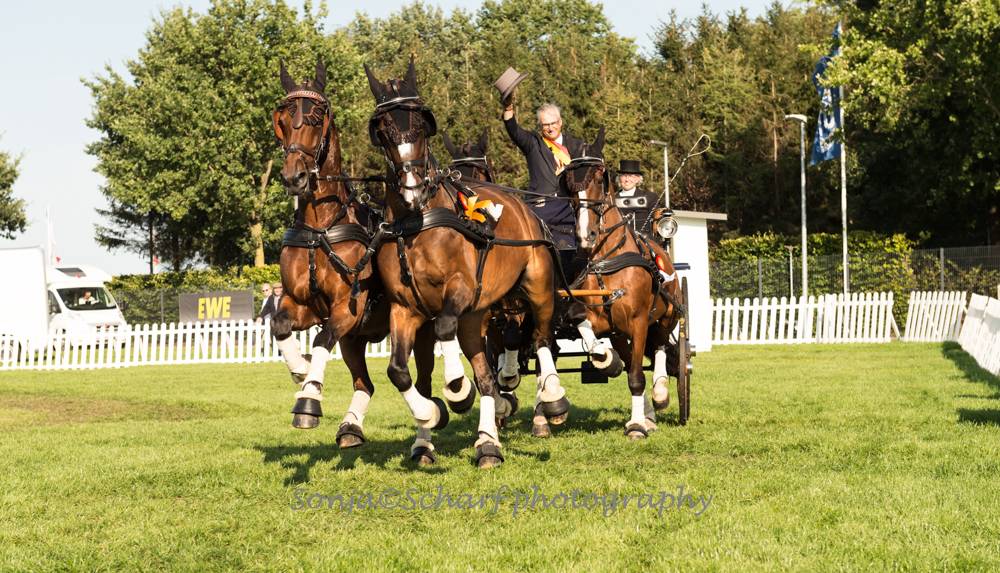 Christoph Sandmann
Photo:
Sonja Scharf
German team announced
After the competition in Lähden closed it was announced that Christoph Sandmann, Georg von Stein, Mareike Harm, Michael Brauchle, Anna Sandmann and Rene Poensgen will represent Germany at the World Championships in Valkenswaard 7-11 October. Dirk Gerkens and Markus Stottmeister will be the reserve drivers.
Sandro Koalick renews title
For the second year in a row Sandro Koalick has laid claim to the German Championship for pair horses. Finishing second was Dutch driver Raymond Letteboer who drove an excellent show. The silver in the German Championship went to Lars Schwitte and Anna Sandmann earned bronze.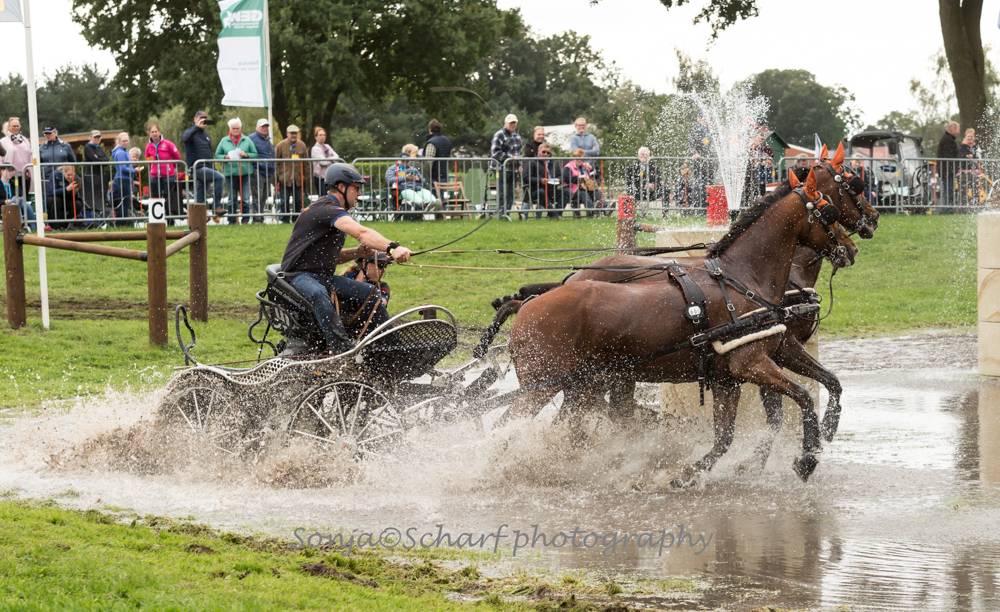 Raymond Letteboer
Photo:
Sonja Scharf
Golden boy Steffen Brauchle
Reigning World Champion and favourite to win Steffen Brauchle confirmed his reputation and renewed his title. He did have to fight for his medal after losing a groom in obstacle 5 and losing concentration. Luckily his lead after dressage was significant enough that with a double clear round in cones he was able to prolong his title. 2017 World Champion Michael Bügener won the marathon and the silver medal and bronze went to Niels Kneifel.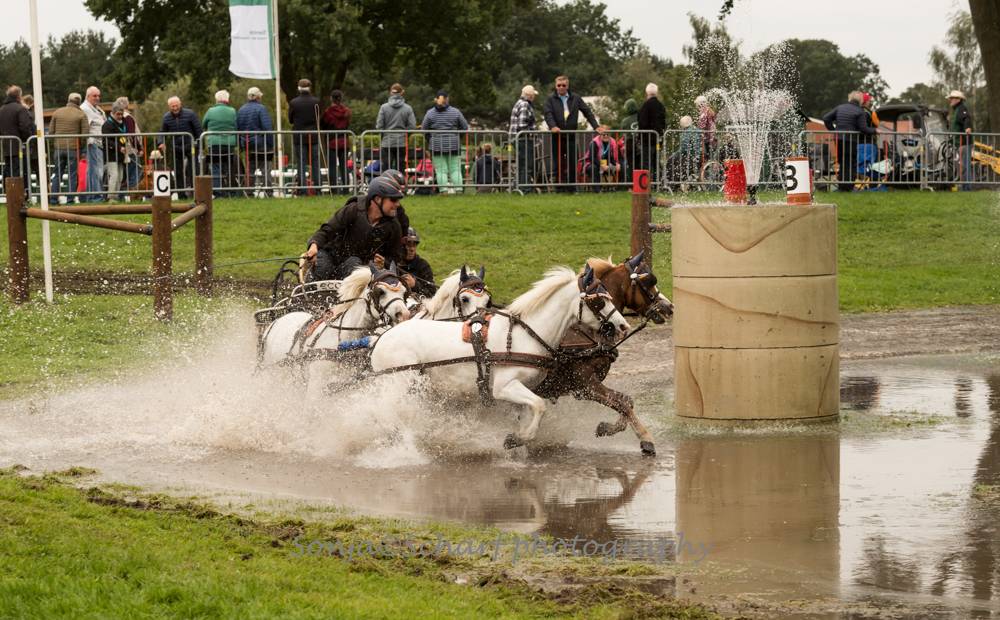 Jan de Boer
Photo:
Sonja Scharf
First national title for Nikola Louise Reinke
The pair pony championship went for the first time to Nikola Louise Reinke, who with her chique palomino ponies made an early impression in dressage finishing second just behind Rene Jeurink. In the marathon the young driver drove confidently and stylishly to second place, taking over the lead. In the cones she didn't leave anything to change and left all of the balls standing though accumulating penalty points for time. Carl Holzum finished second and the young Nea-Renee Bonneß third.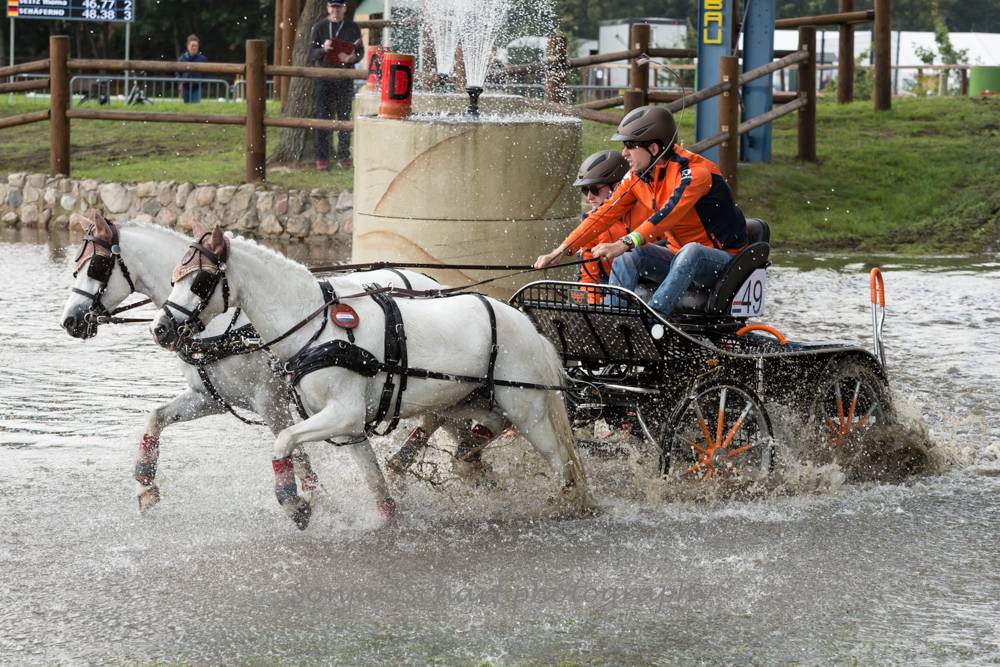 Cas Hendriks
Photo:
Sonja Scharf
Marie Schiltz top single driver
The single horse division was won by Luxemburg driver Marie Schiltz, beating both Christoph Dieker and her father, Franz Schiltz. This division was added extremely late to the program, and as the German single horse championship was held just one week earlier in Schildau there were only seven competitors. But the single drivers were extremely happy that they were able to compete in such an excellent and organized competition such as Lähden and hope to be once again part of the program next year.
Click here for more results and photos.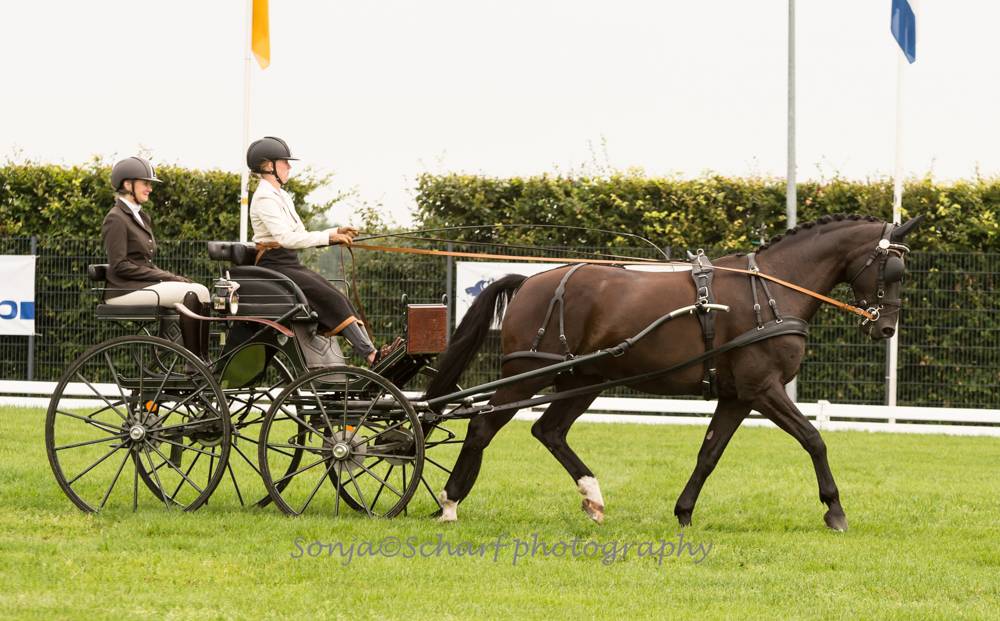 Marie Schiltz
Photo:
Sonja Scharf
Copyright reserved. Acquisition without acknowledgment and permission from [email protected] is not allowed.