9 June 2018
Lähden 2018: National anthems for Dobrovitz, Schwitte, Hammink and Poentis
Every two years, international four-in-hand driver Christoph Sandmann and his team organise a fantastic competition at his home grounds in Lähden. Thanks to the support of his family, including daughter Anna who competed as well, the many volunteers and the sponsors, Lähden is probably one of the most appreciated international driving events in Germany for the horse teams, horse pairs, pony teams and pony pairs. For the first time this year, Lähden also hosted a qualifying competition for the national horse singles. With hot summer temperatures during the week and a nice cool breeze on the final day, Lähden was blessed with wonderful weather circumstances, which contributed to the success of the event.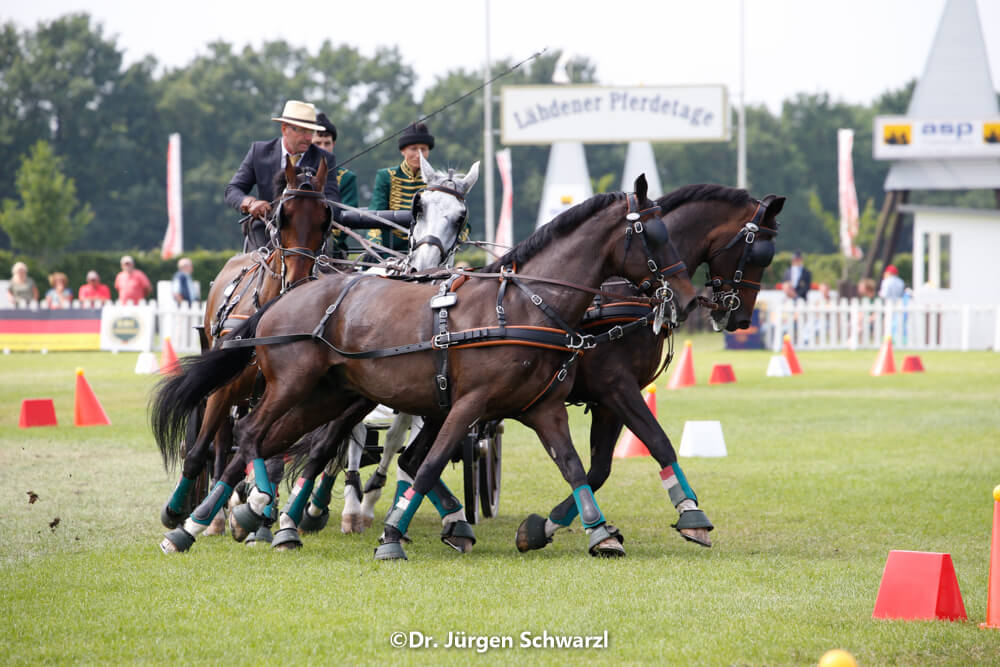 József Dobrovitz
Photo:
Dr. Jürgen Schwarzl
Hungarian win in Horse Teams Class
The competition was won by József Dobrovitz, who climbed to the second place in the standings after dressage and marathon. Dutch driver Mark Weusthof was in the lead after winning the heavy marathon, designed by Dutch level 4 Course Designer Jeroen Houterman. Weusthof however was not able to hold on to the lead in the cones and dropped to the fifth place. Michael Brauchle finished in second position, ahead of dressage winner Theo Timmerman. Anna Sandmann drove an impressive competition with her father's best horses. The 22-year-old finished fifth in dressage, drove an amazing marathon in which she finished fourth and came sixth in the final standings. Christoph Sandmann finished in 10th place.
Germans dominate Horse Pairs Class
The top three in the Horse Pairs Class was coloured German all the way. After Windsor and Valkenswaard, dressage winner Lars Schwitte won again in Lähden with his nice pair of Dutch warmblood horses. The marathon became a victory for Dennis Schneiders, who well-deserved claimed the second place in the final standings. Marco Freund has returned to the driving circuit after a year's break and drove his pair to top placings all week-end. Freund jr. won the cones and came third in total. Best Dutch driver Antonie ter Harmsel was in the lead before the cones, but dropped to the fourth place after too many knockdowns.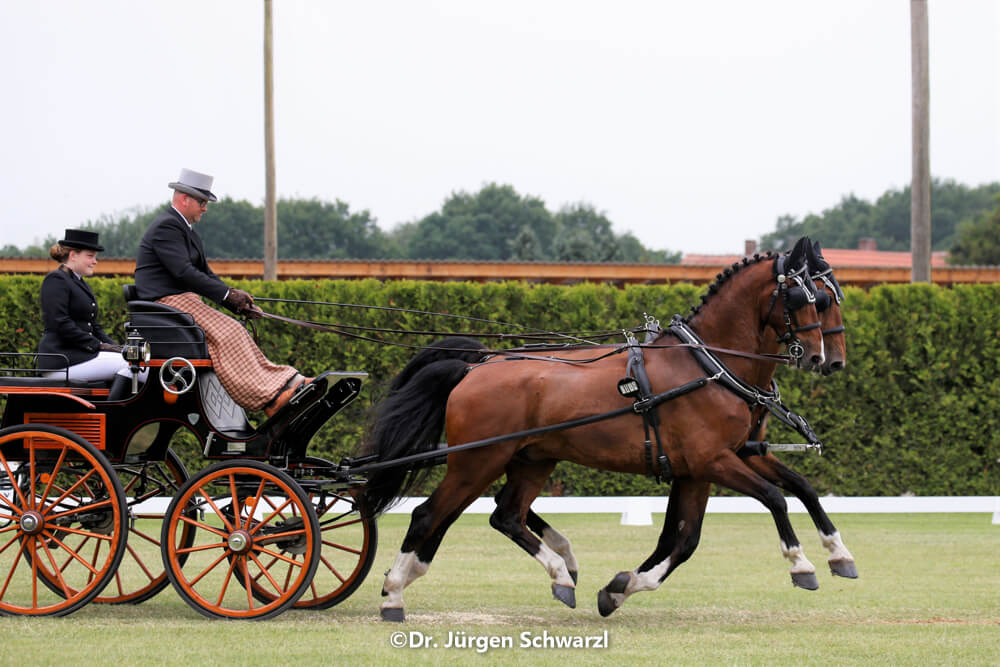 Lars Schwitte
Photo:
Dr. Jürgen Schwarzl
Hammink wins Pony Teams Class
Dutch pony four-in-hand driver Marijke Hammink drove her nice team of Welsh ponies to the fourth place in dressage, won the marathon and the cones and herewith left World Champion Michael Bügener and Roger Campbell, the only British competitor in Lähden. Dressage winner Steffen Brauchle withdrew in the marathon after one of his ponies turned out to be not fit.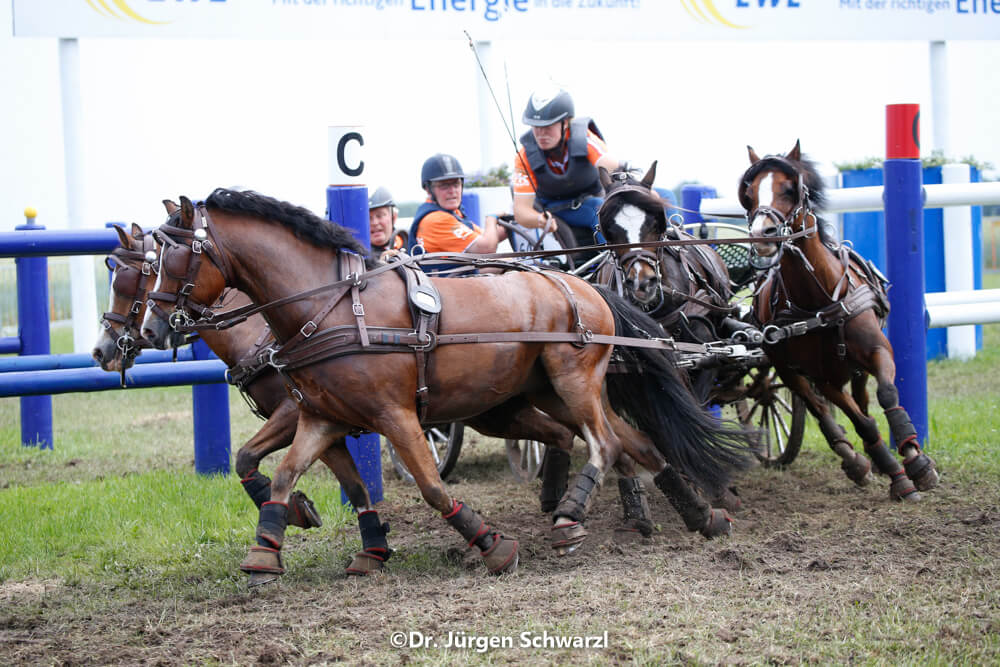 Marijke Hammink
Photo:
Dr. Jürgen Schwarzl
French victory in Pony Pairs Class
French driver Karine Poentis has been training with multiple World Champion for over a year now and the results were clearly visible in Lähden. Karine won the dressage and the marathon and did not give away her lead in the cones: "My ponies are stabled at Freund's place by Frankfurt," tells Karine. "I fly in regularly and we train a lot. There is still some work to be done with my ponies, but they have already improved so much, I am very happy." Minden-organiser Christof Weihe came second, ahead of Dieter Baackmann.
Click here for all information, results and photos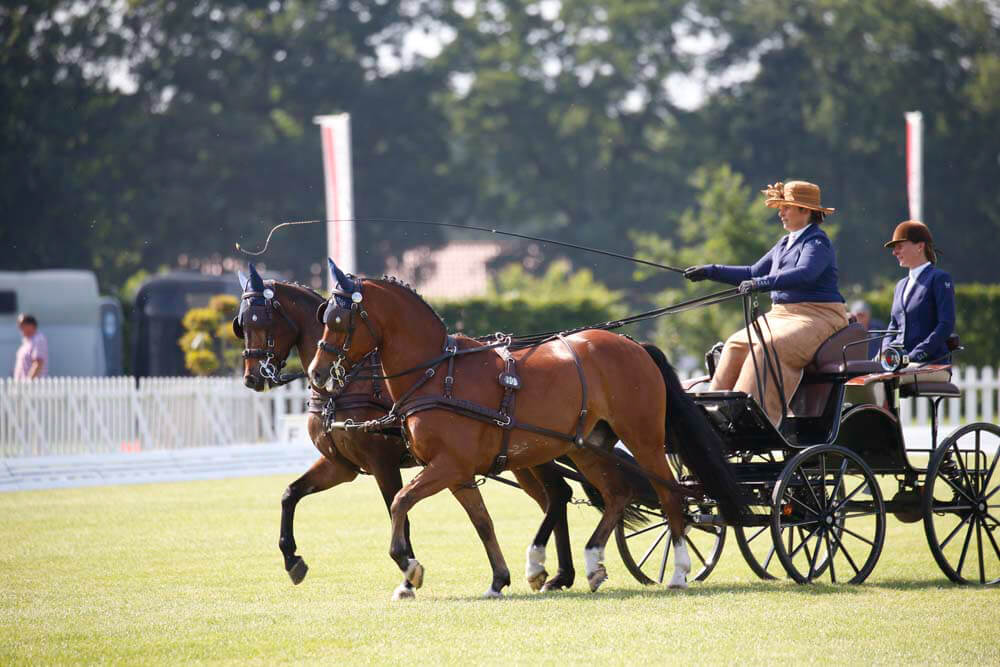 Karine Poentis
Photo:
Dr. Jürgen Schwarzl