6 July 2014
Lähden: Exciting Finale in the Cones
The challenging cones course ensured an exciting Finale in the four-in-hand class in Lähden today. The top three remained unchanged after exciting rounds, in which host Christoph Sandmann triumphed, ahead of Jozsef Dobrovitz and Mark Weusthof.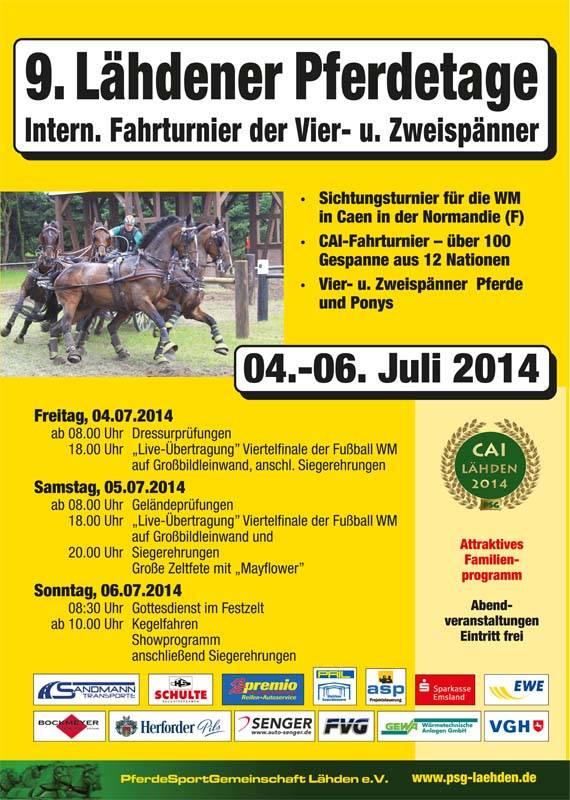 Mark Weusthof put down a good performance and only had one knockdown and a few time penalties, with which he secured his third place. Second-placed Dobrovitz left the arena with 14 penalty points, but managed to keep his second place. Top favourite Christoph Sandmann entered the arena with an advantage of over 15 penalty points and was close to victory. But after one knockdown, bad luck struck the organiser when one of his grooms had to get off the carriage to repair a loose trace. After the second knockdown, it looked as if the victory would go to Dobrovitz, but his high speed saved him and Sandmann was honoured as the winner of the competition. Sweden's Tomas Eriksson climbed to the 4th place, just ahead of Herman ter Harmsel, who only had a few time penalties.
Overnight leader in the horse pairs class Arndt Lörcher kept his lead and won, ahead of Michael Freund, who only had one knockdown and climbed up from the 6th place. Poland's Sroka Przemyslaw finished third, ahead, of German drivers Carola Slater-Diener, Stefan Schottmüller and Sebastian Warneck.