19 January 2018
Leipzig 2018: Voutaz and Geerts put pressure on Exell
Boyd Exell has won this evening's first competition of the FEI World Cup™ Driving in Leipzig, cheered by the many enthusiastic spectators on the well-filled stands. Boyd, however, felt the pressure of Jérôme Voutaz and Glenn Geerts, who finished in second and third place.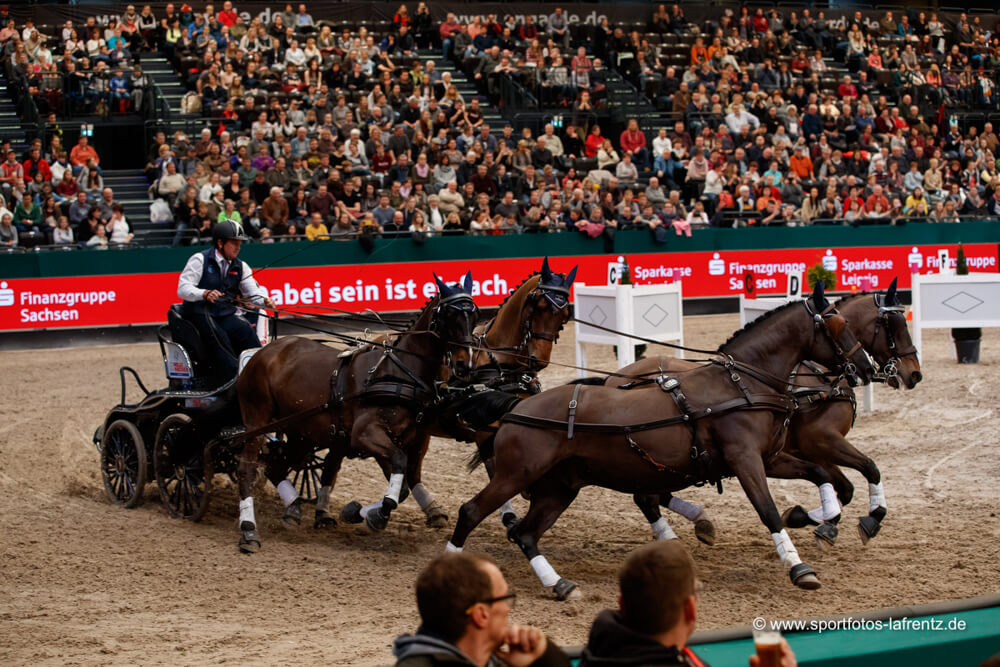 Boyd Exell
Photo:
Stefan Lafrentz
German Level 4 Course Designer Dr. Wolfgang Asendorf had laid out a nice, but technical course with fast elements for the seven drivers, who treated the crowd to a fantastic competition.
First wild card competitor Georg von Stein drove a clear course, but his team was not fast enough to secure a high placing. Second wild card driver Chester Weber drove his nice team of Lipizzaner horses smoothly through the course, but had a small communication error with his leader horses in one of the marathon obstacles. Ijsbrand Chardon used one of the leader horses from his son Bram and set a good time, but one knock down prevented him from a top-three placing.
Jérôme Voutaz got the crowd even more enthusiastic when he drove his lovely team of Freiberger horses skilful, fast and clean through the course. There is much at stake for Glenn Geerts in Leipzig. The Belgian driver will have to finish in the top on Sunday in order to make it to the Final in Bordeaux. Glenn already gave it all this evening and although he drove the fastest time of the day, he had two knockdowns and had to let Voutaz pass him in the final ranking.
All eyes were set on second last starter Boyd Exell, who drove clear and took the lead with the second fastest time despite a short hesitation in the second marathon obstacle.
Koos de Ronde only arrived in Leipzig shortly before the horse inspection this afternoon due to the bad traffic in Germany, but was lucky enough to draw the last starting position. With two new horses on the left side of his team however, Koos made too many mistakes and will be the first man in on Sunday in the World Cup competition.