22 January 2017
Boyd Exell dominates Leipzig's "pop concert"
It was the most exciting battle you could think of at the FEI World Cup™ Driving leg in Leipzig. In the end, Australia's Boyd Exell won with two tenths of a second advantage in front of Swiss driver Jérôme Voutaz. Third place was for Dutchman IJsbrand Chardon. All three of them showed clear rounds in the drive off.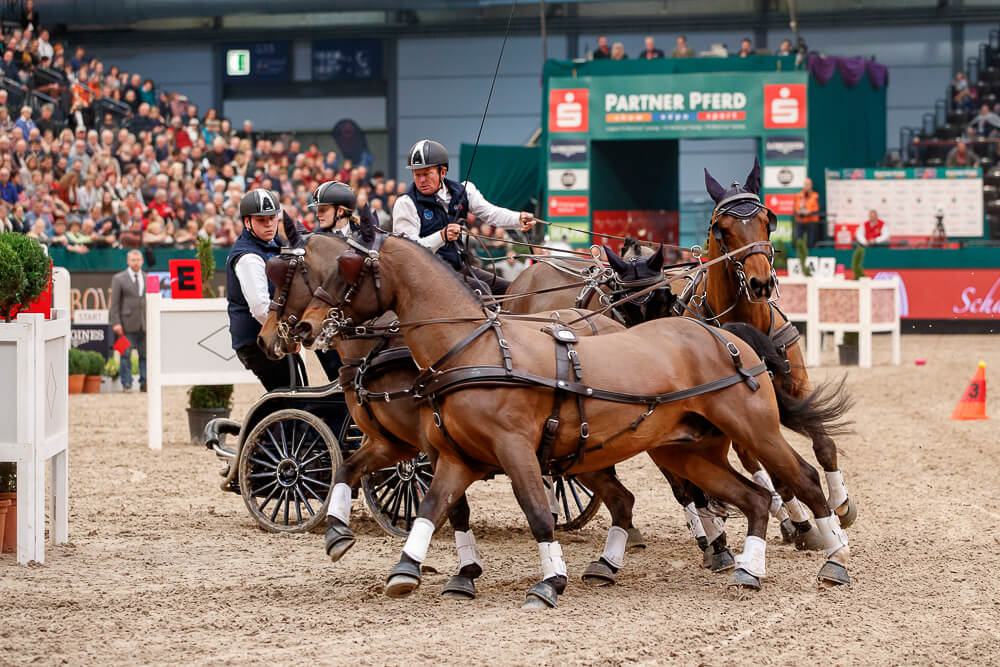 Boyd Exell
Photo:
Stefan Lafrentz
After seven out of eight legs, Exell and Chardon are now together on the top of the World Cup Ranking list with 27 points. Koos de Ronde follows with 25 points. Because Exell had a wild card for Leipzig, second placed Voutaz, earned a full ten points and is now in fifth place with 20 points. "Leipzig is definitely one of my favourite shows", explained Exell and added laughing. "Even if the result was closer than I wanted it to be." Exell ended up third in the first round after having the fastest time but one ball down in an obstacle. So he was the first to go in the drive off. "On that position I only had one chance: to drive clear and put some pressure on the other drivers." It was the third win for Exell in Leipzig after the World Cup final in 2011 and 2016.
Jérôme Voutaz was undeniably happy about being second behind the three times World Cup winner from Australia. "I have been second in Leipzig behind Boyd last year and I am very happy to be so close to him this year. That alone is not easy. And next year I will try again to beat him", said Voutaz with a smile.
Conversely, Ijsbrand Chardon started with bad luck in the driving competitions of Leipzig. During the first day, he had big problems with his reins and finished up last. He then had to go first in the FEI World Cup™ Driving competition on Sunday, where he did a very fast round with one ball down, but ended up second in the first round.
"I had to wait for about 25 minutes until the first round was over and it was my turn in the drive off. During that time I could only walk my horses and it was not easy to 'wake them up' again. I didn't have such a good feeling in the drive off as in the first round, but nevertheless I am happy."
Course designer Dr. Wolfgang Asendorf (GER) was especially pleased with the seventh leg of the FEI World Cup™ Driving: "I liked the combination of technic and tempo in the course and what the drivers made out of it.  I was absolutely thrilled by the atmosphere during the drive off. It was like being at a pop concert."
Results FEI World Cup™ Driving, Leipzig (GER), 22 January 2017:
Boyd Exell (AUS) 109,20
Jérôme Voutaz (SUI) 109,41
IJsbrand Chardon (NED) 112,73
Koos de Ronde (NED) 128,98
Georg von Stein (GER) 131,25
Edouard Simonet (BEL) 132,13
Rainer Duen (GER) 133,11
Theo Timmerman (NED) 133,78
Click here for the full results.
FEI World Cup™ Driving, standings after 7 of 8 events:
1    Boyd EXELL    AUS    27
IJsbrand CHARDON    NED    27
3    Koos DE RONDE    NED    25
4    Jozsef DOBROVITZ    HUN    21
5   Jérôme VOUTAZ    SUI    20
6    Georg VON STEIN    GER    15
7    Jozsef DOBROVITZ jr.    HUN    13
8    Theo TIMMERMAN    NED    12
9    Edouard SIMONET    BEL    11
10    Rainer DUEN    GER    7