13 July 2019
Lipica 2019: Nice and cool marathon day
After a sunny start this morning, the weather changed drastically in Lipica, where the marathon was on the programme today. After some rain showers, the temperatures dropped and the marathon could be driven in nice and cool circumstances. All horses and ponies were fit when the crossed the finish line.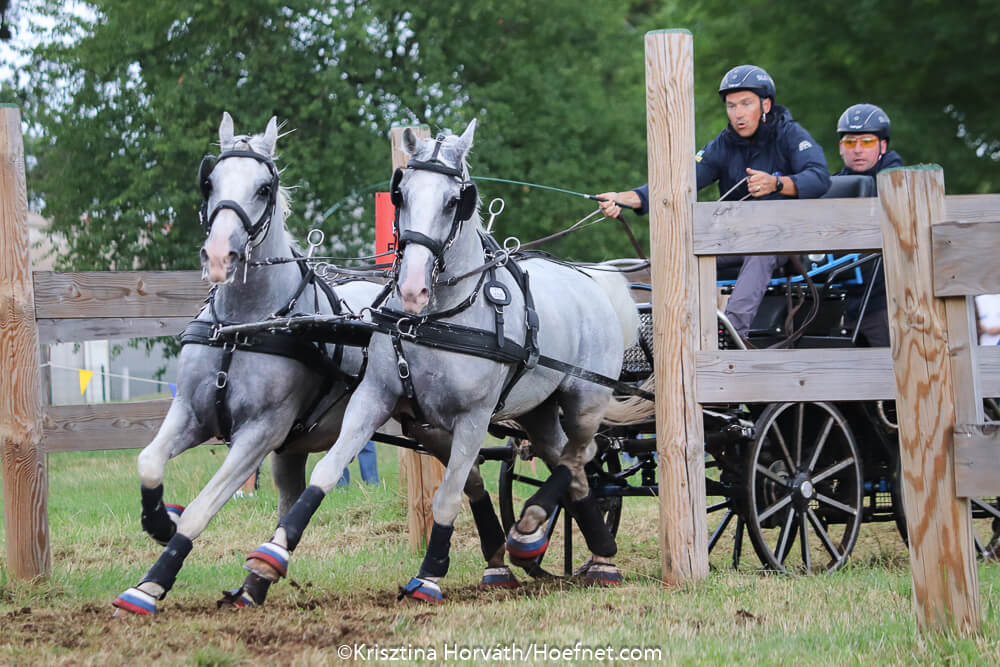 Miha Tavcar
Photo:
Krisztina Horváth
World Champion marathon Miha Tavcar stressed his qualities as top marathon driver and set the fastest times in all seven obstacles, designed by German level 3 Course Designer Alexander Flocke. Italy's Giorgio Proietti finished at some distance on the second place in the 3* Horse Pair Class, followed by Jozsef Dibak, who has now taken over the lead. Miha Tavcar had an expensive mistake when he stopped his turnout after the last obstacle, which cost him 10 penalty points. If this had not happened, he would have been in the lead after two days. This also happened to several other drivers in the competition.
Home driver Klemen Turk had to withdraw after he started in the B-section when one of his pole straps was broken and could not be repaired.
Flavio Lunardon won the marathon in the 3* horse singles class, in which dressage winner Cristiano Cividini finished third. Cividini has kept his lead in the standings.
Overnight leader in the pony four-in-hand class Vilmos Jámbor drove a steady but not so fast marathon in order to secure his qualification for the World Pony Driving Championships in September, to which he is the host. David Palkovics won this part of the competition and is in the lead of the standings.
The Cones competition starts on Sunday morning at 10 am.
Click here for the starting orders and results.