14 July 2019
Lipica 2019: Victory for József Dibak
After his victory in Pleternica three weeks ago, Italy's József Dibak was again victorious at the international driving event at the Lipica Stud Farm in Slovenia, which was host to the 2017 World Pair Driving Championships.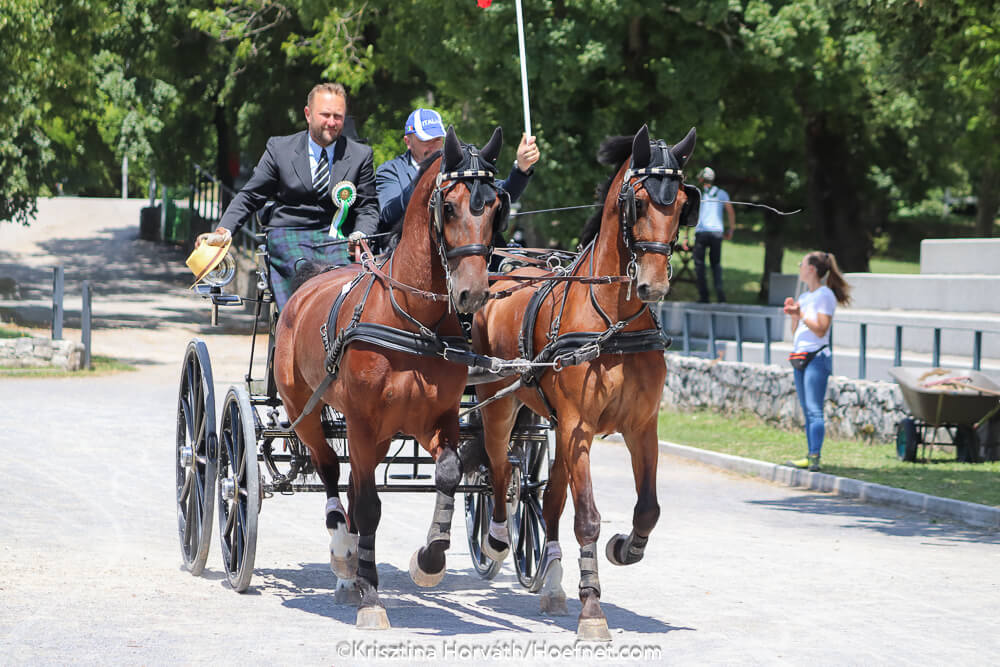 József Dibak
Photo:
Krisztina Horváth
With 10 competitors, the 3* Horse Pairs Class was the best represented. Dibak came second in the dressage with his lovely pair of young KWPN-geldings. He managed to take over the lead of the standings after his third place in marathon and secured his first place in the cones despite one knock down.
Local hero Miha Tavcar started with the fourth place in dressage and won the marathon by settings the fastest times in every obstacle. Tavcar herewith not only won the regular trophy, but also received two free tickets to the marathon of the World Championships in Drebkau. Tavcar climbed to the second place and drove a double clear round in the cones, securing his second place in the combined competition. Late entry Antun Zivic from Croatia performed very good in all three phases and finished on a deserved third place.
Another Italian victory with Cristiano Cividini winning the 3* Horse Singles class, ahead of his compatriots Flavio Lunardon and Paolo Stecca.
Andrea Pili drove his Blakt's Darwina to the first place in the pony singles class, while he finished in third place with Aaron L. Erich Pürstinger came second. Flavio Lunardon's daughter Jasmine Lunardon defended the Italian flag with success in the 2* horse singles class, in which Jörg Staudinger came second.
Hungarian victories for Dávid Palkovics in the pony four-in-hand class, Maté Margitai in the 2* Horse Pairs class, Anna Majoros with the Juniors and Bertold Juhasz with the National Children.
Regular guest in Lipica Karl Cvörnjek won the pony pairs class convincingly ahead of Simone Holzinger and Alessandro Calzavara.
Dutch driver Hans Heus was the only competitor in the 3* Horse Four-in-Hand Class.
Copyright reserved. Acquisition without acknowledgment and permission from info@hoefnet.nl is not allowed.