20 December 2018
London Olympia 2018: Exell wins Extreme Driving Class
The Olympia crowd were treated to a spectacular start to Thursday afternoon's performance when Boyd Exell from Australia effectively put on a masterclass in four-in-hand skills in the Dodson & Horell Extreme Driving Top Score competition. The current gold medallist and reigning World Cup Champion was last to go of the seven contestants from six nations, and emerged with some 13 seconds in hand after the first round.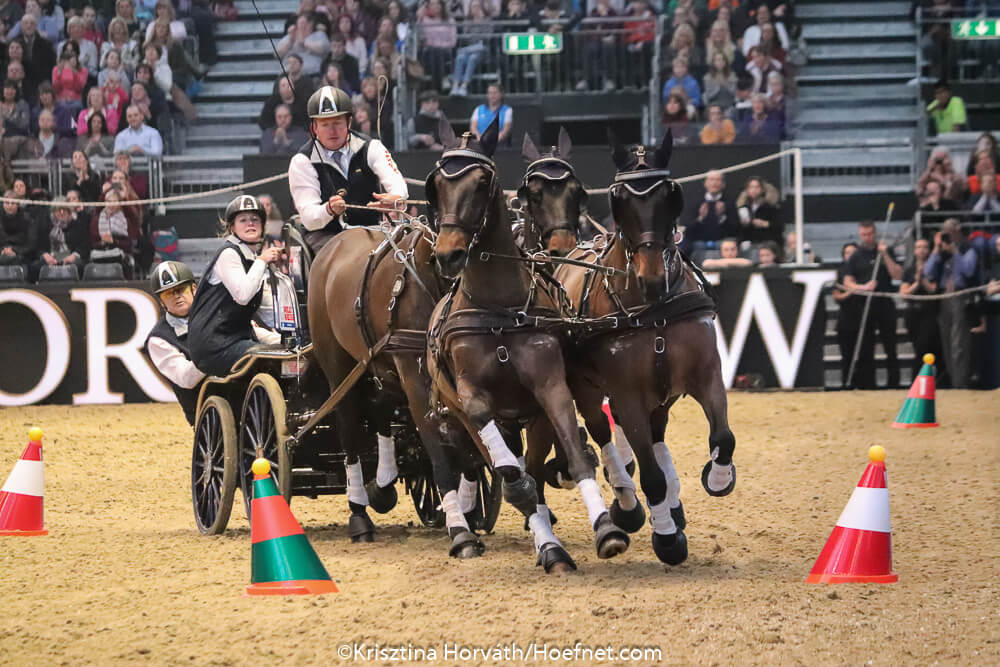 Boyd Exell
Photo:
Krisztina Horváth
Second to him at this stage was experienced competitor Koos de Ronde from The Netherlands whose outstandingly fast round sadly collected four knockdowns to add 16 seconds to his time. In spite of this, however, he was placed just ahead of third-placed Edouard Simonet – a young driver from Belgium, individual bronze medalist at this year's WEG where he was also a member of Belgium's bronze medal winning team. He and Exell were the only drivers to go clear in round one.
In the drive-off between these three, Simonet and de Ronde both picked up penalties to reverse their positions. Exell once again drove surely and cleanly until almost at the end of the course where he picked up a 4-second penalty. His winning position was in no danger, however, and he cruised home, 10 seconds ahead of Simonet.
 The fast course set by the Netherlands' experienced course designer Johan Jacobs featured a new four-way crossing on the bridge with the start and finish occurring here. Newly designed elements in the obstacles gave a lighter appearance to the course and made for good viewing. GB's representative, Dan Naprous who heads up the Devil's Horsemen Stunt Team, experienced early difficulties in the course as also did USA's Chester Weber, individual silver medalist at this year's WEG. 
The four-in-hand drivers will enter the arena at Olympia again tomorrow afternoon for the first competition of the World Cup, for which Jacobs has designed a different course. Wild card drivers Dan Naprous and Boyd Exell are the first drivers in according to the rules, followed by Chester Weber, Benjamin Aillaud, Glenn Geerts, Koos de Ronde and Edouard Simonet.
Click here for the starting orders, results and course plans
Copyright reserved. Acquisition without acknowledgment and permission from info@hoefnet.nl is not allowed.