21 December 2018
Londen Olympia 2018: Exell lays down strongest possible marker for tomorrow's final
In a drive that left spectators breathless, yesterday's winner of the Dodson & Horrell Extreme Driving Top Score competition, reigning World and World Cup Champion, Boyd Exell, announced in the strongest possible terms his winning intentions for the FEI World Cup Driving Leg which will be held tomorrow evening at Olympia.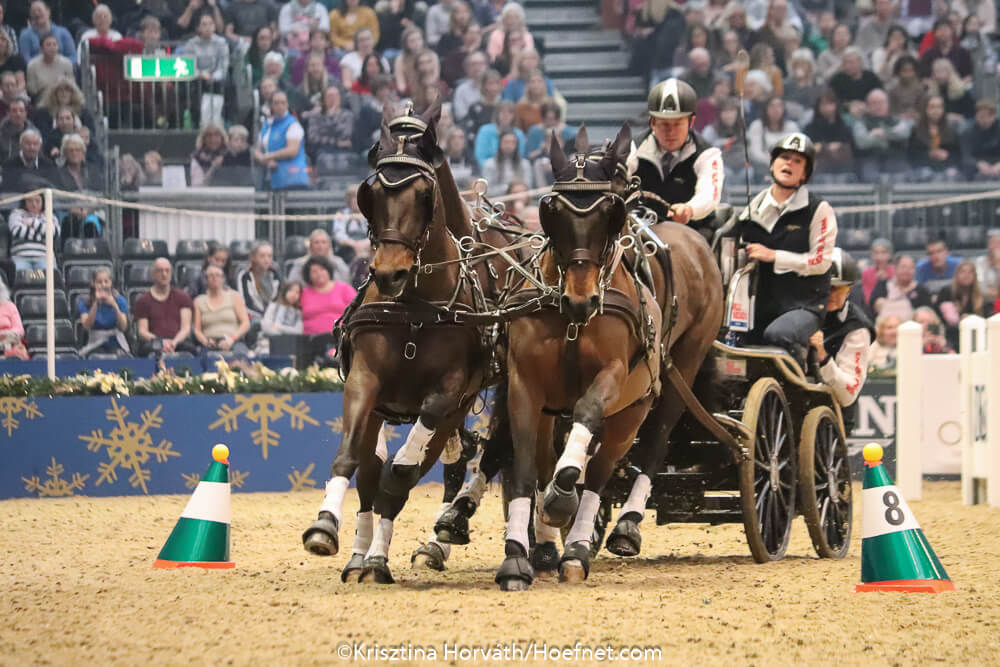 Boyd Exell
Photo:
Krisztina Horváth
From disappointment to hope
The outstanding Australian driver, competing here on a wild card, was second into the arena behind GB hopeful Dan Naprous, who had driven a well-controlled clear round. Exell too went clear but knocked 15+ seconds off Naprous' time. Next into the arena, USA's Chester Weber suffered maximum disappointment as he missed the first obstacle causing his elimination. Thereafter there were no clear rounds and few came close to Exell's time. Closest to him in second and third place were Belgium's Glenn Geerts who claimed second place here last year at his first Olympia and last night's third placed Koos de Ronde from the Netherlands. Geerts was very disappointed yesterday when his wheeler horse Silver did not pass the horse inspection, but he was very pleased with his reserve horse: "In fact, this horse turned out to be much stronger than Silver. This is my last chance to collect points for the Final in Bordeaux so I was not very optimistic yesterday, but I am very pleased with this horse and I hope it will go just as well tomorrow." Geerts already decided to use this horse in Mechelen next week, where he will compete with a wild card.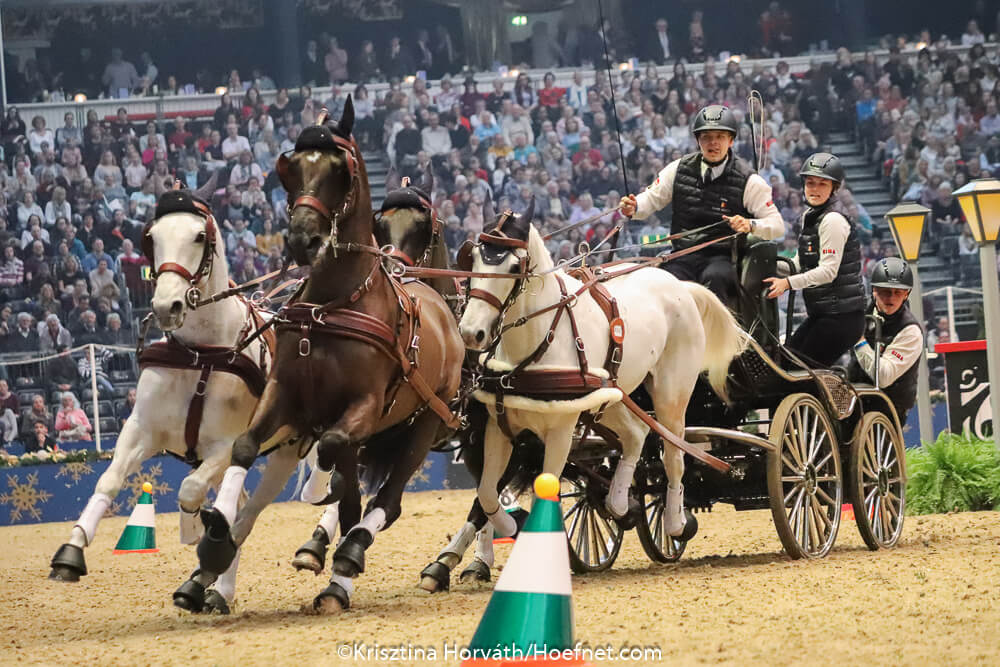 Glenn Geerts
Photo:
Krisztina Horváth
In the drive-off between these three de Ronde bettered his first-round time but collected 12 extra seconds in penalties, Geerts also bettered his time, in fact coming close to Exell's first round, but his additional 8-second penalties gave the Australian maestro extra breathing space. He had no use for it; in an electrifying drive, he knocked 8 seconds off his first round time to romp into first place 30 seconds ahead of Geerts and de Ronde.
"I've put two new horses into my team – one in the lead and one in the wheel – and they've moved the speed up like you cannot believe," Exell remarked. "They were machines today – I could not be more pleased with them." He added, "however, tomorrow is the all-important competition."
More than worthy of distinction was GB's representative Dan Naprous who performed In the arena last night as the leader of the Devil's Horsemen Stunt Display Team. Lacking the World Cup experience of all the other drivers, he missed competing in the top three contestants drive-off by just two seconds and was the only other driver with Exell to drive clear. A great boost for British driving.
Click here for the starting orders and results
Copyright reserved. Acquisition without acknowledgment and permission from [email protected] is not allowed.