22 December 2018
London Olympia 2018: Boyd Exell simply the Best
The world's most outstanding four-in-hand driver, Boyd Exell, crowned an exemplary week of extreme and World Cup driving competition at The London International Horse Show, by cementing his win in the final round of the FEI Driving World Cup Leg presented by Dodson & Horell.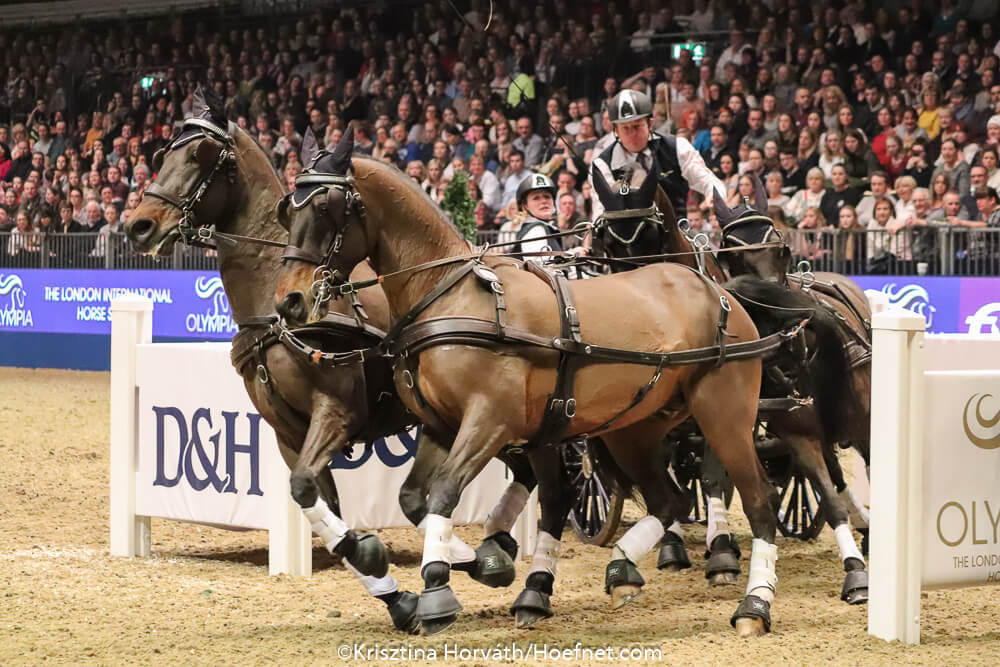 Boyd Exell
Photo:
Krisztina Horváth
Pech voor Geerts
"I'm so pleased with my horses," the Australian driver and trainer remarked. "Five years ago I had a superb team and I have spent the intervening years trying to replicate it. With the two new horses I have recently put in to the mix, I feel I'm really getting close. They just get faster and faster."
His winning place in yesterday's qualifying round meant he was the last to go in the first round of the final leg. Experienced Dutch driver, Koos de Ronde – who has competed every year since driving became part of the Olympia programme – was Exell's closest challenger after the first round with Belgian driver, Glenn Geerts hot on his heels in third place.
These three returned for a drive-off with the clock put back to zero. First into the ring, one of Geerts' horses slipped and fell as it turned to come off the bridge. Help from the other drivers arrived in lightening quick time and all four horses were up in moments. The Olympia crowd showed their appreciation and relief that all was well by giving Geerts a standing ovation as he led out his horses. They were equally receptive when he drove them back into the arena for the prize-giving.
Completely focused in spite of the wait, de Ronde drove a quick and proficient round bettering his time but picking up a four-seconds penalty. Exell again put his foot to the floor to drive his fourth clear round of the World Cup competition at Olympia, knocking three seconds off his first-round time. His standing as reigning World and World Cup Champion was confirmed once again: he remains the one the other drivers strive to beat.
Geerts paid tribute to the crowd, his fellow drivers and to the Olympia organisation for the way they reacted to the incident.
"I was going fast," he acknowledged. "My first round was good and I was thinking 'Boyd couldn't win three times!'. However, these things happen and I could feel when we came in for the prize-giving that the horse had already forgotten about it."
The final word goes to the unassailable victor, Boyd Exell. "Olympia was very brave to agree to stage this driving competition eight years ago but it has been so well supported by Dodson & Horell and Hugh and Karen Scott-Barrett. The drivers love it, it is a highlight of the World Cup calendar and it is an honour to be here."