21 December 2019
London Olympia 2019: Exell simply the best
Boyd Exell was simply the best this evening in the thrilling FEI Driving World Cup™ Leg at London Olympia, where the enthusiastic crowd contributed to an amazing atmosphere. Dutch drivers Koos de Ronde and Ijsbrand Chardon finished in second and third place and won valuable World Cup points since Boyd competed with a wild card.
Plan comes together
International level 4 Course Designer Jeroen Houterman had a nice challenge after the largest arena in Geneva last weekend to build a course for the smallest arena on the World Cup circuit at Olympia. The competitors were very pleased with his course, which was exciting and tricky at points. Houterman was pleased himself as well: "I always have a plan and this time I wanted to keep it as simple as possible. The drivers needed control in all corners, and this resulted in good sport, so my plan came together."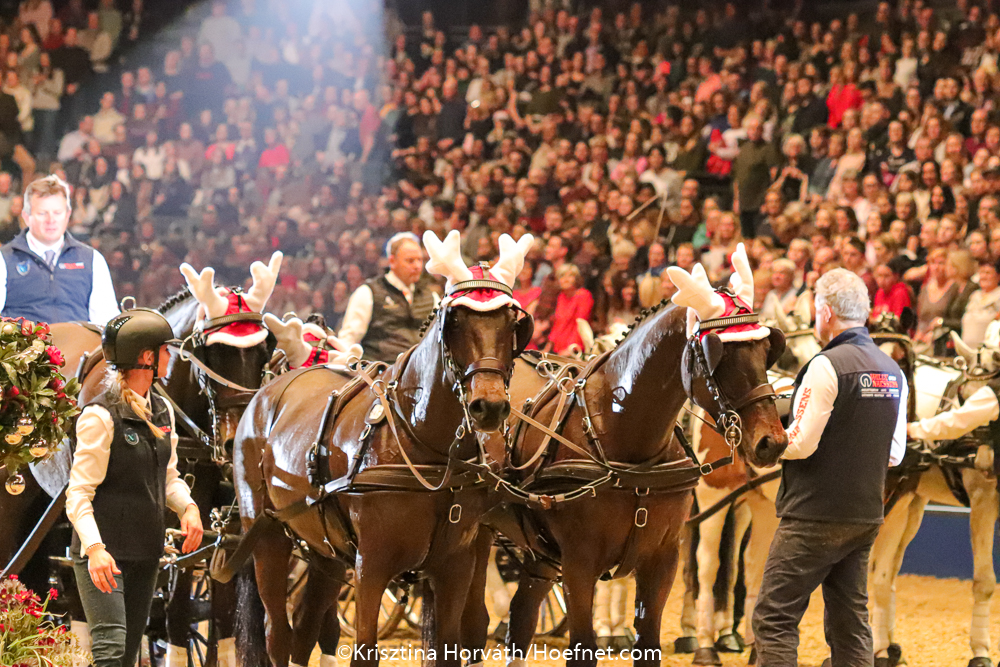 Photo:
Krisztina Horváth
Incredible crowd
Australian World Champion Boyd Exell was invincible this weekend and won both World Cup Driving competitions as well as the extra class on Thursday: "London Olympia is a home competition for me. I have lived in the UK for 25 years and it feels very good here. The crowd is incredible, they were with us the whole way! Koos tried to pressure me, but my team is just very fast." Boyd used his experienced 21-year-old mare Demi in the wheel, which brought him a lot of speed and which allowed him to go even faster in the Drive Off. Boyd drove another clear round and stopped the clock over one second faster than Koos and he was able to claim victory at Olympia for the fifth time in his career.
Team for the Final
Koos de Ronde was very pleased with his second place behind Boyd, which brought him into the Final in Bordeaux: "I have not been very lucky at the start of this season, but it already went better in Stockholm and I was very positive when I came here. This is a fantastic event with a great atmosphere and we love to come here every year. I had a mistake in the first round which I had not seen straight away, but my speed was good. This team is in good form and I will use this team in the next two competitions and in the Final.
Not satisfied
Ijsbrand Chardon was less successful in the previous two classes in London and was determined to get things right so he practiced with his team early this morning. This resulted in a place in the Drive Off over the same course in which the drivers started from zero again. Chardon however knocked two balls down and finished in third place.
Jozsef Dobrovitz came fourth today ahead of Mareike Harm who drove very nice again but had one unfortunate knockdown. Second wild card driver Daniel Naprous had enough speed in his team, but had three mistakes and finished in sixth place, ahead of Chester Weber.
Results
Results FEI Driving World Cup™ London Olympia 21 December 2019:
Boyd Exell (Aus) 130,17
Koos de Ronde (Ned) 134,80
IJsbrand Chardon (Ned) 139,73
Jozsef Dobrovitz (Hun) 141,00
Mareike Harm (Ger) 144,47
Daniel Naprous (Gbr) 151,07
Chester Weber (Usa) 155,32
Standings FEI Driving World Cup™ 2019/2020 after 7 out of 9 competitions:
1          Boyd EXELL                 AUS     30
2          IJsbrand CHARDON     NED     24
3          Koos DE RONDE         NED     20
4          Bram CHARDON          NED     19
5          József DOBROVITZ      GER     15
6          Glenn GEERTS             BEL      14
7          Mareike HARM             GER     11
7          Chester WEBER           USA     11
9          Benjamin AILLAUD       FRA     10
10        Jérôme VOUTAZ          SUI      5
Click here for the complete results
Copyright reserved. Acquisition without acknowledgment and permission from info@hoefnet.nl is not allowed.