20 December 2019
London Olympia 2019: Boyd Exell Dominates First Competition
Boyd Exell was once again in irresistible form as he took the opening competition in the FEI Driving World Cup™ taking place at the Olympia London International Horse Show. Koos de Ronde finished in second place, ahead of Chester Weber.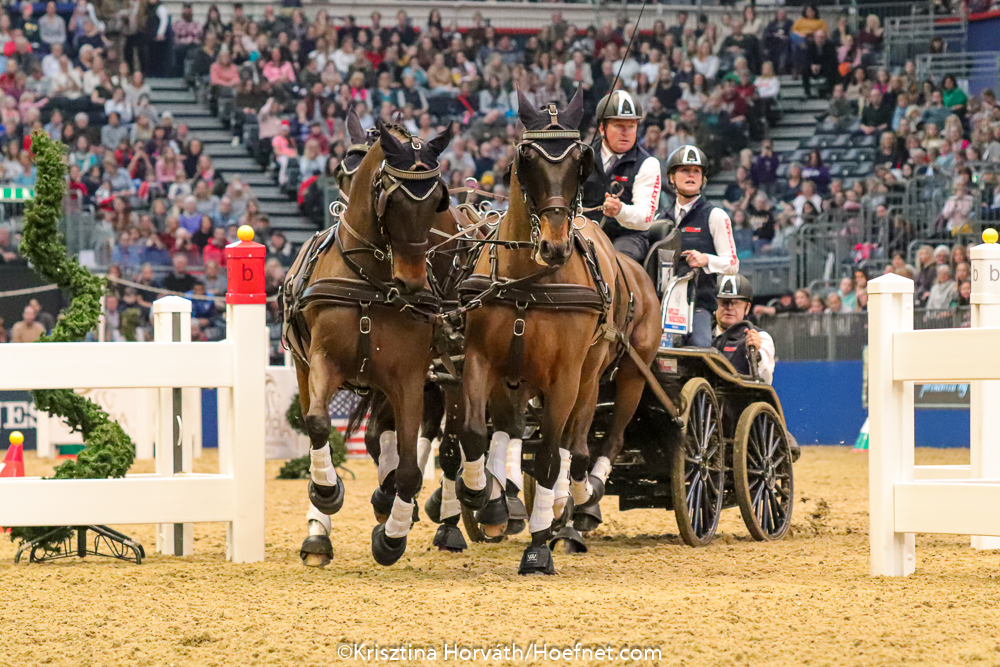 Photo:
Krisztina Horváth
Both Boyd, who competes with a wild card, as well as Koos de Ronde and Chester Weber qualified for the Drive Off over the nice and selective course designed by Dutch level 4 Course Designer Jeroen Houterman, who is at Olympia for the first time. Chester Weber drove through gate 10 after he passed the start line, which resulted in elimination. Koos de Ronde drove very fast, sharp and stayed clear, putting the pressure on Boyd. The five-times World Champion loves to compete at Olympia and thinks of the UK as his second home. Exell drove his very experienced team fast and fluent through the shortened course without any mistakes and stopped the clock over three seconds faster than Koos:
"IJsbrand Chardon will be dangerous tomorrow after his mistakes today and Koos will also be on fire tomorrow," says Boyd. Tomorrow we start from zero again, so I have to keep my feet on the ground and keep focused!"
Chardon made several mistakes today and also lost precious seconds when he missed a gate and had to make an extra loop. Chardon will be the first man in the arena on Saturday in the FEI Driving World Cup™ competition in which valuable World Cup points can be collected.
Jozsef Dobrovitz and Mareike Harm were in good form today. Both drivers had clear rounds in which Dobrovitz was just a fraction of a second faster, putting him into fourth place, just ahead of Mareike. Second wild card competitor Daniel Naprous was perhaps a little reckless after his fantastic second place in the Extreme Driving competition and picked up four balls, which resulted in the sixth place.
Copyright reserved. Acquisition without acknowledgment and permission from [email protected] is not allowed.