15 December 2017
London Olympia: IJsbrand Chardon in pole position for World Cup
After an exciting round, Ijsbrand Chardon won the first competition of the FEI World Cup™ Driving this afternoon at Olympia, putting him in pole position for tomorrow's competition. Chardon stayed ahead of Boyd Exell and Glenn Geerts.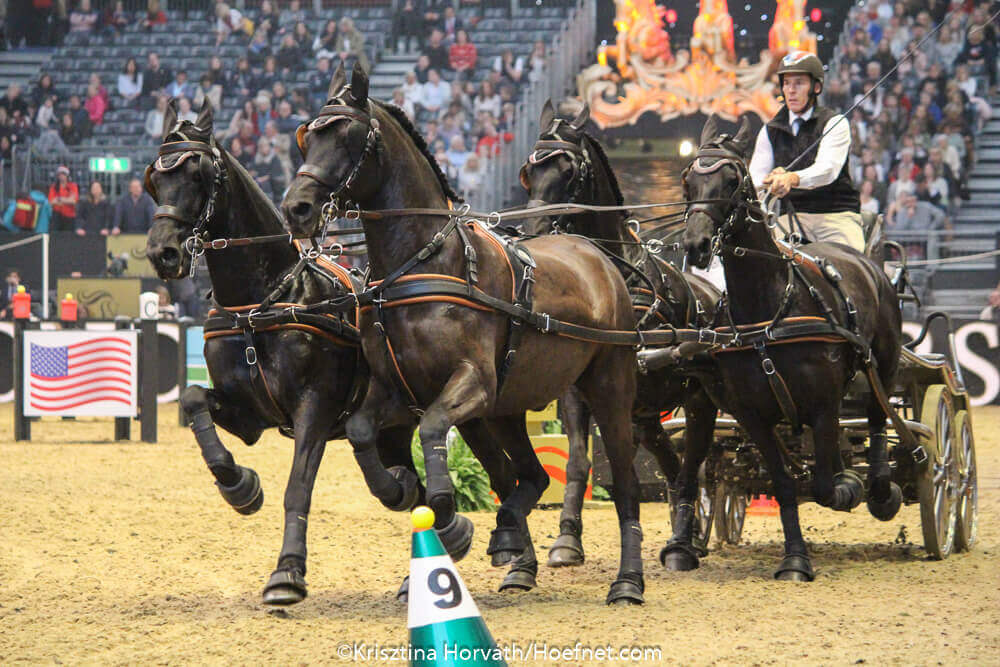 Benjamin Aillaud
Photo:
Krisztina Horváth
Chardon had the advantage of being the last man in the arena and was able to aim for Boyd's fast time, who had opened today's competition: "After obstacle four I was two seconds ahead of Boyd so I thought to myself 'I keep going now'. I had a small hickup in the second obstacle, but I was able to correct this very quickly. My time was very good and I do not think I can improve much tomorrow, my new leader horse misses just that bit of experience to do so. Tomorrow is a new competition in which I will first try to qualify for the Winning Round. We will start from zero, so then I will know what I will have to do to win it."
Dutch level 4 Course Designer Johan Jacobs had again designed a nice and challenging course for the seven drivers, who all started in one round today. After his very good round on the Opening Day, Glenn Geerts drove his team again fluently through the course with only one knock down, which resulted in the third place. Driver of the Year Benjamin Aillaud drove a very fluent round today with his handsome Arabo Friesian horses and finished in fourth place with a clear round.
Koos de Ronde had two knockdowns and finished in fifth place, ahead of British wild card competitor Daniel Naprous and USA's Chester Weber.
The FEI World Cup™ Driving competition is scheduled on Saturday evening at 18.30 UK time and will take place over the same course as today.