14 December 2017
London Olympia: Extreme Driving showcased Boyd Exell's skill
The Extreme Driving Class at Olympia was showcased by Boyd Exell this afternoon. Boyd used a new leader horse in his team and managed to stay clear in both rounds. Belgium's Glenn Geerts finished in second position, ahead of Koos de Ronde from the Netherlands.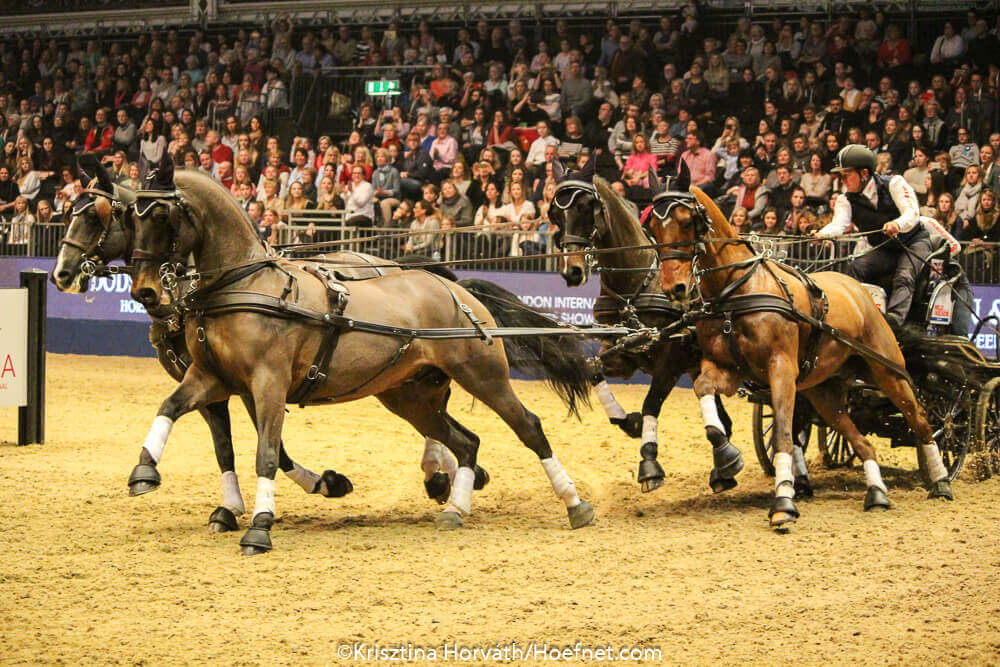 Boyd Exell
Photo:
Krisztina Horváth
The spectators in the Olympia arena witnessed an exciting competition, which was used by the drivers as warm up before it really starts to matter tomorrow, in the first competition of the FEI World Cup Driving. Dutch level 4 Course Designer Johan Jacobs had laid out a fluent course, which was a nice challenge for the seven drivers.
Boyd, Glenn and Koos had qualified for the Winning Round over a shortened course, in which they started from zero again. First starter Koos de Ronde drove a very fast round, but had one knock down. Future father Glenn Geerts had been practising at home after his somewhat disappointing results in Stockholm two weeks ago and this practise paid off. The member of the Belgian bronze medal winning team in Gothenburg had one ball down, but was a fraction of a second faster than Koos, which put him into the lead.
Last starter Boyd Exell however passed the finish line two seconds faster than Glenn, despite the fact that he drove a gate in the marathon obstacle twice, which made him the deserved winner.
Benjamin Aillaud finished in fifth place, ahead of Chester Weber, who also used a new leader horse in his team. Wild card driver Dan Naprous finished in seventh place today.