4 November 2018
Lyon 2018: Victory for Jérôme Voutaz
Switzerland's Jérôme Voutaz has won the inaugural FEI World Cup™ Driving Leg in Lyon this evening. Voutaz drove a magnificent round with his Freiberger horses and stayed ahead of Dutch drivers Koos de Ronde and Bram Chardon.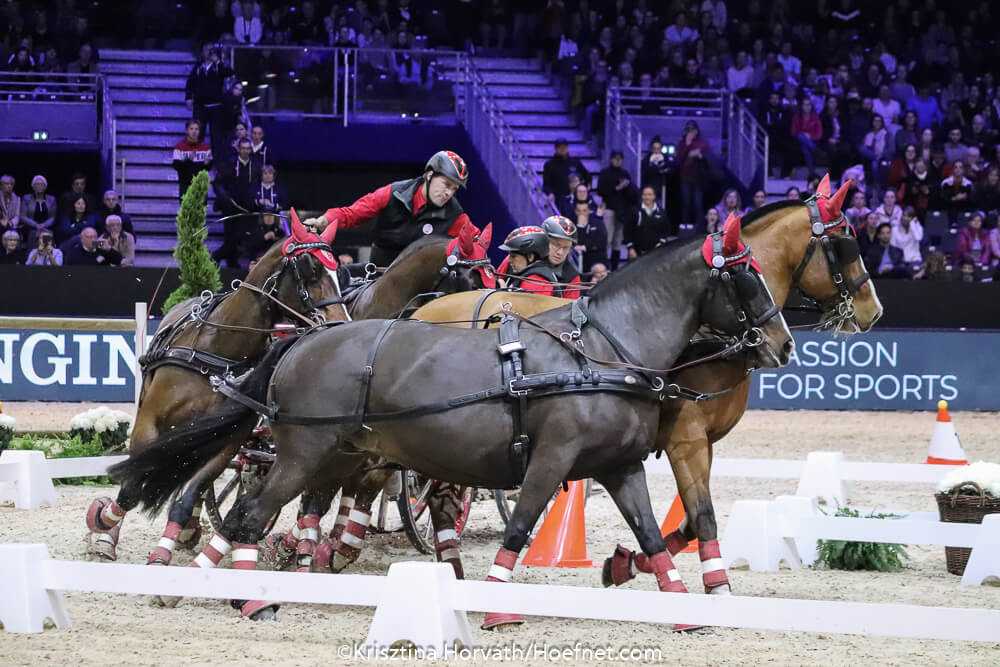 Jérôme Voutaz
Photo:
Krisztina Horváth
The top three drivers started from zero again in the Winning Round, which took place over the same course, designed by Level 4 Course Designer Jeroen Houterman. The Dutchman had laid out a nice, long course for the seven drivers in the big arena in the Eurexpo.
Voutaz had one knockdown in the first round and was the first man in the arena for the winning round: "I never expected to win. I made several mistakes on the first day and also today in the first round. It was an advantage to go in first, I did not have the pressure." Voutaz drove a very fast and clear round and put the pressure on Bram Chardon. Chardon had some time loss in the first round when he missed one of his reins and was unable to equal his winning time on the first day. Bram had a fault at the second cone after which he took too much risk: "It was my own mistake, very stupid. After I had the knockdown I went for all or nothing. That was a bit of a gamble, but at that moment I wanted to win. It was not so clever to take so much risk at the start of the season. But with yesterday in the back of my mind I know that this team of horses is very good. I just have to keep them together and I am convinced that I can win with these horses."
Last starter Koos de Ronde was well underway and set the fastest time, but had two knockdowns and had to be content with the second place: "I fought for it and so did Jérôme. I really enjoyed to be in Lyon and I hope they will continue hosting the FEI World Cup Driving and I am very happy with my new team." Koos used the experienced Kasper in the lead next to Tjibbe, whom he used in Mechelen 2017 for the first time. Last summer Koos bought a complete team of Lipizzaner horses for the indoor competitions. In Lyon, he used two of them in the wheel: "Experience is very important in this game. You can have very good horses, but if they don't have experience, it will become very difficult. I am going to test a third Lipizzaner horse in my team in Maastricht to slowly build a new team."
Hungarian driver József Dobrovitz is the regular supplier of nearly all Lipizzaner horses, which are used on the World Cup circuit. The experienced driver had a clear round, but his time was just mot fast enough to qualify for the winning round. Dobrovitz finished in fourth place, ahead of IJsbrand Chardon who had an 'off day' as he described it himself: "I have no explanation why things did not go well, it just did not go well for me today."
Wild card competitor Benjamin Aillaud lost precious seconds in the first marathon obstacle when he had to drive an extra round after which he knocked two balls down. Aillaud finished in sixth place on his home soil. Second wild card driver Chester Weber started off very well, but made too many mistakes in the second marathon obstacle and came seventh.
Winner Voutaz got a very nice surprise during the prize giving ceremony. Main sponsor Longines not only awarded the winning driver with a Longines watch, also his four grooms received a beautiful watch each which was much appreciated by the hard working grooms who are always on the background.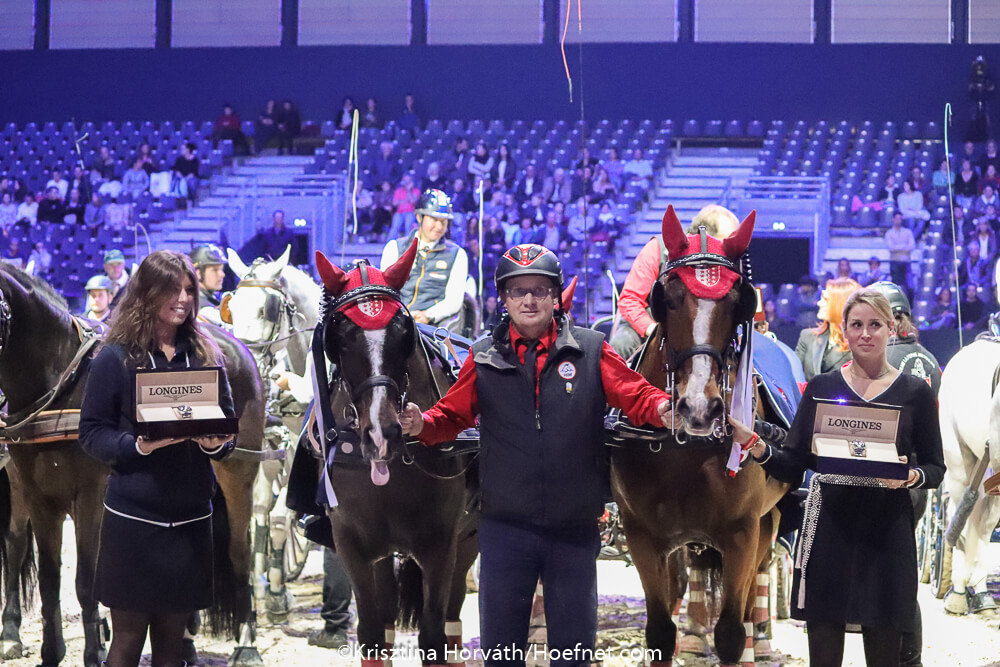 Watches for Voutaz and his grooms
Photo:
Krisztina Horváth
Results FEI World Cup™ Driving Lyon
Jérôme Voutaz (SUI) 163,52
Koos de Ronde (Zwartewaal) 168,64
Bram Chardon (Den Hoorn) 177,38
József Dobrovitz (HUN) 172,83
IJsbrand Chardon (Den Hoorn) 178,38
Benjamin Aillaud (FRA) 189,21
Chester Weber (USA) 196,82
Click here for the complete results