3 November 2019
Lyon 2019: Head-to -head race between Boyd and Bram
The head-to-head race between Boyd Exell and Bram Chardon at the first FEI Driving World Cup™ competition in Lyon resulted in victory for Boyd Exell. Hungary's József Dobrovitz claimed the third place.
Simple but not easy
International level 4 Course Designer Jeroen Houterman had designed a  nice and fluent course at Equita Lyon, which hosted the World Cup for the second time after the successful inaugural edition in 2018: "Lyon is the first competition of the season and after my experience from last year here, I have tried to keep the course simple." In the end, the course turned out not too easy and it contained enough choices for the four-in-hand drivers, which resulted in an attractive competition for the many enthusiastic spectators.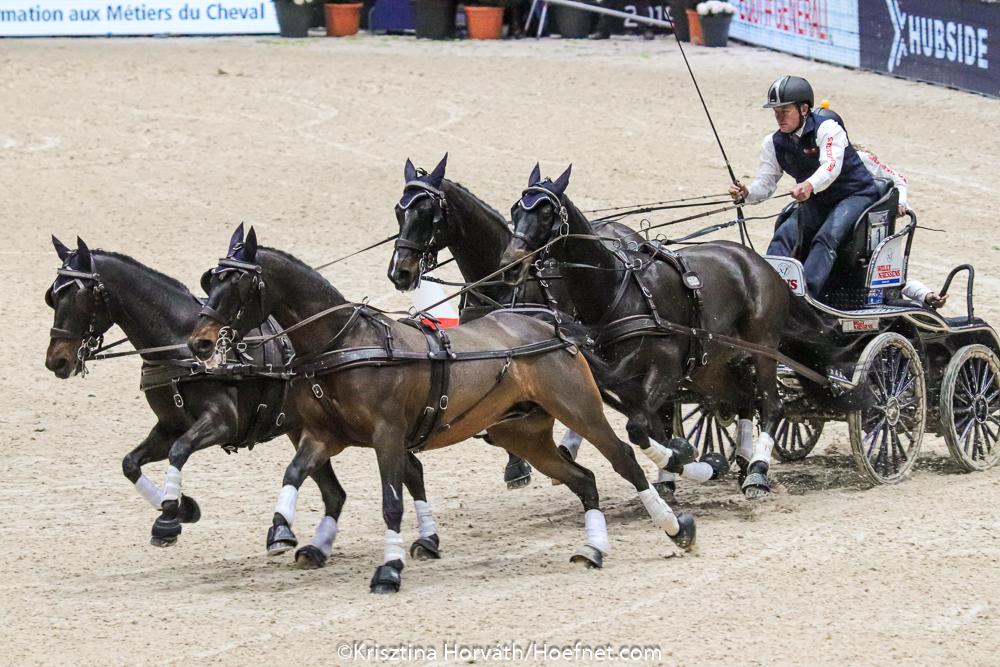 Photo:
Krisztina Horváth
New extremes
After World Cup title holder Bram Chardon drove a clear first round in the fastest time, he, Boyd and József Dobrovitz qualified for the second round over the same course, in which they started from zero again.
First starter Dobrovitz used two new horses in his team, but made too many mistakes: "I missed the speed in my team yesterday and I tried to make up for it today, which resulted in mistakes. But I am very happy with my horses and with my third place."
The floor was open for Boyd Exell, who was eager to win the competition in Lyon: "I had deliberately chosen this competition because I saw that the winner from last year received some very nice prizes," explains Boyd. "I really wanted to win here because I felt I owed it to my team. They deserved to have a nice prize." Boyd drove his experienced team of horses fast and fluent through the course, taking no less than seven seconds off his time in the first round. An unlucky ball fell in the second marathon type obstacle, but Boyd stopped the clock at 142,70. Last starter Bram Chardon took a bit of risk which resulted in two knock downs and the second place behind Boyd.
"This was the first head-to-head race between Bram and myself of this season. We had several duels last season and this is just great for the sport. It is taking the indoor driving sport to new extremes that we have not seen yet," tells Boyd who has seven indoor horses at his disposal which he will be mixing and filtering throughout the season. "I am delighted with my team and my horses, but I am a little disappointed that we did not get the prizes we were hoping for. I would like to take the opportunity to thank my long term sponsor Willy Naessens for supporting me, which allows me to perform at the highest level for so many years."
Not his day
Dutch driver Koos de Ronde did not have his day today and finished in fourth place, ahead of Switzerland's Jérôme Voutaz, who made an unusual number of mistakes today. Wild card driver Chester Weber, who is trained during the indoor season by Dutch driving legend Ijsbrand Chardon, used a new leader horse and finished in sixth place. Silver individual medalist at the European Championships Benjamin Aillaud had received the second wild card and drove his team of black Lipizzaner horses to the seventh place.
Results CAI-W Lyon 2019:
Boyd Exell (AUS) 142,70
Bram Chardon (NED) 148,99
József Dobrovitz (HUN) 173,14
Koos de Ronde (NED) 162,52
Jérôme Voutaz (SUI) 170,46
Chester Weber (USA) 170,74
Benjamin Aillaud (FRA) 174,02
Click here for the complete results