23 November 2018
Maastricht 2018: Boyd Exell victorious in first competition
Boyd Exell has won the first competition of the FEI World Cup™ Driving at Jumping Indoor Maastricht this evening. The five-times World Champion beat his opponents Ijsbrand Chardon and Koos de Ronde in the MECC stadium, which was filled with a large number of enthusiastic spectators.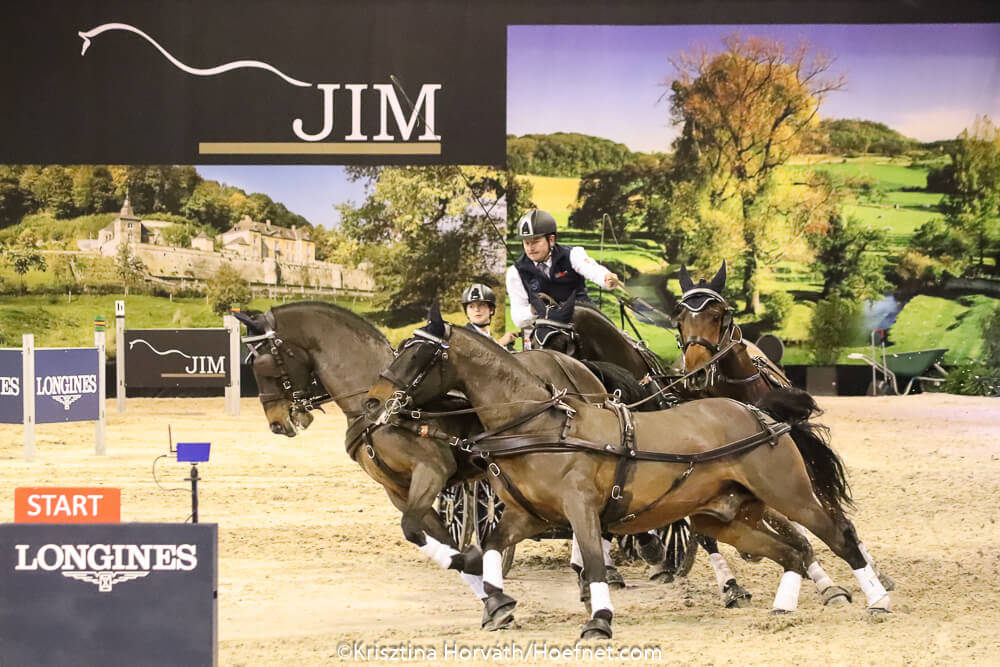 Boyd Exell
Photo:
Krisztina Horváth
International level 4 Course Designer Jeroen Houterman had laid out a nice but technical course for the seven four-in-hand drivers. First starter Koos de Ronde had three knockdowns in the first round but managed to qualify for the second round, which took place over a shortened course. The times of both rounds were counted together to determine the final result and tomorrow's starting order. Koos was assisted on his carriage by his wife Marie and his son Pieter as his back stepper who made his World Cup debut as a groom.
Koos also had a few mistakes in the second round and finished in third place. IJsbrand Chardon passed the finish line with two knock downs and attacked in the second round. This resulted in the only clear round of this evening and the second place.
Boyd Exell decided to bring back his good old leader horse Poker in his team after his disappointing result in Stuttgart. The eight-times World Cup Champion set the fastest times in both rounds and finished no less than 11 seconds ahead of IJsbrand Chardon.
Glenn Geerts finished in fourth place, ahead of Jérôme Voutaz, Edouard Simonet and Chester Weber.
Tomorrow evening the seven drivers will enter the arena again at 21.45 hrs. for the World Cup competition. The three best drivers qualify for the second round over the same course, in which they start from zero.
Copyright reserved. Acquisition without acknowledgment and permission from [email protected] is not allowed.