24 November 2018
Maastricht 2018: Koos de Ronde super strong
Koos de Ronde delivered a magnificent finale this evening of the inaugural edition of the FEI World Cup™ Driving in Maastricht. De Ronde beat World Cup Champion Boyd Exell and IJsbrand Chardon in a thrilling competition.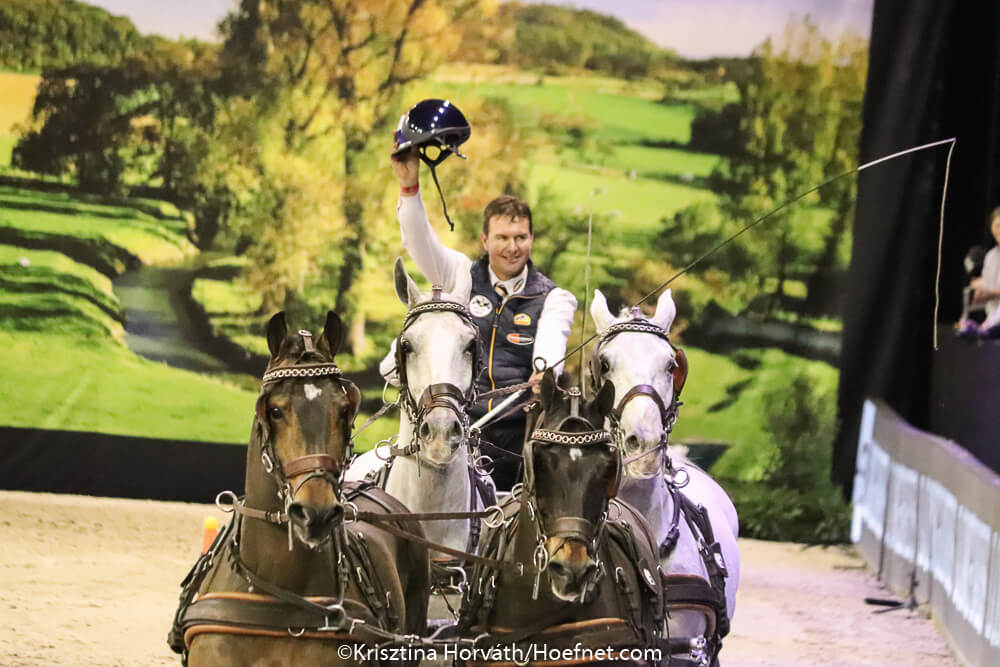 Koos de Ronde
Photo:
Krisztina Horváth
International level 4 Course Designer Jeroen Houterman had laid out a nice and technical course for the seven four-in-hand drivers, in which he had given the drivers a little bit more space in the second marathon obstacle compared to the first night. This resulted in exciting sport, much to the delight of the many enthusiastic spectators in the MECC convention centre.
Koos de Ronde had given some demo's last year at Jumping Indoor Maastricht, which was well received by the spectators and the Organising Committee. This resulted in the idea to host a World Cup Driving leg again in the N etherlands, at JIM, after 10 years of absence.
The top three drivers after the first round started from zero again in the second round over the same course. Both Ijsbrand Chardon and Boyd Exell put the throttle on once more, which resulted in one fault for Chardon. Boyd Exell remained clear and put the pressure on Koos de Ronde: "IJsbrand drove very fast, but had one knock down. Then Boyd drove even faster and was clear, so he left me no choice. I had to give it all and so I did. It worked out well, which was super cool," said Koos. The Dutch Champion drove the same horses as in Lyon three weeks ago where he finished in second place.
Boyd was very pleased with his round: "I was a little bit careful on the bridge and that cost me one or two seconds, but my horses were good. We knew after IJsbrand's round what we had to do to protect the maximum points, which was our aim. Now we can play more tactics for the rest of the season, we can change horses and try some combinations."
Because Koos de Ronde started with a wild card, Boyd received the full 10 points and is now in second place in the standings.
IJsbrand Chardon was pleased with his team of horses: "It went well, I had a good feeling. I hade one mistake, which was pity. Both Koos and Boyd and myself were on nearly the same time, so no room for mistakes. It was a fantastic competition, real added value to the World Cup."
Results FEI World Cup™ Driving Maastricht 2018
Koos de Ronde (Zwartewaal) 132,98
Boyd Exell (AUS) 133,58
Ijsbrand Chardon (Den Hoorn) 137,50
Chester Weber (USA) 148,60
Glenn Geerts (BEL) 155,39
Edouard Simonet (BEL) 158,57
Jérôme Voutaz (SUI) 163,22
Standings FEI World Cup™ Driving 2018/2019 after 3 out of 9 competitions:
1         IJsbrand CHARDON                          NED            19
2         Boyd EXELL                                     AUS            12
2         Jérôme VOUTAZ                              SUI             12
4         Glenn GEERTS                                BEL            10
5         Chester WEBER                                USA            8
5         József DOBROVITZ                          GER           8
7         Koos DE RONDE                              NED            7
8         Bram CHARDON                               NED            5