31 December 2019
Mechelen 2019: Boyd Exell continues his winning streak
The second last day of 2019 closed with an unbelievably exciting World Cup Driving competition at Jumping Mechelen. Young team drivers Dries Degrieck and Bram Chardon drove extremely well, putting the pressure on favourite Boyd Exell. But that didn't stop the World Champion as he claimed victory once again.
'I was expecting the most competition from Koos (De Ronde)' says Boyd after the event. After winning the first day, Koos de Ronde was once again quick, but with two knockdowns he was unable to make the drive-off. Bram Chardon was the best driver in the first round. With 136,26 and a clear round he was faster than Exell who had 137,66.
The Underdog Surprises Home Crowd
As the first to enter the arena, Dries Degrieck came back to the competition with a clean slate. After his bad luck on the first day of competition expectations were low, but he ended up surprising everyone that night. In the first round he drove a good round with just one ball off, and in the second round he remained clear, thrilling the home crowd, and putting the pressure on both Bram Chardon and Boyd Exell with a time of 140, 65. Second to go Exell took some risks, taking an extra short turn to the bridge and keeping close to the wood in the marathon obstacles. This paid off with a time of 131,14. Last to go, Bram Chardon had a knockdown early in the course, and with a time of 134,90 had to settle for third place.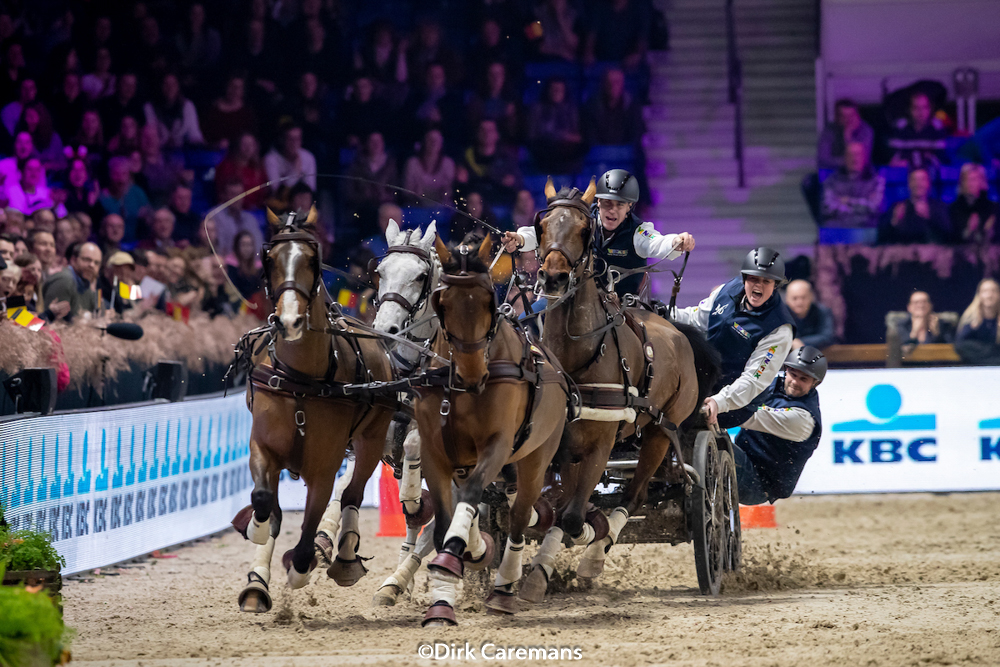 Dries Degrieck
Photo:
Dirk Caremans
All I have to do is steer
There were no World Cup points awarded to Boyd Exell, as he was driving with a Wild Card, but he didn't really need them. 'It is so much fun to compete here, especially as it is the home of my sponsor Willy Naessens.' But the question is, how does he keep winning time after time? The horses receive all of the credit: 'They go fast all on their own, I can't slow them down. All I have to do is steer.'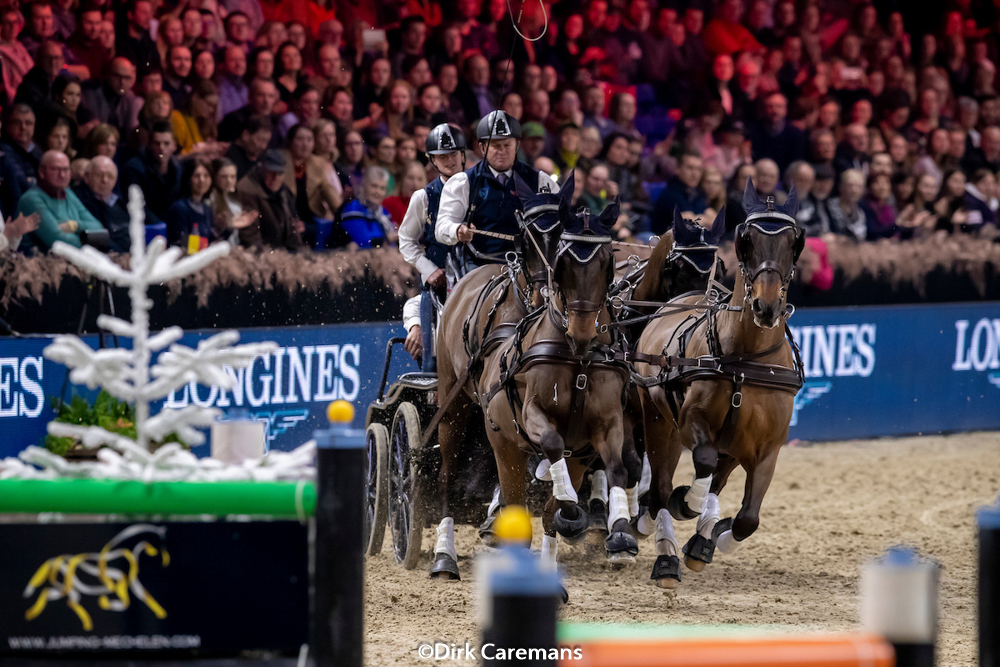 Boyd Exell
Photo:
Dirk Caremans
Results
Results World Cup Mechelen 30 december 2019
Boyd Exell (AUS), 131.14
Dries Degrieck (BEL), 140.65
Bram Chardon (Den Hoorn, NED), 142.90
Koos de Ronde (Zwartewaal, NED), 148.86
IJsbrand Chardon (Den Hoorn,NED), 149.97
Jerome Voutaz (SUI), 162.12
Chester Weber (USA), 163,71
Glenn Geerts (BEL), 202.74
Standings World Cup Driving 2019/2020 after 8 of the 9 competitions:
Boyd Exell AUS 30
Bram Chardon NED 24
IJsbrand Chardon NED 24
Koos De Ronde NED 24
József Dobrovitz HUN 15
Glenn Geerts BEL 14
Chester Weber USA 11
Mareike Harm GER 11
Benjamin Aillaud FRA 10
Jérôme Voutaz SUI 8
Click here for the photo album.
Copyright reserved. Acquisition without acknowledgment and permission from [email protected] is not allowed.