29 December 2015
Mechelen: Strong start for De Ronde and Chardon
Koos de Ronde and IJsbrand Chardon have started the sixth leg of the FEI World Cup™ Driving in Mechelen (BEL) very strong. Koos de Ronde won the first competition, IJsbrand Chardon finished second. Both drivers stayed ahead of Boyd Exell, who had to make an extra circle and finished third.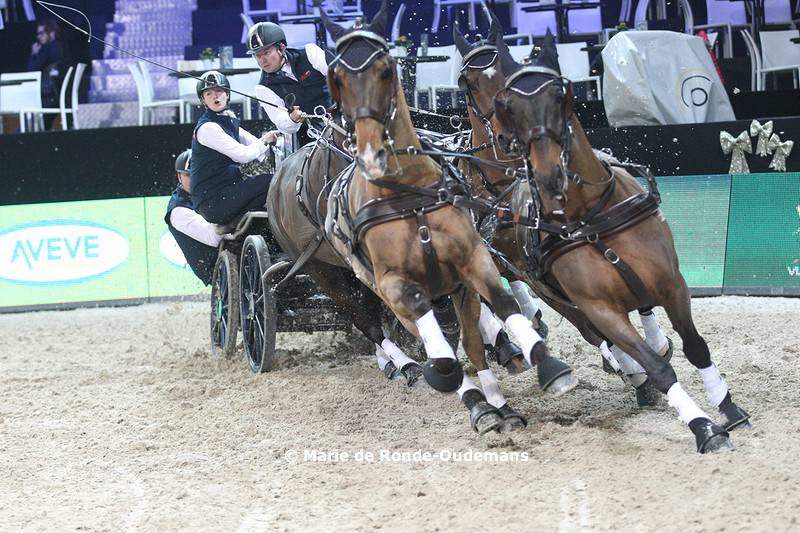 Photo:
Marie de Ronde-Oudemans
De Ronde competes with one of the three wild cards and was first to go this afternoon in the course, designed by level 4-course designer Jeroen Houterman (NED). He drove his horses fast and faultless through the course: "They were very forward and were very good to handle. I had a tiny mistake in the first marathon obstacle, but I managed to correct this quickly so this didn't cost me much time."
After his disappointing rounds in London Olympia, De Ronde was very satisfied with his first victory of this season, which allows him to start last in tomorrow evening's World Cup competition.
IJsbrand Chardon also drove a clear and fast round, which confirmed the test set-up of his leader horses today. The Lipizzaner Inci and the piebald KWPN gelding Aladin had never been his leader horses before in competition but as Chardon is already certain of a starting place for the Final, he used Mechelen to try some alternate set-ups: "I knew it was a risk, but the feeling and rhythm were very good so I won't change anything tomorrow."
Boyd Exell was well underway to set the fastest time of the day, but missed a turn in the first marathon obstacle and had to drive an extra circle. This cost him the first place, but since Boyd is in the lead of the standings with the maximum number of 30 points, the six-times World Cup Champion has nothing to loose in Mechelen either.
Second wild card driver, Belgian Champion Glenn Geerts, started off fast but was unable to keep up the high speed and finished fourth. Third wild card competitor Edouard Simonet, best Belgian driver at the European Championships in Aachen 2015, makes his World Cup debut in Mechelen and can be very proud of himself. Simonet drove the team of Arabo Friesian horses and one Lipizzaner smooth, fast and controlled through the course and only had one knock down in the last part of the course, which cost him the fourth place.
The German trio Michael Brauchle, Georg von Stein and Rainer Duen all had knock downs and were unable to equal the results of the other drivers, so they finished on the sixth, seventh and eighth place.