31 December 2018
Mechelen 2018: peerless Finale for Boyd Exell
The spectators stayed in the Nekkerhal in Mechelen until midnight to witness the spectacular showdown of the eighth FEI World Cup Driving Leg this season. The same three drivers as a day earlier competed in the drive-off for top honours, but it was even more exciting than yesterday. Witnessed by his sponsor Willy Naessens on the stands, Boyd Exell drove a fabulous competition, but it did not come easy on him. Bram Chardon was chasing him and did not make any mistakes this time.
Before the start of the competition, the Belgian federation honoured the youngest Belgian four-in-hand team ever for winning a medal at a World Championship. After this intermezzo, both Edouard Simonet and Glenn Geerts competed in the competition with a wild card, while Dries Degrieck was the test driver.
Edouard Simonet's team lacked the necessary speed and he left the arena with 3 faults behind his name. All yes were set on Glenn Geerts, who was cheered by the many enthusiastic spectators. He set a very fast time, but had three knockdowns and just missed the drive-off.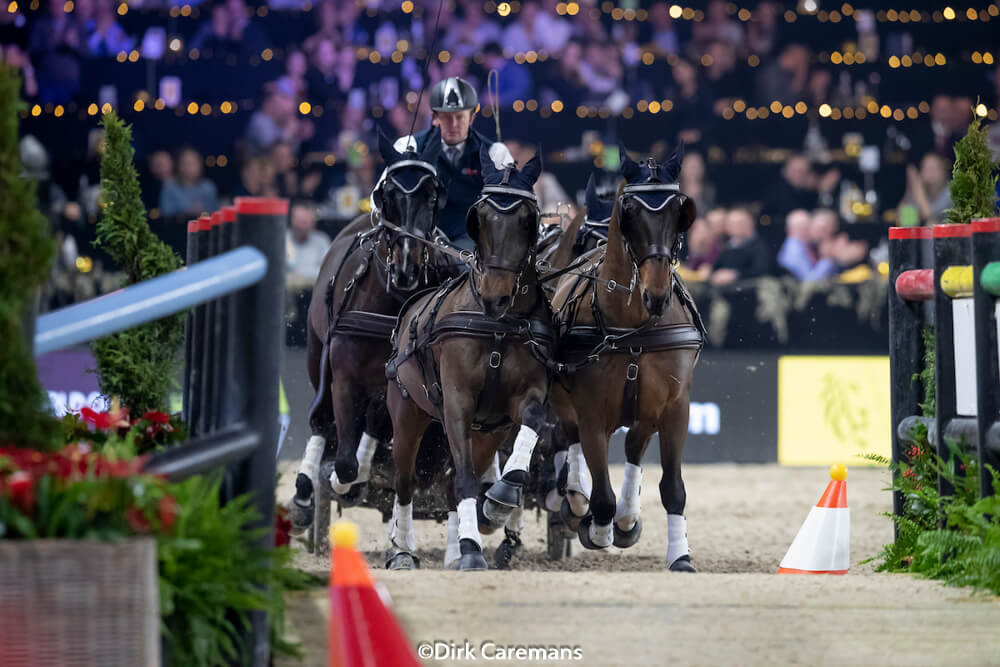 Boyd Exell
Photo:
Dirk Caremans
Incident
Both Jérôme Voutaz and József Dobrovitz were not able to keep up and finished in 6th and 7th place. The competition ended very unfortunate for Benjamin Aillaud. He fell off his carriage in one of the turns and was unable to hold on to his horses, who went steer less for several moments through the arena. But his navigator acted very quickly and jumped into the box seat, taking the reins and putting the horses to a halt. Luckily, nobody got injured.
Exciting drive-off
The full stands nearly exploded during the drive-off. Like a day earlier, Boyd Exell had remained clear in his first round and he competed again against Chester Weber and Bram Chardon. This time, the started from zero in the same course, so everything was possible.
Weber was first to go but had a knockdown in obstacle 3. Bram Chardon, winner of the World Cup in Mechelen 2017 and Budapest 2018, followed him. Bram now stayed clear and passed the finish line in a very fast time of 132,46. This put the pressure on Boyd Exell. He kept his high speed in the obstacles and was well underway. Just when he left obstacle 9, he dropped one of his reins, but his horses saved him and he was able to continue at full speed. Boyd stopped the time at 130,95 and won the competition in Mechelen for the third time in his career.
The spectators stayed until the very end despite the very late night hour. They created a special atmosphere at the end by using handkerchiefs and lights to say goodbye to the four-in-hand drivers during the lap of honour.
Results FEI World Cup Driving Mechelen 30 December 2018
Boyd Exell (AUS) 130,95
Bram Chardon (NED) 132,46
Chester Weber (USA) 147,11
Glenn Geerts (BEL) 160,29
Edouard Simonet (BEL) 163,74
József Doborovitz (HUN) 169,35
Jérome Voutaz (SUI) 176,54
Benjamen Aillaud (FRA) EL
Standings after 8 competitions
Boyd Exell (AUS) 30
Bram Chardon (NED) 24
Koos de Ronde (NED) 24
Jérôme Voutaz (SUI) 20
IJsbrand Chardon (NED) 19
Glenn Geerts (BEL) 17
József Dobrovitz (HUN) 15
Edouard Simonet (BEL) 13
Chester Weber (USA) 11
Benjamin Aillaud (FRA) 6
Click here for more information
Copyright reserved. Acquisition without acknowledgment and permission from [email protected] is not allowed.