1 May 2018
Mezőhegyes 2018: Top placings for Dobrovitz and the Hungarian team
The National Stud Farm in Mezőhegyes, Hungary was host to a CAI2* competition for pony pairs, horse singles, horse pairs and a CAIO4* World Cup Qualifier competition for horse teams from 28 April to 1 May. The organisers welcomed 49 drivers from 7 different countries in the international categories, most of whom started their season there. The beautiful weather as well as the nicely and fairly designed obstacles and cones course by Dutch level 4 Course Designer Johan Jacobs contributed to a successful event for the drivers who travelled to Mezőhegyes.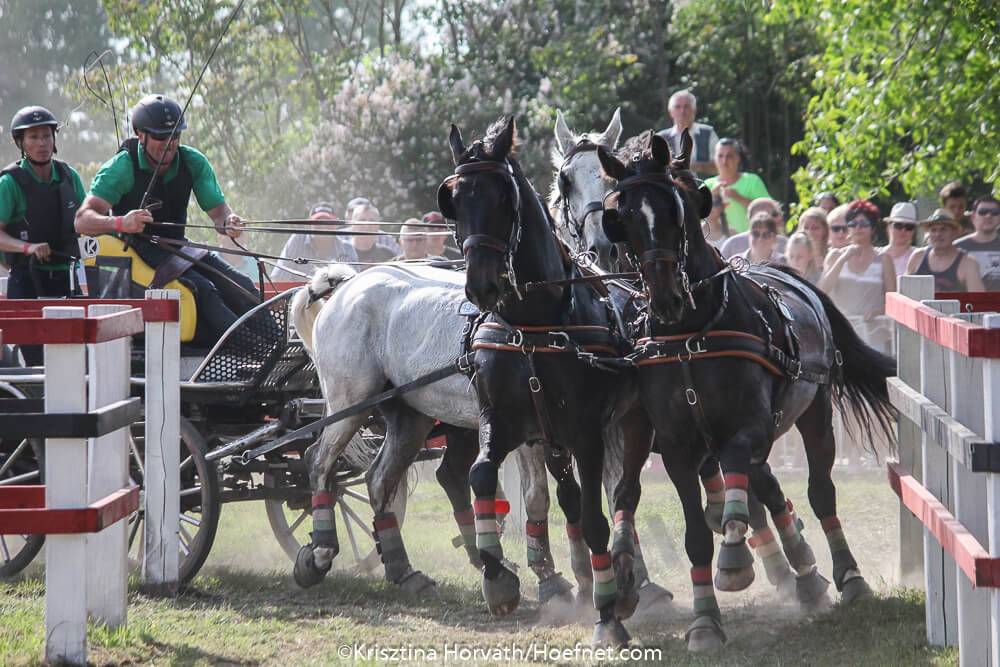 József Dobrovitz took the top honours in the horse team category. He won the dressage and the marathon and he managed to hold on to his leading position after cones as well. Jérôme Voutaz was the only driver to drive a double clear round in the cones during the day and that meant he stayed on the second place in the overall standings. Lajos Móró (HUN) performed very strong during the whole competition and finished third. Hungary took the first place in the Nations Cup, ahead of the Czech Republic and Austria.
Photo:
Krisztina Horváth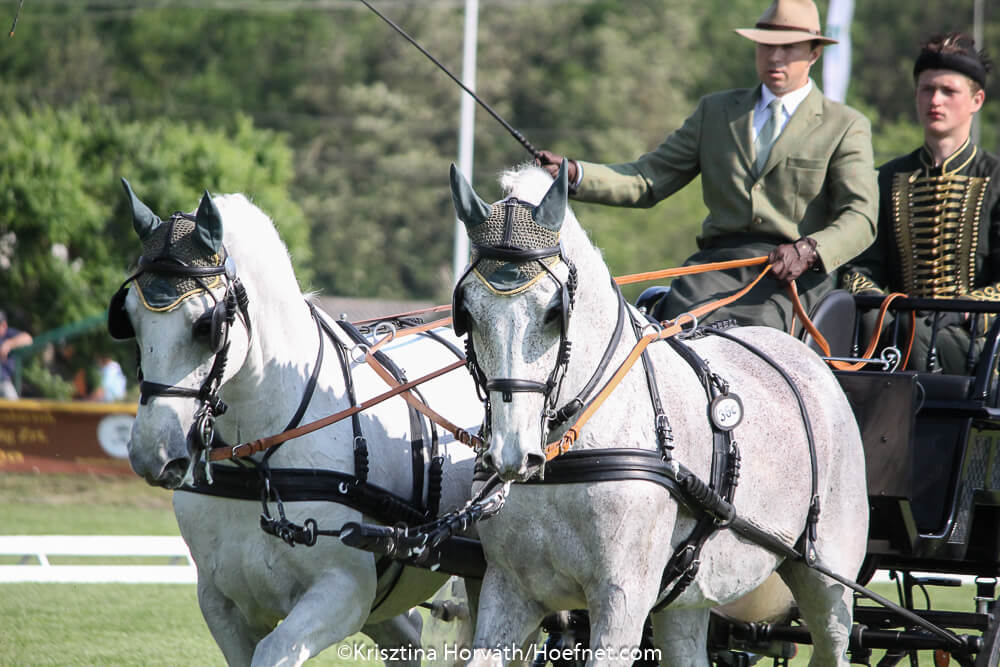 Gergő Rákóczi (ROU) came second in dressage and marathon and drove a safe round in cones to take home the win in the horse pairs category. He finished first ahead of Hungary's László Penzer and Pál Szabó.
Photo:
Krisztina Horváth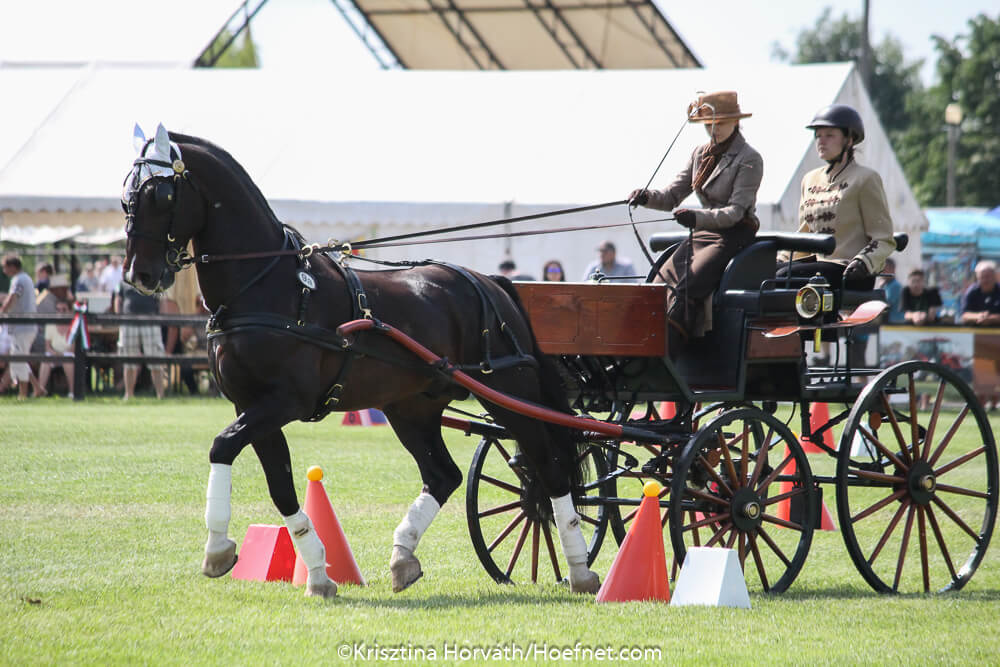 Katalin Nyúl (HUN) had a great start of the 2018 season with her 14 year-old KWPN stallion Ziezo. The three-time Hungarian Single Driving Champion had the best performances in dressage and marathon and finished second in cones. She won with more than 12 points difference to Mária Meskóné Orosz on the second place. Gábor Rondzik came third.
Photo:
Krisztina Horváth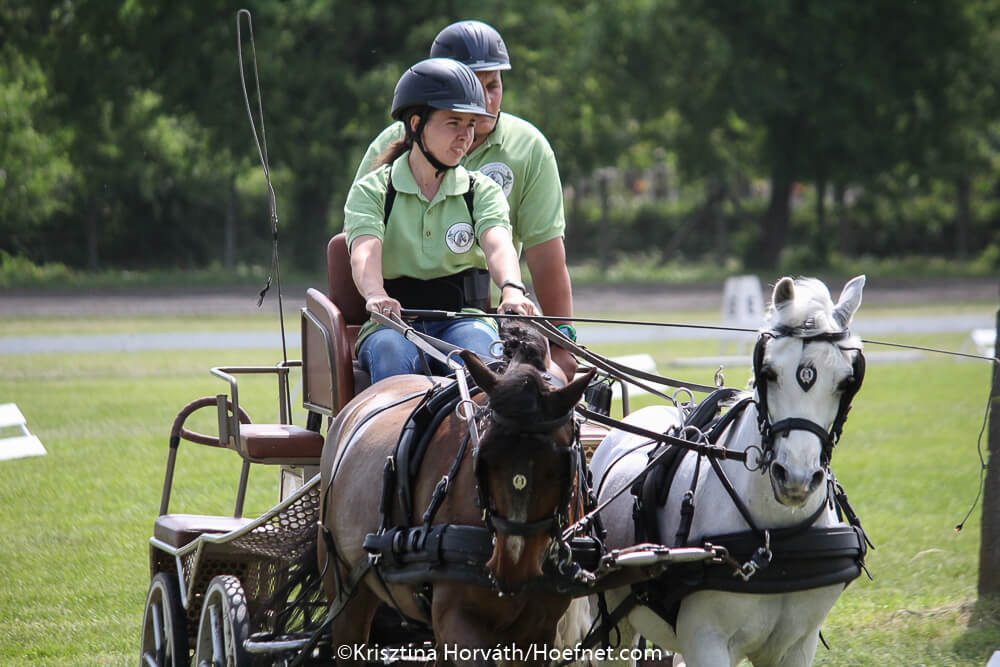 There were only two participants in the pony pair class, where Evelin Balla was the best. Zsófia Kovács unfortunately got eliminated in the marathon.
Photo:
Krisztina Horváth