11 July 2015
Minden: ups and downs in the marathon
The marathon took place under beautiful weather circumstances. It was already exciting in the pony singles class. In the end it was France's Claire Lefort who won, just ahead oft he German team driver Sandra Schäfer and Switzerland's Cédric Scherrer.
The reigning Dutch Champion Marissa Schuiling finished fourth and left the reigning World Champion Martin Hölle behind her. Thanks to his sixth place in the marathon, Fabian Gänshirt is able to keep his leading position; Claire Lefort is lying second and Martin Hölle third. The difference between the first and the sixth placed driver is around two points. The Nations Cup is led by Germany, ahead of Great Britain, France and Switzerland.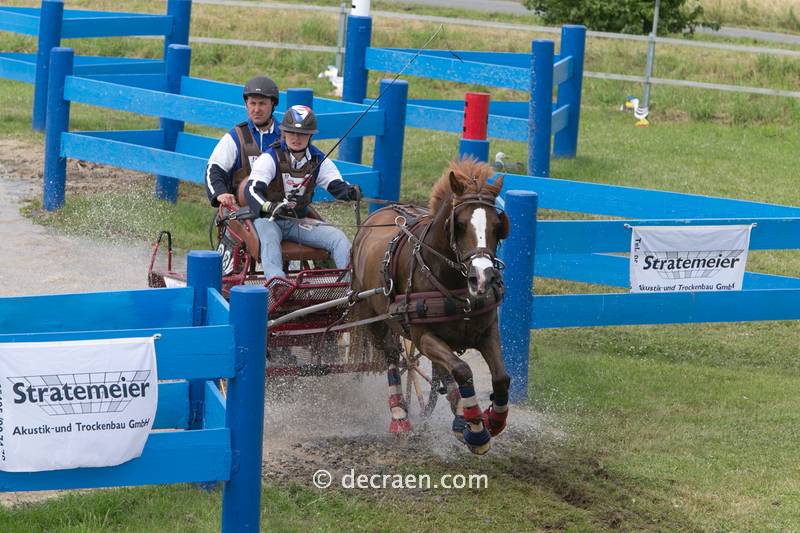 Photo:
Rinaldo de Craen
In the pairs class in was Roger Campbell who put down the best performance, with one point ahead of Dirk Neerincx and his compatriots Woutera van de Kamp-Roozendaal and Karel van Kekem. Best German driver is Thomas Tischer. Bad luck for two Dutch team members Rodinde Rutjens and Manon van Kasteren who both had mechanical problems with their carriages. Van Kasteren was able to finish the marathon slowly, Rutjens had to give up. Dressage winner Dieter Baackmann has lost his chances to a high placing after he had a hick up in the last obstacle.
Host Christof Weihe has taken over the lead in the standings, ahead of his compatriot Jan-Felix Pfeffer and Anna Grayston from Great Britain. Germany leads the Nations Cup, followed by Great Britain, Belgium and Switzerland.
Reigning World Champion Bram Chardon won the marathon in the pony teams class, ahead of Jan de Boer and Steffen Brauchle, just like the dressage results so the top three has remained unchanged. Tinne Bax and Aart van de Kamp jr. finished fourth and fifth in the marathon and in the standings after two competitions. The Dutch team is in the lead in the Nations Cup, ahead of Germany and Belgium.
Click here for the starting orders and results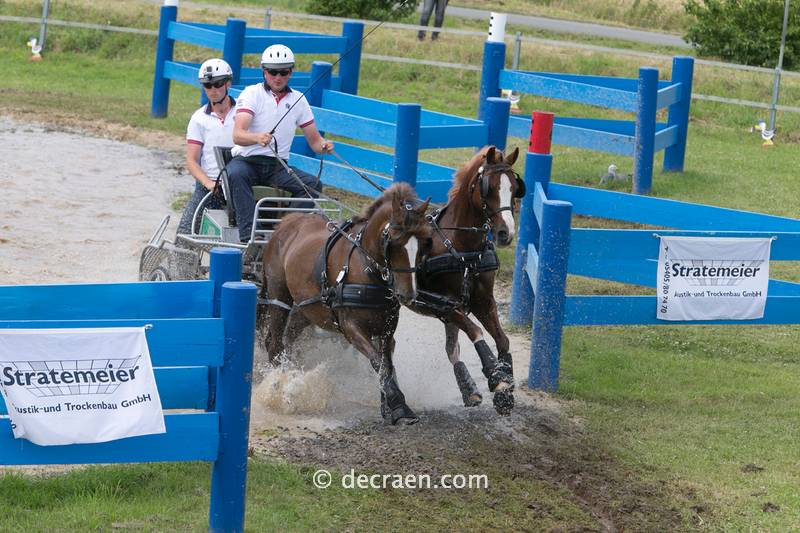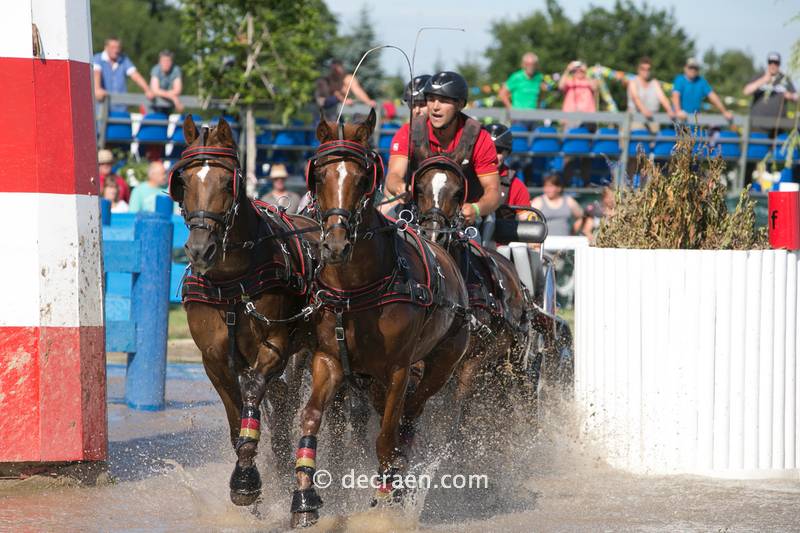 Photo:
Rinaldo de Craen