20 August 2017
Minden: German team takes gold
The Pony Driving World Championships came to a close today in Minden, Germany with the nail-biting cones driving and finally the celebration of our champions. Host nation Germany took home the gold medal in the team competition with The Netherlands and Belgium rounding out the podium.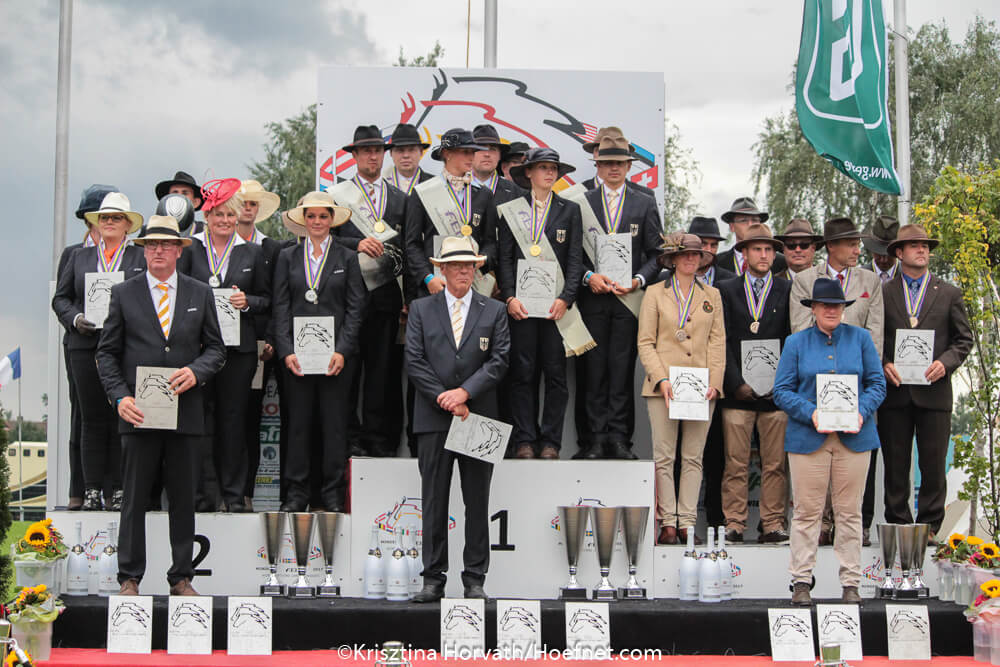 Photo:
Krisztina Horváth
After yesterdays heavy marathon, as expected there were a lot of changes to the leaderboard. The scores were all very close, making this last competition extra exciting! The first driver, Belgium's Sven Tinlot entered the ring at 8.30 am, and at that time the grandstands were already full. The spectators got their money's worth as it took a good while before anyone was able to master Jeroen Houtermans challenging course.
The German single pony team drove impeccably with all team members scoring double clear rounds. The last to go Marlena Brenner proved to be the best and took home the gold medal with Switzerlands Cedric Scherrer taking silver and Germany's Katja Helpertz winning bronze.
Jan-Felix Pfeffer, who up until the last competition had been leading the pair pony division gave up his gold medal to Tara Wilkinson after a disappointing drive. Wilkinson was able to edge out Pfeffer by less that a penalty point to claim gold, and after driving a brilliant course, Belgium's Pieter van den Broeck moved up to win the bronze.
As second last driver, Michael Bügener drove a strong cones, adding just a few time penalties and placing an enormous amount of pressure on the leader Jannes Kinds. This was too much for Kinds, who had too many mistakes in his round giving up the gold medal to Bügener. Jan de Boer of The Netherlands drove an excellent course and moved up to silver and Tinne Bax from Belgium took home the bronze.
 The World Championships in Minden will be looked back upon as a competition organized by a passionate group of driving enthousiasts who looked out for all of the drivers needs, attracted a large number of spectators and of course encouraged a competitive but friendly environment.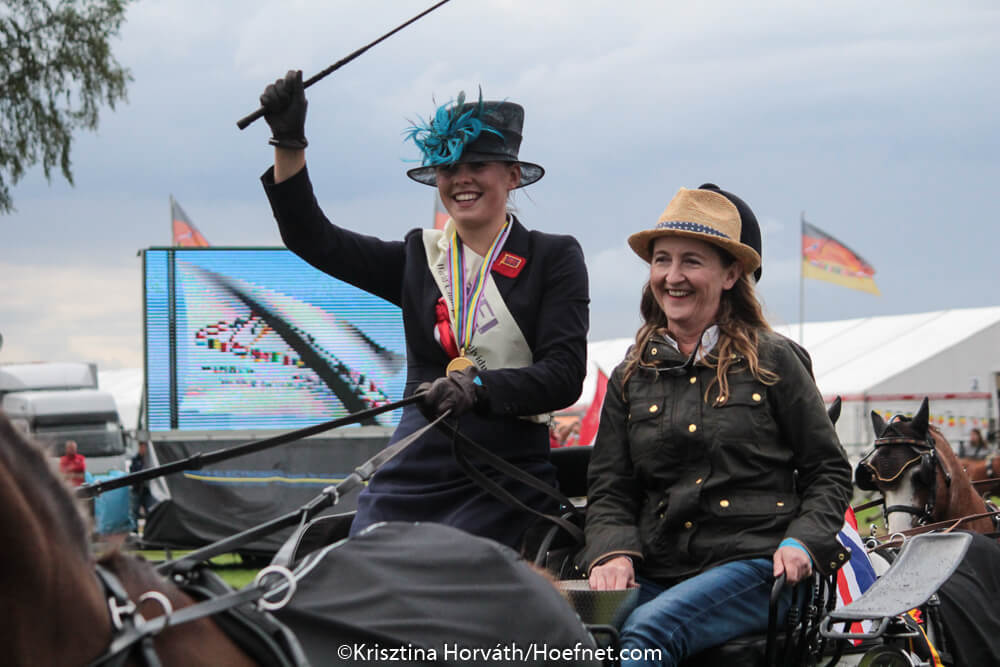 Tara Wilkinson
Photo:
Krisztina Horváth