9 March 2020
National titles for Weber, Arnold, Keeler, Bradish and Whaley
Live Oak International celebrated its 30th anniversary last weekend and hosted the USEF Combined Driving National Championships. Chester Weber secured a record 17th USEF Four-in-Hand National Championship while Jacob Arnold was crowned Pair Champion and Taylor Bradish took home gold in the the Single Horse National Championship Class. Katie Whaley is the Pony Pair National Champion again and Jennifer Keeler renewed her national title in the pony Pony Singles Class.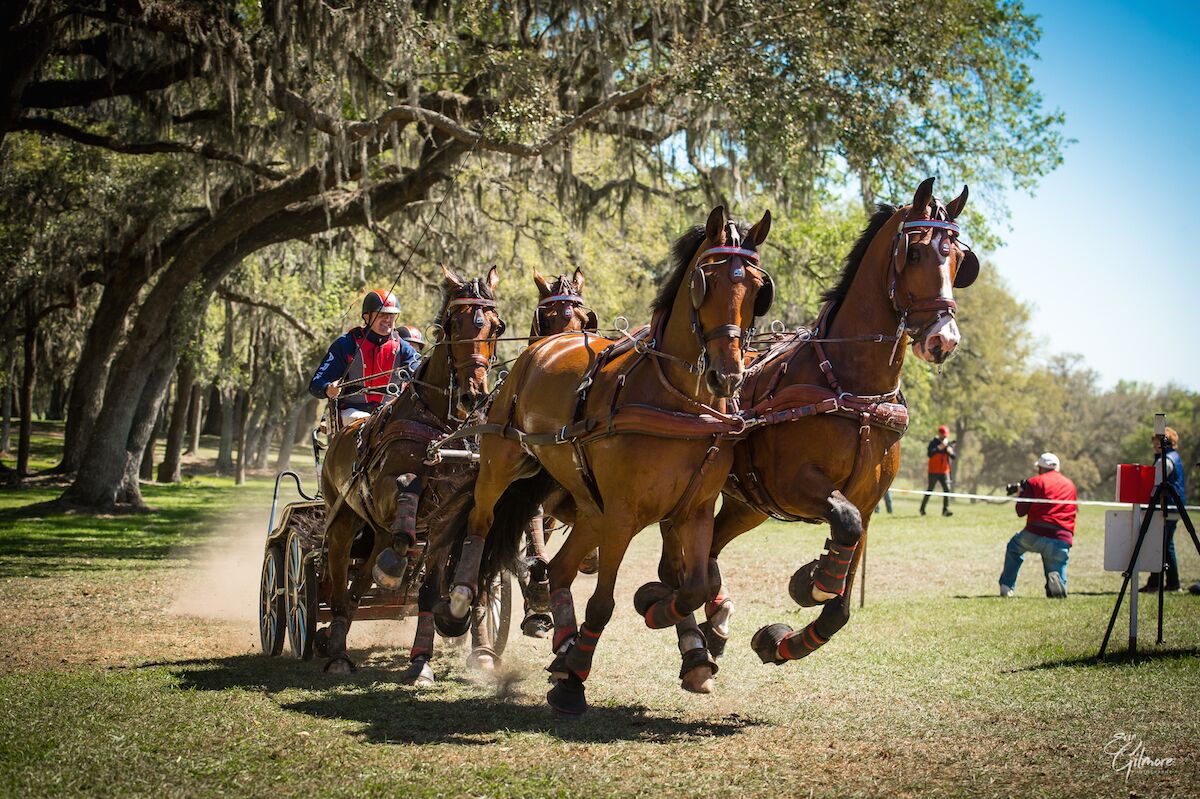 Chester Weber
Photo:
Erin Gilmore
Chester Weber
"Number 17 feels nice. It's always a big goal in my organization to win a national championship and now it's checked off" said Chester Weber. "This week, I drove two younger horses that came out of my program. Julius on the left and Amadeus on the right wheel. I drove the Marathon team that I'm thinking about for the top sport, it's the first time I've had these two leaders back together and my plan is to keep this team for the rest of the season."
Jacob Arnold
Jacob Arnold came out on the final day of competition and won the FEI Horse Pair Cones. He takes home the FEI Horse Pair from Live Oak International and the USEF Advanced Horse Pair National Championship.
"I have three horses here this weekend, all of them owned by Steve Wilson. Two of them are a dressage pair that I took to the World Championships last year. I was very pleased with all of them this week and we had some good strong results" said Jacob Arnold. "But none of this would have been possible without the support of Steve. It means a lot to get a trophy for him."
Taylor Bradish
Suzy Stafford won the FEI Single Horse at Live Oak International and Taylor Bradish took home the USEF Advanced Single Horse National Championship.
"I couldn't be more thrilled with this week at Live Oak International" said Suzy Stafford. "We didn't know we'd be ready to compete here and to then win, it really is special."
Taylor Bradish: "My horse is 10 years old. She loves the marathon phase and just goes with it which is great. She's not an easy horse, she makes me work for it for sure". Taylor won the Grand Oaks CDE earlier this year by a narrow margin and with this National Championship win she continues to make promising steps towards a place on the US Team this fall.
Katie Whaley
Katie Whaley is the USEF Advanced Pony Pair National Champion for the fifth consecutive time and winner of the FEI Pony Pair division. "Live Oak International sets the bar for all of us. I've competed here for about 27 years. I'm dating myself, but to watch it evolve is really a highlight of the season for me" said Katie.  I have a young pony in the pair, he did the dressage and he was amazing. The atmosphere in that ring is pretty high, he was really a good boy. I took my ponies on the marathon and cones, and that's just like a party for me, I love that."
Jennifer Keeler 
Winning the FEI Pony Single Cones was Jennifer Keeler with Amazing Grace. Jennifer had an exceptional week at Live Oak International and defended her USEF Advanced Single Pony National Championship.
"Grace really was exceptional this week and she is actually going to be a mother, we have a baby Grace coming via embryo transfer" said Jennifer Keeler. "Live Oak International has been a great competition for us and we'll continue to compete together. I'm lucky enough to have a second Advanced level pony, Zeppo, who won the intermediate championship here two years ago. Maybe if the national championships are back again next year, he will get his chance."