15 July 2022
Oirschot 2022: Dutch in the lead in all categories
Due to the large number of participants in Oirschot, the dressage was divided over Wednesday evening, Thursday and Friday. 113 dressage tests were driven in the chic and easy-to-drive dressage ring.
The 2* single driving ponies kicked off on Wednesday, followed by the 2* pair ponies. Klaas van de Sande is now at the top of the single ponies. He is closely followed by his wife Ellen van de Sande-Boot with a difference of 0.13 penalty points. Anouk de Haas won in the pair driving, followed by Jorn van Olst.
"Just try"
On Thursday the 3* pair drivers and the first part of the 3* single drivers drove their test. Rodinde Rutjens won in the pairs. With two more penalty points, the Danish Maria Buchwald finished behind Rutjens. "I am very happy with the ponies," Rodinde tells Hoefnet. "There is more relaxation in the pair now, which allows me to show a better test. In the previous test there were a lot of transitions. Now that there are less transities, you are able to show a better bending if the ponies are relaxt."
In the marathon, Rodinde has fewer expectations. "This marathon would normally be something for me. The obstacles are a bit longer, but technical and there are enough opportunities to accelerate." Unfortunately, her marathon pony sustained an injury during a training session last week. "Now I have to use my dressage team for the marathon. One of the ponies is in his sixth competition here and he only did a marathon twice, alongside a young pony. I wanted to use him in the marathon one day, but that was still in the planning for the future and I'd rather do it at a national competition for the first time. So I will  see how it goes on Saturday. Maybe I can slowly increase the speed, maybe not. We're just going to try."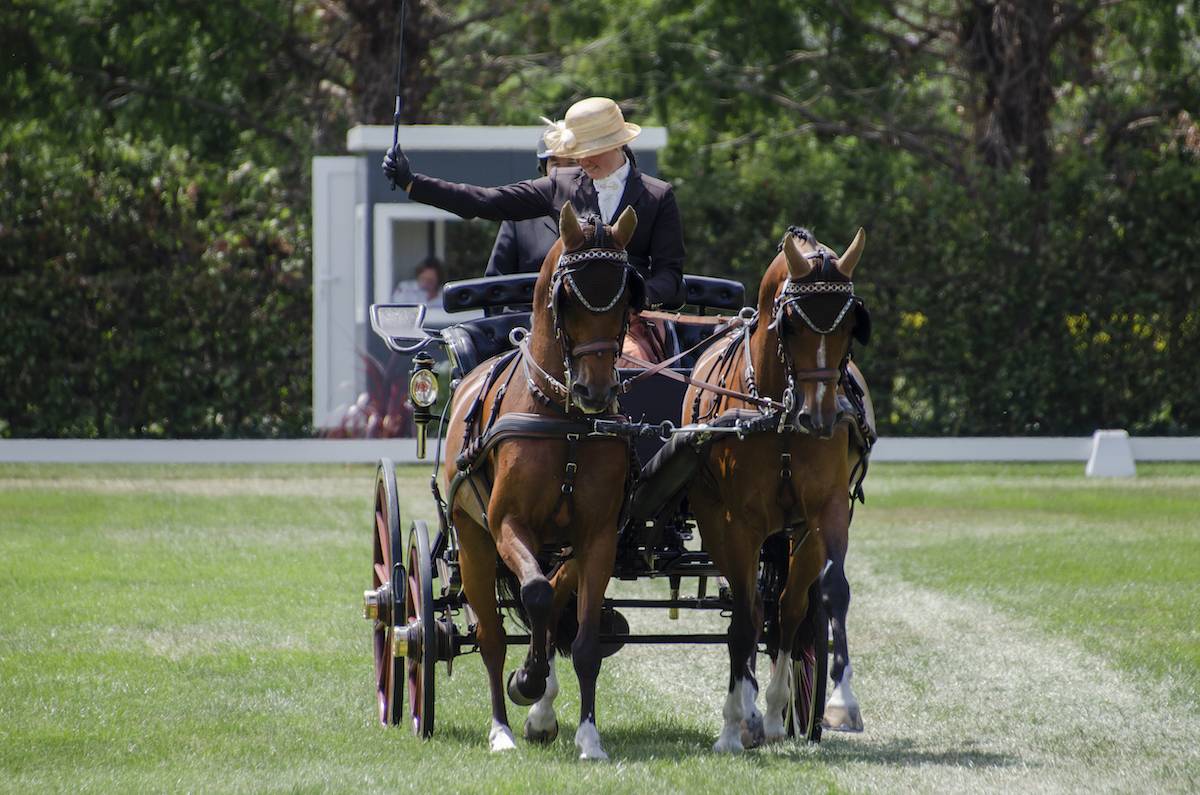 Rodinde Rutjens
Photo:
Crista Castelijns
Reward
After the second part of the 3* single dressage on Friday, Henk Radstake came out on top with De Bekelaar's Romero. They scored 44.38 penalty points. In second place is the Danish Lise Halkjaer with 46.71 penalty points. "I am very satisfied", Henk Radstake reacts enthusiastically. "He did his best, was super loose through his body and was nice to work with. I feel like I have driven such a nice test before, but that was not always rewarded. It's great that this has happened. If you realize that we had our first competition here last year, we did make much progress."
Henk will also do his best in the marathon on Saturday. "The marathon is a competition that he has to learn yet. He's will learn it, I'm confident of that. He likes to work hard, but I'm going to drive wisely. He must continue to enjoy it and I will therefore anticipate what he will offer on Saturday."
Satisfied
Marijke Hammink is in the lead in the four-in-hand class after dressage. With her score of 42.43 she keeps Tinne Bax, the number two, more than 4 penalty points behind. Jan de Boer is third. "You have to be satisfied with a result like this," says Marijke Hammink. "The whole test went as I wanted. The ponies were relaxed and obedient and I had a great time driving them." For the marathon she has her marathon pony, which will be one of the leaders. "The marathon is very complete. There are longer lines and technical options. There are eight obstacles, but the condition of the ponies is in order. I have a good starting position, but of course it all still has to happen!"
On Thursday, Richard Papens came to Oirschot on behalf of the FEI to look at the location, to have a look at the site of the   2023 World Championships for Ponies. He was full of praise for the location, the appearance and organization.
Klik hier voor het fotoalbum van de dressuur donderdag
Klik hier voor het fotoalbum van de dressuur vrijdag
Copyright reserved. Acquisition without acknowledgment and permission from [email protected] is not allowed.