20 December 2013
Olympia: Chardon wins!
IJsbrand Chardon (NED) put down an excellent performance in the electrifying atmosphere at London Olympia and won the seventh leg of the FEI World Cup™ Driving season 2013/2014. Reigning FEI World Cup Champion Koos de Ronde (NED) finished second, driving an alternate team of horses. Youngest competitor in the field Michael Brauchle (GER) drove very well and took the third place.
Dutch World Championship course designer Johan Jacobs last week built the course in the large arena in Geneva and now had the challenge to lay out a good course for the drivers in the small but atmospheric arena at Olympia, in which he was very successful. The course consisted of technical and fast parts and was easy to follow for the spectators. The course was also shown on the big screen with the letter of the marathon obstacles lightening up as the drivers passed the gates. A new item, which also educated the exciting and knowledgeable crowd, who sat close to the arena.
IJsbrand Chardon put the pressure on himself by knocking a ball off the first obstacle in the first round, knowing his opponents Michael Brauchle and Boyd Exell were still to come. So Chardon put the throttle on and put down a very fast time, securing his place in the Winning Round. Brauchle also qualified for the Winning Round, which put the pressure on Boyd. The four-time World Cup Champion knocked two balls down in the first marathon obstacle after which he speeded up his team even more. But even though Boyd took a very risky and short route to the last obstacle, the earlier mistakes kept him from a place in the Winning Round.
The youngest competitor in the field, 23-year-old Michael Brauchle, has improved at every event he competed in. Brauchle used his outdoor marathon mare Jamaika in the lead of his team together with the grey gelding Eclair. Brauchle put these two horses together for the first time in Stockholm three weeks ago. Unfortunately he knocked three balls down, but he was still pleased with his third place. Brauchle is currently on the fifth position in the standings with one more competition to go in Leipzig from 17-19 January, after which the six finalists will be announced.
Koos de Ronde had to leave two of his most experienced indoor horses as home because of injuries and was driving an alternate team at Olympia. Whilst warming up for the World Cup competition, Koos decided to make a last minute change and put another horse in. He put Palero, who was in the lead of his team when he won in Hannover, in the wheel, a position in which he had never been before. His left leader horse Charley caused an exciting moment for Koos when he jumped over the traces in the first marathon obstacle, but luckily immediately jumped back again, preventing Koos from getting extra penalty seconds. Koos gave everything he had and set the second best time in the Winning Round, finishing second. Like Boyd and IJsbrand, Koos is now certain to defend his title at the FEI World Cup™ Driving Final in Bordeaux from 8-10 February 2014.
Ijsbrand Chardon drove the same team of Lipizzaner horses as with which he won in Budapest and came second in Geneva. After Koos had two mistakes and Michael three mistakes in the Winning Round, Ijsbrand had an advantage of nine seconds. But rather than slowing down and driving safe, Ijsbrand treated the fantastic crowd to a fabulous round, beating Koos' time by just 0,19 seconds. One knockdown did not keep the four-time World Champion from his second victory of the season.
European Champion Theo Timmerman (NED) finished fourth, ahead of Boyd Exell, who competed with a wild card. Daniel Schneiders (GER) missed the necessary speed in his team and came sixth. Second wild card driver Georgina Hunt drove her outdoor team nice and smooth through the obstacles. Several British four-in-hand drivers competed in three indoor driving events to qualify for the prestigious FEI World Cup™ Driving competition at Olympia. Georgina was thrilled to be able to compete at Olympia and was very pleased with her horses, with which she hopes to qualify for the FEI World Cup™ Driving in the near future.
Quotes:
IJsbrand Chardon (NED): "I really enjoyed competing at Olympia. I won the test event here in 2011 and the spectators and atmosphere are just perfect. I am of course pleased that I have won, but I would have liked it even better to have won it when Boyd had made it to the Winning Round."
Koos de Ronde (NED): "During the warm up, one of my horses turned out to be not fit so I decided last minute to bring another horse in. I just went for it and I am very pleased that it worked out well for me."
Michael Brauchle (GER): "My outdoor leader horse Jamaika helps me for 90%, she is really good. She has a great heart and the will to work. In the Winning Round my other lead horse got a bit too strong which resulted in three balls to fall. They just need more fine-tuning.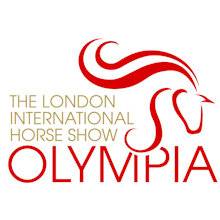 1. IJsbrand Chardon (NED) 216,83
2. Koos de Ronde (NED) 225,47
3. Michael Brauchle (GER) 230,79
4. Theo Timmerman (NED) 114,01
5. Boyd Exell (AUS) 116,83
6. Daniel Schneiders (GER) 118,90
7. Georgina Hunt (GBR) 127,13
FEI World Cup™ Driving, standings after 7 of 9 events:
1 IJsbrand CHARDON NED 32
1 Boyd EXELL AUS 32
3 Koos DE RONDE NED 21
4 Georg VON STEIN GER 19
5 Michael BRAUCHLE GER 15
5 Theo TIMMERMAN NED 15
5 Daniel SCHNEIDERS GER 15
5 Tomas ERIKSSON SWE 15
9 Jozsef DOBROVITZ jr. HUN 11
9 Jozsef DOBROVITZ HUN 11