23 March 2021
Out of the shadows: Michael Mayer
In the sport of combined driving there are many people constantly active behind the scenes. Driving is a discipline of equestrian sport that you just can't do alone. Support from family, a partner or friends is indispensable for active competitive drivers and the competitions themselves are run thanks to the dedication and hard work of enthusiastic organizers and volunteers. In this series of articles 'Out of the shadows' Hoefnet will be shining a light on the people who play such an important role in the background of our sport.
Michael Mayer
The 40-year-old Berner Oberland police officer Michael Mayer was born in Graubünden Switzerland and is currently the youngest international three-star course designer in our sport. He has competed himself with a single horse and was a groom for his countryman Werner Ulrich while he was active with a team of horses. Now, he sets his hopes on one day designing and building a World Championship course.
International driving career
The Mayer family have been involved with horses for generations. Michael's Grandfather had a hotel and carriage company, and his father Werner was a showjumper, who later in life made the transition to competitive driving with a pair of horses. When his father stopped competing in 2004, Michael began driving Lajozs, one of his father's horses. In the five years that he competed with Lajozs, he took a podium place at the Swiss Championships every year as well as competing in two World Championships. As retirement for Lajozs neared Michael was unsuccessful in finding a replacement for him, and along with other priorities in his private life made the decision to put a hold on his career as an active driver.
Michael however continued to be involved with the sport and competitions. He took over as administrator for the Swiss website Fahrsport-Aktuell and also became involved with team driver Werner Ulrich, who was at the time looking for someone to help his son Stefan. Eventually Michael also ended up grooming for Werner and for four years he travelled with the team to competitions across Europe, including World Championships in Riesenbeck (2012), Caen (2014) and Breda (2016) and European Championships in Izsak (2013) and Aachen (2015). "It was fantastic to be able to experience the CAIO in Aachen. The marathon course, with so many spectators is just unique. But the competitions in Hungary are also very special, the atmosphere is more of a festival than a competition," tells Michael.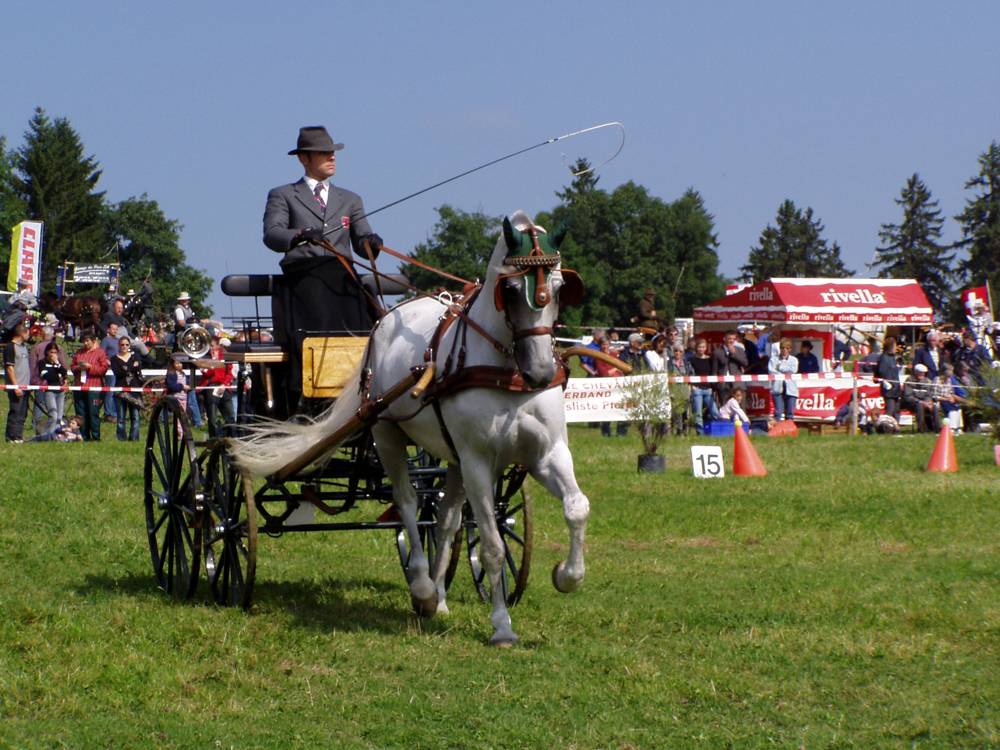 Michael Mayer with Lajozs
Photo:
From carriage to course design
During his time on the back of the carriage, Michael also volunteered as an announcer at his home competition in Vaduz. Despite being offered announcing gigs in Austria and Germany as well, he decided instead to use his knowledge and experience to train to be a course designer. In 2018 he began working at his first international competitions.
"The challenge for a course designer is to build a course that is diverse, challenging, attractive and that is for everyone, from single pony to four-in-hand horses. To keep everything in balance is not always easy. But not just the marathon is fun, the cones has the added element of being the deciding factor in the competition or even a championship. As a course designer you can have a lot of influence and be creative. If you build for speed, or a finer technical course, or a combination of the two, it is a new challenge every single time."
Michael builds his courses as he would like to drive them himself: "I believe that it is an advantage to have driven in more than one division within the sport. Whether it was as a single driver, or with my father in the pair, or with Werner Ulrich or Tomas Ericsson with a team, I have seen the sport from every dimension."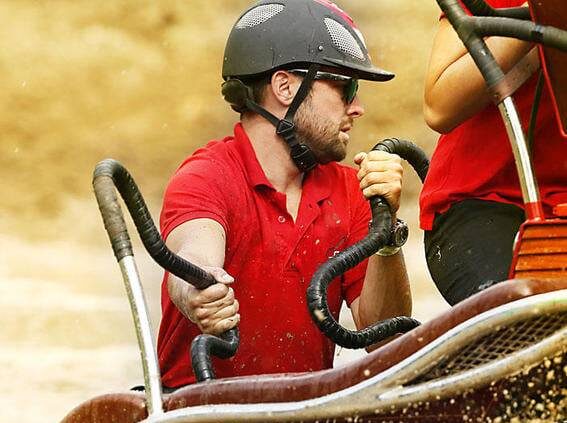 Michael as a groom for Werner Ulrich
Photo:
Creating a 'show'
According to Michael, the perfect marathon is built on a terrain with hills, dales, and water crossings. "This is what makes a marathon appealing, it needs to be a bit of a 'show' for the spectators! I love working with natural features, but this is not always possible at every competition. The combination of simpler, spectacular obstacles in combination with technical high proficiency obstacles usually makes for a good marathon."
Michael finds that the actual decorating of the obstacles not that important. "Of course, we all would love to see beautifully decorated obstacles like the ones in Aachen or at championships, but in many cases, it is a financial burden for the organization. Above all, the most important component of a marathon is that both the obstacles and the line options remain horse friendly at all times."
He continues, "The entourage and atmosphere at the classics Riesenback, Aachen and Beekbergen are beautiful, but a national competition such as the CAI Lähden at Christoph Sandmanns has so much charm too. And Windsor – who wouldn't want to drive through Queen Elizabeth's gardens?" But to be realistic, "For the growth of the sport, it is important that there are enough competitions. Not everything needs to be over-the-top."
Building courses for an indoor is a complete other dimension, where much more emphasis is put on the 'show-aspect' of the course. The arenas are smaller, so you have to build in a different manner. "The driving sport has a platform here to showcase themselves, there needs to be action, without it becoming too dangerous. Too easy is also not an option as it still needs to be exciting for the spectators."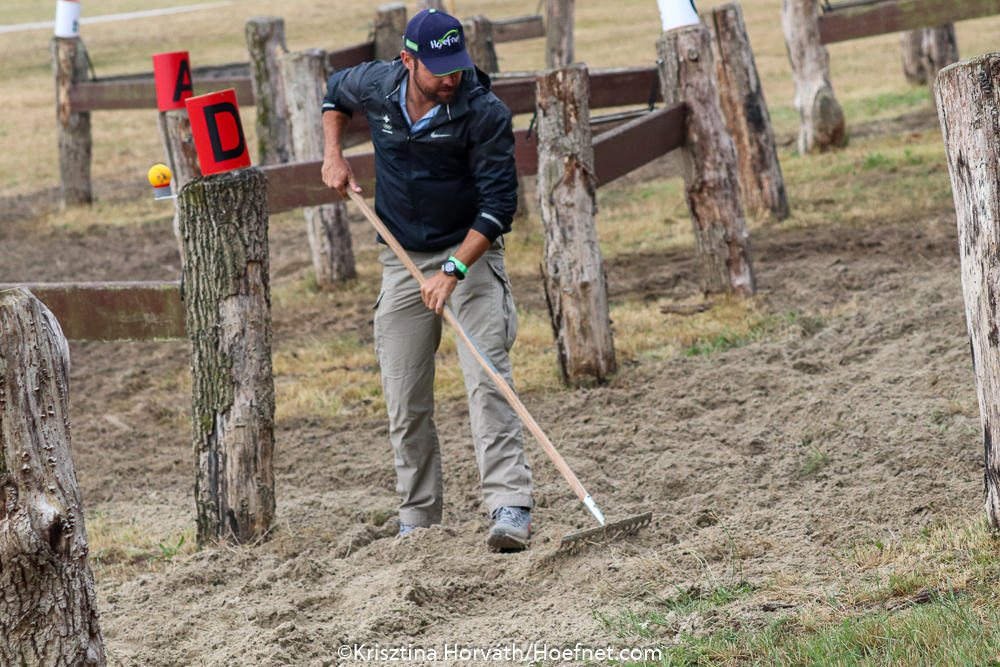 Michael was in 2020 the course designer in Exloo and would have been it again in 2021
Photo:
Krisztina Horváth
Future dreams
Michael would love to get the chance to be the course designer for a World Championship, "It wouldn't matter to me which discipline. Of course, everyone wants the Formula 1, the horse teams, but to me, as a single horse driver I find that category just as important. It would also be a wonderful opportunity to design for one of the 'classics' as well!"
Source: PferdeWoche. Edit: Hoefnet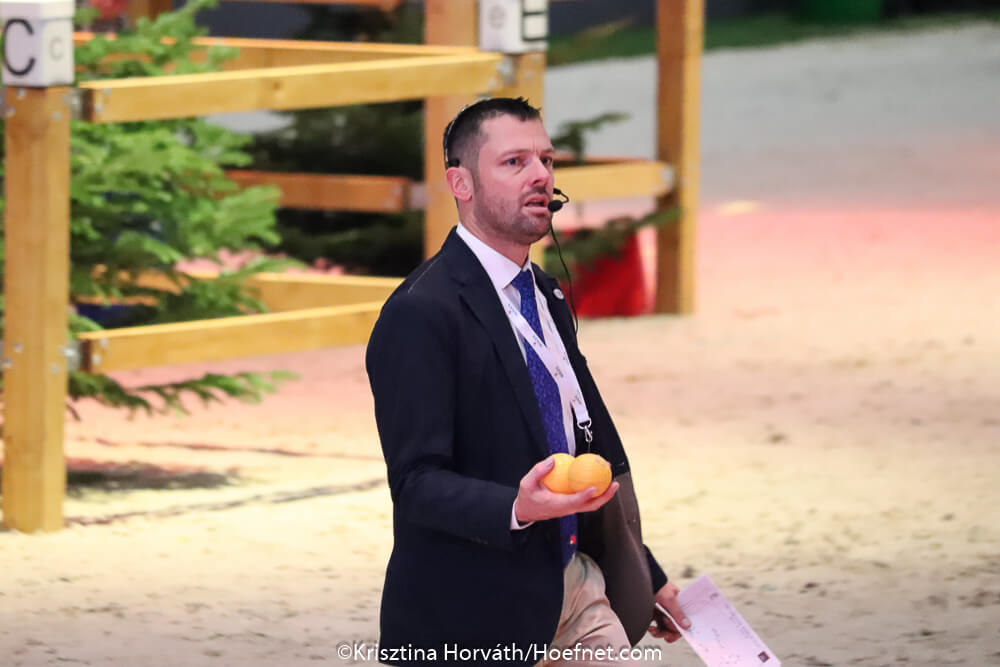 Michael Mayer als assistent parcoursbouwer tijdens de Wereldbekerwedstrijd in Genève
Photo:
Krisztina Horváth