21 June 2019
Pleternica 2019: József Dibak takes the lead
Today was dressage day at the CAI2* competition in Pleternica, Croatia. The day started very warm and sunny but around noon, the competition had to be stopped for an hour and a half because of a very bad thunderstorm and lightning. Luckily, after the rain the sun came out again and the competition could be continued under a lovely sunshine.
Italy's József Dibak has taken the lead in the international pairs class, driving the nice 7-year old KWPN geldings Hadora and Hero H to a score of 43,45. It is the first time both horses compete together at international level. Dibak's compatriot Francesco Aletti Montano follows him in second place, driving his experienced Dutch pair Corleone B and Doorman. Best Croatian driver in this class was Marko Vidacic in third place, presenting his pair of Lipizzaner horses.
Italian driver Luca Cassottana drove his Caprichoso to the lead in the international horse singles class in which Jozsef Farkas from Hungary is the runner-up.
Hungary is well represented in Pleternica, where Péter Juhász won the dressage in the pony pairs class, ahead of Richard Aszodi. Péter's younger brother Bertold is gathering experience in the national Children's class and set a score of 67,52. Szilvia Gáspár was the last competitor in the arena before the competition had to be stopped, but luckily her pony was not afraid of the wind and lightening and Szilvia was able to achieve a qualifying score of 60,64. Sándor Karsay drove his two ponies to the second and third place.
The marathon starts at 14.00 on Saturday and includes seven obstacles, designed by level 2 Course Designer Pawel Konarski from Poland.
Click here for all starting orders and results.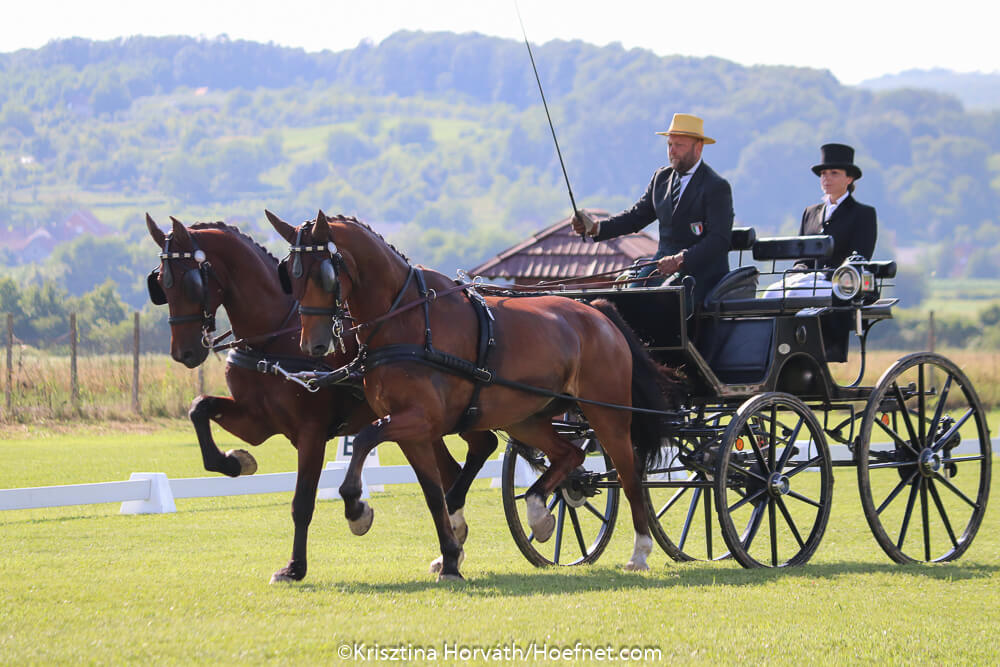 József Dibak won the dressage in the international Horse Pairs Class
Photo:
Krisztina Horváth