8 August 2018
HRH Princess Haya Hand-in-Hand Trophy in Kronenberg
In a few short weeks The Netherlands will welcome the world's best single horse and Para-drivers to the Grandhorse event centre in Kronenberg. For the very first time in history, the World Championships for Single Horses will be held in conjunction with the World Championships for Para-driving, collectively creating an ultimate celebration of single driving. To recognize this exceptional event, the FEI will once again be awarding the prestigious Princess Haya Hand-in-Hand Trophy.
Introduced by former President of the FEI, HRH Princess Haya in 2006 for Dressage athletes and in 2010 for drivers, this trophy consists of pairing up one Para-Equestrian athlete with one able-bodied athlete, preferably from the same nation. The teams will be formed by the chefs d'equipe. The team with the least penalty points after 3 phases, is the winner of the Princess Haya Hand-in-Hand Trophy.
Over the years, this trophy has not only increasingly gained in popularity, it has also become a symbol representing the integration of Para-Equestrian in the global equestrian family.
Up until today this prestigious trophy has been won four times, and the current title-holders are para-driver Lindsey Tyas Paice (GBR) and Barry Capstick (IRL), who is a member of the Ground Jury at Kronenberg.
Click here for more information about the World Championships in Kronenberg.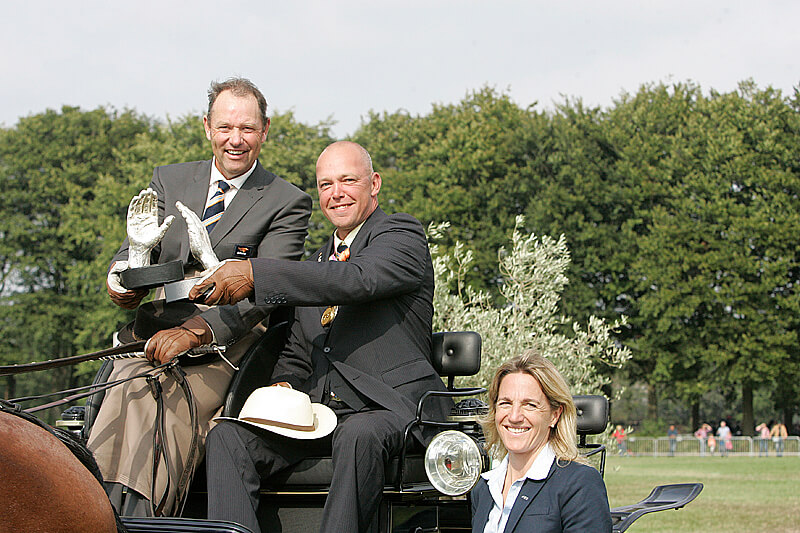 Ijsbrand Chardon and Jacques Poppen won the HRH Princess Haya Hand-in-Hand Trophy at the CAIO horse fours and World Para Driving Championships in Breda 2012
Photo:
Rinaldo de Craen