7 April 2014
Record number of competitors in Horst
From 25th to 27th April the site of the "Kasteelse Bossen" in Horst aan de Maas will be completely dominated by the national and international driving sport. A record number of athletes will compete against each other for four days at a beautiful competition. Over 250 competitors from 14 different countries will enter the competition.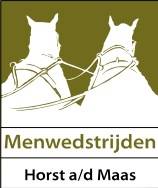 For the first time, the event in Horst is open for international single drivers, who will have their World Championship at the end of September in Hungary. More than 30 drivers will battle against each other for the first time this season. Amongst them the bronze medal winner of the World Singles in 2012 and multiple Dutch champion Wilbrord van den Broek.
The pairs class is well represented by more than 20 drivers, including Dutch top drivers Harrie Verstappen, Gerard Leijten and Carlo Vermeulen, who won the bronze team medal in Topolcianky last year.
The Four-in-Hand class is extremely well filled during this important World Championship year. Reigning World Champion Boyd Exell from Australia is travelling to Horst and will compete against strong opponents like the successful Dutch trio IJsbrand Chardon, Koos de Ronde and the reigning European Champion Theo Timmerman. The best Four-in-Hand drivers in the world will use the competition in Horst to start their preparations for the World Championship, which will be held at the prestigious World Equestrian Games in Normandy early September.
The competition in Horst provides a perfect event for the national and para drivers as well. 255 drivers in all classes and categories, from single pony to Four-in-Hand horses are performing parallel to the international drivers, so each day will be full of excitement.

An experience
The driving event in Horst is a free of charge event, which offers more than just driving sport. Children can do face painting, pony riding and have fun at the "children's farm" and the bouncy castle. All in all, the competition in Horst offers something for everyone.