12 October 2019
Salteras 2019: Sunny Marathon Day
Today was Marathon Day at the CAI2* and Andalusian Championships in Salteras. The weather conditions were excellent with a nice and warm sunshine. FEI Level 3 Course Designer Vilmos Jámbor had flagged the seven obstacles very nicely and the day passed without any incidents.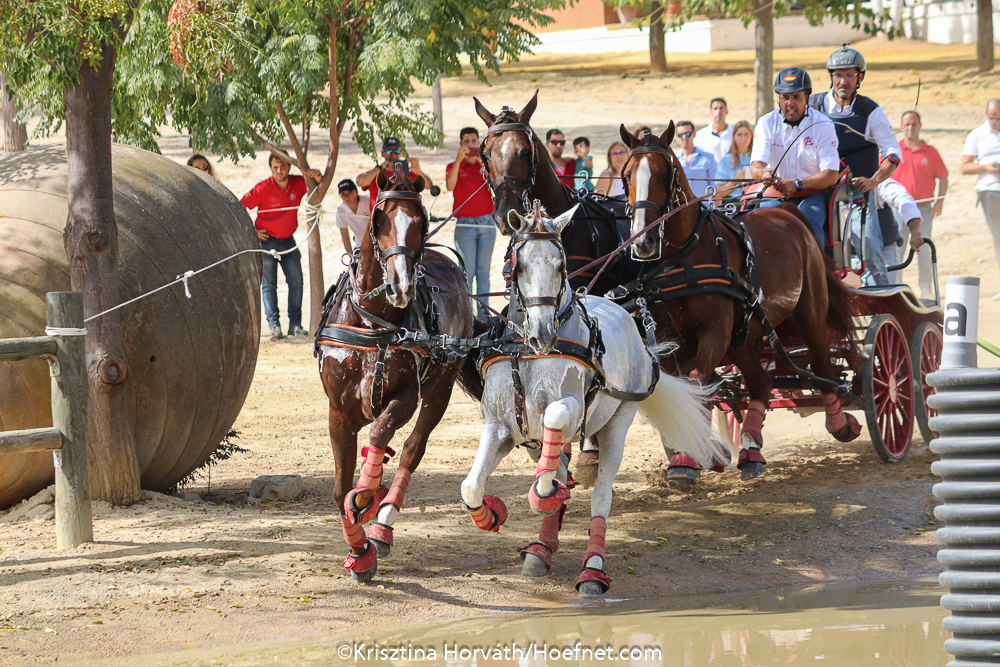 Juan Real Garcia
Photo:
Krisztina Horváth
Jose Ignacio Solana Marti set the fastest times in four obstacle and won the marathon of the Horse Singles class, ahead of Joaquin Llorente and Marcelo Torrecillas. Solana Marti has taken over the lead in the standings and has an advantage of 8 points over his closest opponent Ana Munoz.
Dressage winner Oliver Lange was unbeatable today and flew through the obstacles, which resulted in five fastest times. Enrique Solana Puga finished in second place, ahead of Joaquin Sauri Duato. With 12 points difference to Solana, Oliver Lange is in a good position to secure his first international victory.
Juan Real was the clear winner in the four-in-hand marathon. The experienced international competitor left his opponents far behind. José Barranco Reyes has moved up to the second place in the standings, in which Manuel Diaz Martin is in third position.
Rodrigo Bernardez-zerpa Cruz won the Children's marathon and has kept his third place in the standings, which are now lead by Daniel Pineda with his first pony Bob. Dressage winner Marina Rodriguez Ramirez is in second place.
Young Drivers Gregorio Maraver Mondaca and Jaime Bernardez-Zerpa switched positions in the classification after they both had a corrected error of course.
The Cones competition starts on Sunday at 10.30.
Copyright reserved. Acquisition without acknowledgment and permission from info@hoefnet.nl is not allowed.