11 October 2019
Salteras 2019: The Dressage winners
The dressage of the CAI2* and Andalusian Championships in Salteras started this morning with a nice cool breeze. The 24 competitors entered the well-prepared dressage arena, which has a grand view over Seville and the international Ground Jury witnessed some nice dressage tests. Four-in-hand driver Antonio Carrillo Baeza withdrew before the Dressage because of a physical health problem.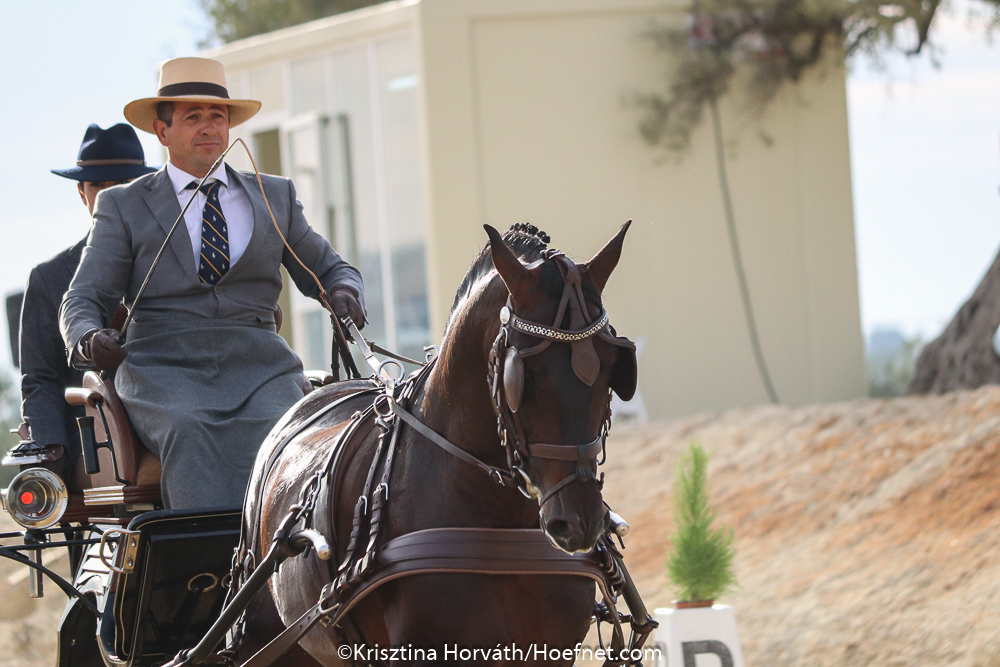 Joaquin Rodriguez Calderon
Photo:
Krisztina Horváth
Joaquin Rodriguez Calderon won the horse single dressage with his beautiful bay Andalusian horse Terremoto XXI, collecting a score of 51,74 points. They stayed ahead of Joaquin Solero Contreras driving Inspirado Bio. Ana Muñoz Fernandez finished with very little difference in third position.
Oliver Lange Felleman drove his nice pair of German warm blood geldings to the winning score of 51,51 points in the horse pairs class. Jose Gayan is in second position, ahead of Enrique Solana Puga.
Juan Real Garcia drove his team of mixed warm blood horses to the first place, leaving the arena with a score of 51,11 points. Antonio Blazquez finished in second place with a respectable difference of more than 12 points. The third place was taken by José Barranco Reyes with his team of good looking grey Andalusian stallions.
Marina Rodriguez won the dressage in the Children's class, while Jaime Bernardez-Zerpa Baya took the top honours in the Young Drivers Class.
Tomorrow's marathon includes seven nice obstacles, designed by Hungarian Course Designer Vilmos Jámbor.
Copyright reserved. Acquisition without acknowledgment and permission from [email protected] is not allowed.