7 June 2014
Saumur: Exciting marathon
The marathon of the international driving event in Saumur, France, took place under very warm weather today. The pony drivers were lucky to enjoy the nice temperatures in the morning, whilst the horse drivers faced the heat later during the day.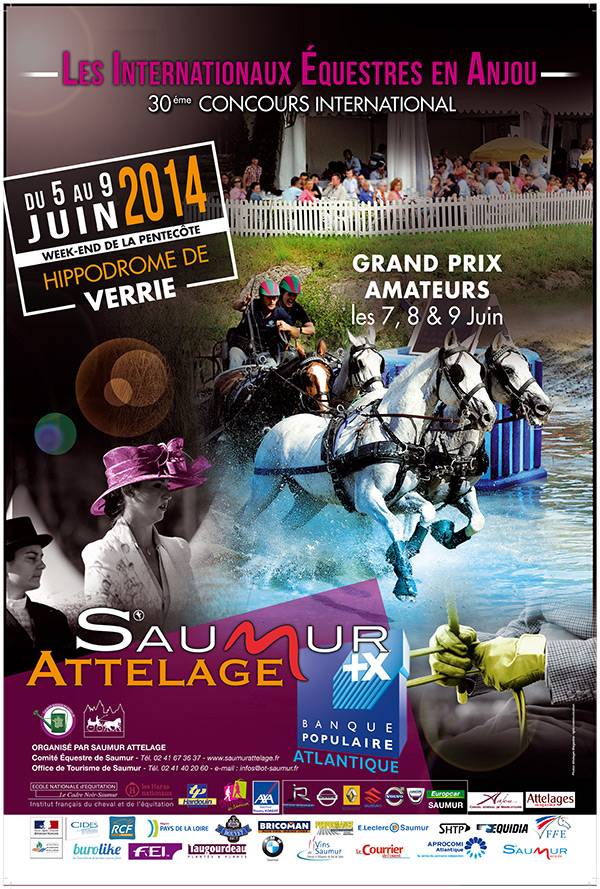 Belgium's Sebastien Pallen won the marathon in the pony singles class. The pony pairs marathon became pray for home driver Karine Poentis and it was Belgium again who won the pony four-in-hand marathon, represented by Nathan Nijs.
The French drivers dominated the marathon in the horse singles class. Anne Violaine Brisou won with her first horse and finished third with her second horse. Yannick Cherel came second, while Benoit Vernay and Renaud Vinck came fourth and fifth. Best foreign driver was Willy Verbeeck from Belgium on the sixth place. Brisou has taken over the lead in the standings from Marion Vignaud, who now lies second ahead of Renaud Vinck, Anne Violaine Brisou again and Dutch driver Frans Hellegers.
Marathon specialist Harrie Verstappen from the Netherlands won the marathon of the horse pairs class, despite one knock down. Verstappen put down very fast times and managed to keep the French drivers at distance. Verstappen leads the standings with 8 points to Amely von Buchholtz, who drove a proper marathon in which she finished 6th.

The marathon of the four-in-hand class was also won by a Dutch driver. Koos de Ronde put down a very good performance and won, using the 10-year-old gelding Zimon for the first time in the lead. Dressage winner Chester Weber however finished with very little difference on the second place. The French four-in-hand drivers showed their best side in the marathon, which existed of 8 obstacles fort his class. Benjamin Aillaud finished third, ahead of Mourier and Coudry. Theo Timmerman had two knockdowns and came 10th.
Chester Weber has an advantage of over 8 penalty points to Koos de Ronde in the standings after dressage and marathon. Koos de Ronde lies second, ahead of his compatriot Theo Timmerman.

The Dutch team is way in the lead of the nations standings, ahead of the USA and host nation France. Belgium has dropped to the fourth place after team member Glenn Geerts had to withdraw in obstacle five when one of his leaders fell.