2 June 2016
Saumur: Von Buchholtz and Siebers win the dressage
The first classes drove dressage today at the internationald driving competition at the Hippodrome de Verrie in Saumur. Amely von Buchholtz (ARG) put down an excellent performance with the KWPN-geldings Wijsneus and Alandro, previously owned by József Dobrovitz.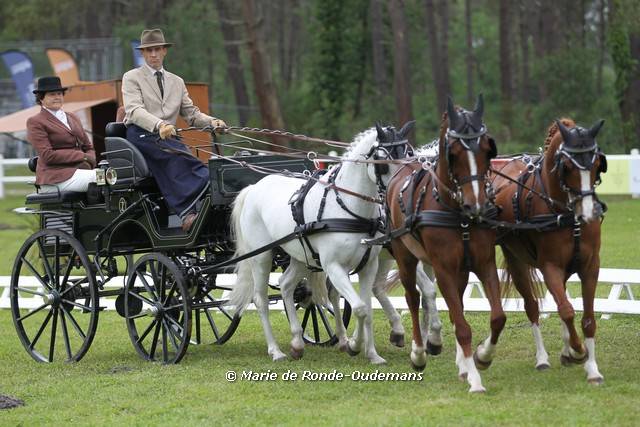 Photo:
Marie de Ronde-Oudemans
Von Buchholtz won the dressage ahead of Frenchman Michael Sellier, also competing with KWPN horses and Dutch former World Champion Harrie Verstappen, driving his piebald experienced pair of Dutch warm blood horses.
The four-star single horse class was won by Dutch Champion Saskia Siebers with her Axel, with some advantage to home driver Marion Vignaud and the talented Stefan Ulrich, son of former World four-in-hand Champion Werner Ulrich, who will compete in Saumur tomorrow.
Sebastien Pallen has taken the lead in the pony singles class, while Maureen Thibaut-McCaw has claimed the first place in the three-star class, just ahead of Canada's Kelly Houtappels-Bruder.