1 September 2019
Sovereign victory for Kelly Houtappels-Bruder in Písečné nad Dyjí
Canadian driver Kelly Houtappels-Bruder was the sovereign winner this weekend at the CAI3* for Horse Singles in Písečné nad Dyjí, Czech Republic. Kelly and her 11-year-old Oldenburg gelding Flip won both the dressage and the marathon and set a double clear round in the cones. The second place went to Laure Philippot from Belgium.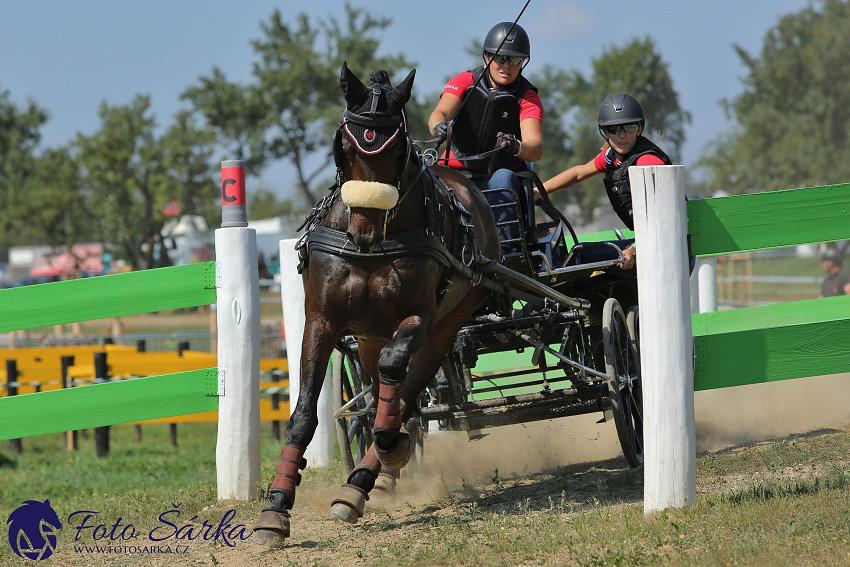 Kelly Houtappels-Bruder
Photo:
Foto Šárka
Kelly and Flip received a score of 45,19 points in dressage, which was judged by five international judges. She herewith stayed ahead of reigning World Champion Bartlomiej Kwiatek who competed with his second horse Bazyli: "We did have a few minor errors, but we have made huge progression overall," says Kelly.
Where team Houtappels-Bruder missed their chances to a top placing at the CAI in Le Pin au Haras last month by missing a compulsory turning flag, the marathon in Písečné went near to perfect for Kelly and her groom Meike: "The marathon was difficult, it was different than what we are used to. The obstacles were built for horse teams and you would think that they would be very wide, but they were tighter than we thought. In this marathon you needed much strength and stamina and the footing was heavy as well. I made a small mistake in obstacle 5, otherwise I would have been even more ahead."
After dressage and marathon, Kelly only had an advantage of 2,68 points to Philippot, who put the pressure on Kelly by driving a clear cones round: "It was a very strange feeling to enter the arena last, I am not used to this at all! It was an open course with some difficulties, but the time was doable," says Kelly who also won the CAI3* in Keispelt (Luxemburg) earlier this season.
Looking forward to Pau
The following and last competition of this season for Kelly is the CAIO4* in Pau, France, which is host to the 2020 FEI Driving World Championships for Singles. "I am really looking forward to Pau. Normally, I finish my season at this time of the year but because we started later, I am really looking forward to it."
Copyright reserved. Acquisition without acknowledgment and permission from info@hoefnet.nl is not allowed.