30 November 2019
Stockholm 2019: Four in-a-row for Boyd Exell
Reigning World Champion Boyd Exell surpassed himself this evening in the FEI World Cup™ Driving Competition in Stockholm, where he won his fourth out of four competitions this season. Koos de Ronde finished in second place, ahead of Glenn Geerts.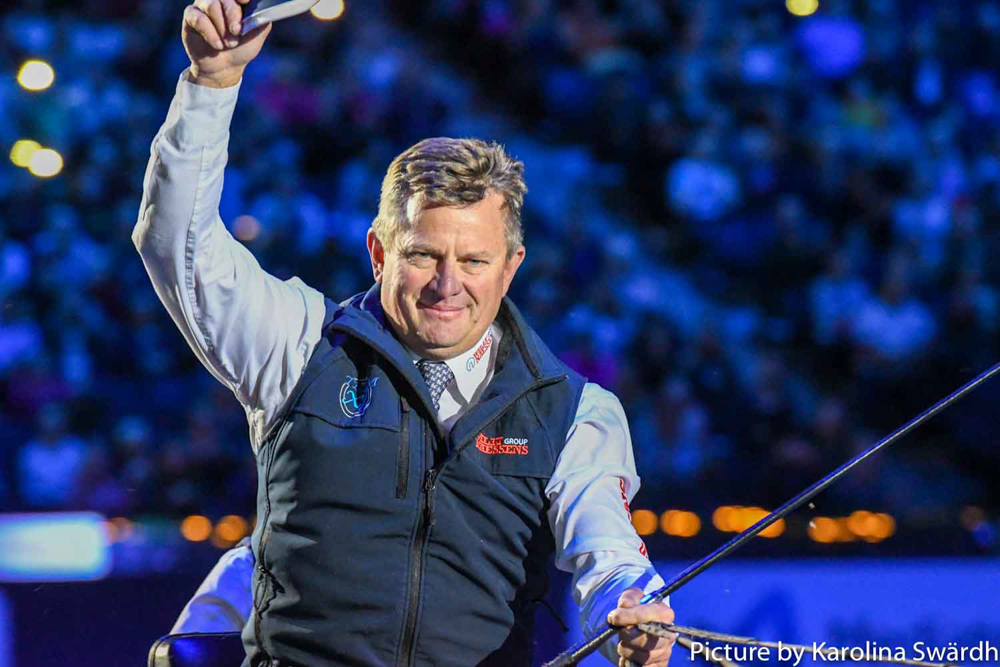 Photo:
Karolina Swärdh
Naar voren gebouwd parcours
International level 4 Course Designer Johan Jacobs had laid out a nice and fluent course for the six drivers in the Friends Arena, where over 10.000 spectators enjoyed thrilling driving sport: It was a nice, forward built course," tells Koos de Ronde. "It was nice to watch and nice to drive. And this proves that a course like this does not change the results. The best will win anyway!"
Boyd drove his team of horses including his new leader horse Orias, who he used for the second time: "Sebastian Hess told me that he thought this was a good indoor horse and every show he is getting better and better. He has a lot of speed, but I still have to bond with him a bit more. I deliberately brought my fast and powerful team to Stockholm and I will bring them to Geneva in two weeks because of the big arenas. I will bring my compact team to Olympia and Mechelen because the arenas there are much smaller with tighter obstacles."
After the first competition on Friday, Koos de Ronde decided to use his experienced horse Oosterwijk's Kasper in the lead again: "It did not go badly yesterday, but with Kasper it just goes better. I was able to drive accurate and fast and I am very happy. Boyd was a class of its own. I tried to put him under pressure, but he drove just super. I am very pleased with my second place."
Glenn Geerts was also happy to finish in third place, as he needed the World Cup points. Mareike Harm impressed once again by driving her team at high speed through the course and only came two seconds short to make it to the top three, who started from zero again. Benjamin Aillaud finished in fifth place, ahead of wild card driver Fredrik Persson.
Results
Results CAI-W Stockholm 30 November 2019:
Boyd Exell (AUS) 134,15
Koos de Ronde (Zwartewaal) 140,30
Glenn Geerts (BEL) 145,39
Mareike Harm (GER) 149,78
Benjamin Aillaud (FRA) 154,33
Fredrik Persson (SWE) 167,90

Standings FEI Driving World Cup 2019/2020 after 4 out of 9 competitions:
1          Boyd EXELL                                      AUS            30
2          Koos DE RONDE                               NED            13
3          Glenn GEERTS                                 BEL            9
4          József DOBROVITZ                           GER            8
4          Mareike HARM                                  GER            8
6          Bram CHARDON                               NED            7
6          IJsbrand CHARDON                          NED            7
6          Chester WEBER                                USA            7
6          Benjamin AILLAUD                            FRA            7
10         Jérôme VOUTAZ                               SUI             2