17 November 2018
Stuttgart 2018: Chardon takes revenge
After his disappointing results in Lyon and the first competition in Stuttgart, IJsbrand Chardon took revenge today in the second leg of the FEI World Cup™ Driving in Stuttgart. Chardon set the fastest times and won the competition in Stuttgart for the third time in his career. Glenn Geerts performed very well again and finished in second place, ahead of Jozsef Dobrovitz.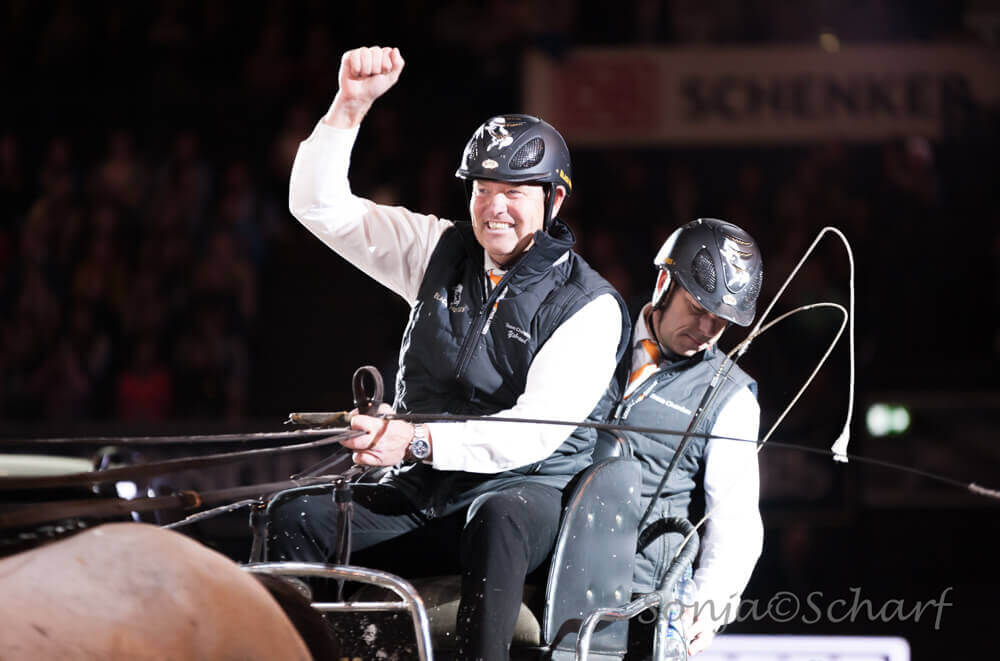 IJsbrand Chardon
Photo:
Sonja Scharf
Chardon set the fastest time in the first round, conquering the nice course designed by German level 4 Course Designer Dr. Wolfgang Asendorf without any faults. Both Jozsef Dobrovitz and winner of the first competition Glenn Geerts stayed clear as well and qualified for the second round over the same course in which the drivers started from zero.
Geerts equalled his good performance and drove clear again: "This was a very good show for me, I drove four rounds and only one ball, so that gives me confidence. I know that I can be part of the top three of the world. This gives me a good feeling for the next show, which is very soon. I am competing in Maastricht again next weekend, so there is not much time to recover, but the horses are very fit."
Jozsef Dobrovitz had two mistakes and finished in third place: "I was very happy to be in Stuttgart and I really enjoy competing here. The course from Asendorf really suited me. I used two new horses in my team this weekend. Unfortunately I could not use one of my best horses because it became ill when we arrived here. But still, I am very happy with my results. I am extremely proud to see that nearly all competitors in Stuttgart drive with horses that I sold to them."
Last man in the arena IJsbrand Chardon won in Stuttgart in 2007 and 2016 and passed the finish line in an extremely fast time of 146,95, four seconds faster than his time in the first round: "I drove safe in the first round. It was a pity that Boyd was unable to make it to the top three because I always like to compete against him. But the level is so high at this moment, you just can't afford to make a mistake. My goal in the second round was to drive a bit faster to have an advantage of one ball. It really went well and I did not expect the knockdown at gate seven."
Chardon had changed one of his leaders after Lyon and will use the same setup of horses in Maastricht next weekend.
The leader horses of top favourite Boyd Exell did not communicate very well, which resulted in two knockdowns and Boyd had to be content with the fifth place behind Chester Weber.
Wild card driver Georg von Stein is trying to build an indoor team for next season and joked the he will need to go shopping at Dobrovitz' in order to achieve higher placing's. Von Stein is not part of the World Cup this season and finished in sixth place.
https://www.facebook.com/FEIDriving/videos/2301403320088249/
Copyright reserved. Acquisition without acknowledgment and permission from [email protected] is not allowed.