15 November 2019
Stuttgart 2019: Boyd Exell rules in Stuttgart
The third leg of the FEI Driving World Cup™ started this evening in Stuttgart. The very enthusiastic crowd in the Schleyer Halle were treated to a fantastic competition, in which Boyd Exell ruled. The master had a few mistakes, but finished with distance on the first place, ahead of Chester Weber and the only lady driver, Mareike Harm.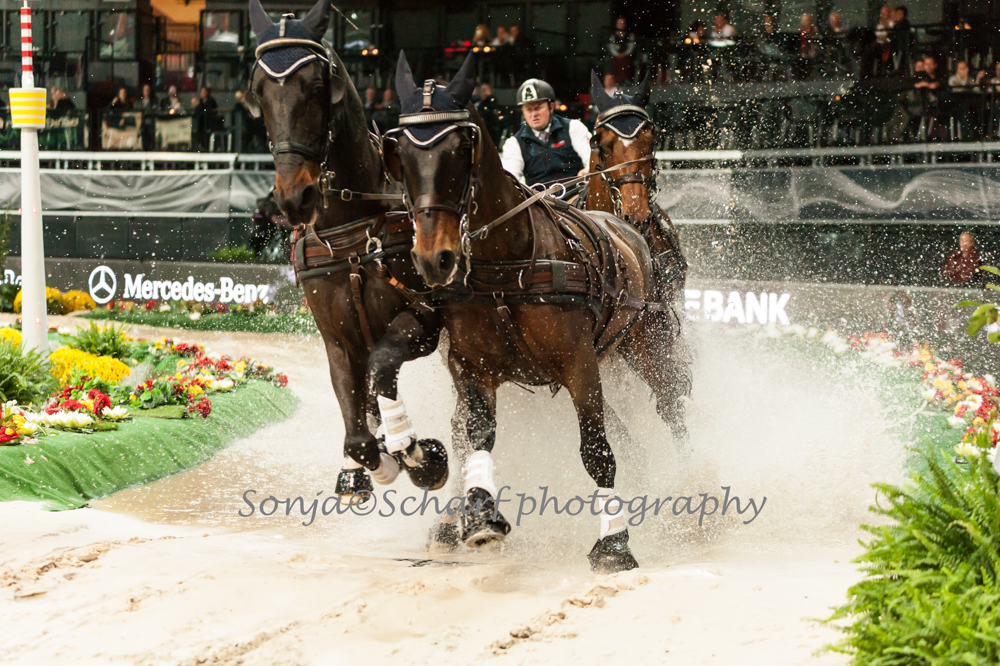 Boyd Exell
Photo:
Sonja Scharf
Hungarian Level 4 Course Designer Gábor Fintha had designed a nice but technical course, including a spectacular water passage. József Dobrovitz was eliminated because he went through a marathon type obstacle when he came off the bridge, which was not in the right sequence. Dobrovitz will be the first driver in the arena tomorrow where he will battle for World Cup points.
The five remaining drivers came back for the second round, in which Fintha had left out the F-gate in both marathon obstacles. The four-in-hand drivers improved a lot after the first round, which resulted in a good competition in which the results of both rounds were counted together. Benjamin Aillaud's team is gradually coming together and the French top driver had to be content with the fifth place today. Glenn Geerts drove a very nice and controlled round and finished in fourth place. Mareike Harm also put the throttle on a bit more and drove a nice and clear round, finishing deserved in third position. Chester Weber drove his team sharp and fast through the course, which resulted in a clear round as well, securing his second place.
Boyd used a new leader horse today which led to a few mistakes in both rounds, but Boyd drove his team at high speed through the course, finishing 11 seconds ahead of Chester Weber.
Click here for the full results
Copyright reserved. Acquisition without acknowledgment and permission from [email protected] is not allowed.