18 November 2017
Stuttgart: Excellent start for Boyd Exell in Stuttgart
Reigning FEI World Cup Champion Boyd Exell made the enthusiastic crowd in Stuttgart hold their breath as he was on the way to the finish and witnessed Boyd's first excellent start of the 17th World Cup season. Boyd's strongest opponents in the Schleyer Halle Ijsbrand Chardon and Georg von Stein finished in second and third place.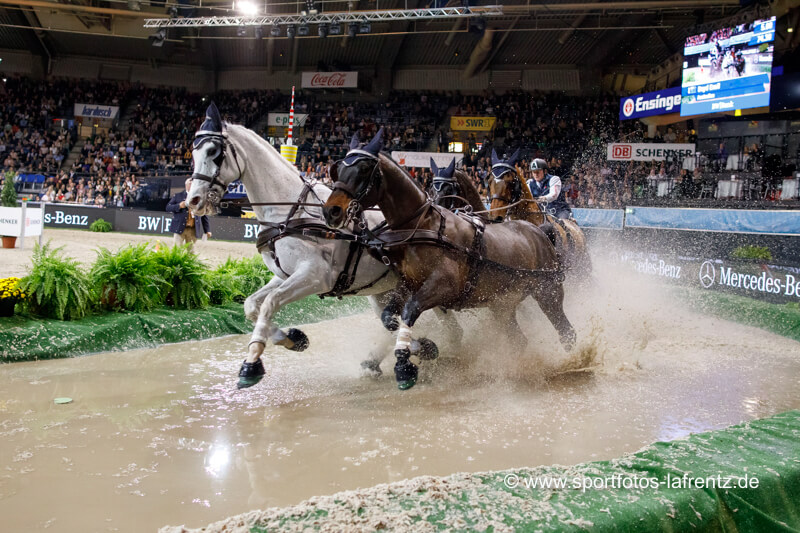 Boyd Exell
Photo:
Stefan Lafrentz
The spectators in the sold out Schleyer Halle enjoyed top sport at the highest level. The new water splash was a spectacular addition to this year's course, designed by Dr. Wolfgang Asendorf.
Boyd, Ijsbrand and Georg qualified for the Winning Round, which took place over the same course and in which the drivers started from scratch again.
Ijsbrand drove his new leader horses and experienced wheelers and set the time to beat, despite one knock down. Georg von Stein drove a perfect clear round, but was just a little slower than Ijsbrand. Last man in Boyd Exell made the battle even more exciting by knocking a ball down. His top time in yesterday's competition was 131 seconds and Boyd managed to beat this with no less than four seconds, claiming his first win on the season.
Chester Weber finished in fourth place, but will received the points for the third place since Von Stein competed with a wild card. Edouard Simonet set a good time, but had two knock downs and finished in fifth place, ahead of Benjamin Aillaud.
Results FEI World Cup™ Driving Stuttgart:
Boyd Exell (AUS) 132,14
IJsbrand Chardon (NED) 137,20
Georg von Stein (GER) 138,83
Chester Weber (USA) 153,73
Edouard Simonet (BEL) 157,34
Benjamin Aillaud (FRA) 172,40