22 May 2022
Test event Pratoni 2022: Impressive performances on a new marathon course
From a single pony to some of the world's leading four-in-hand drivers, the six technical obstacles designed by Josef Middendorf, set in the beautiful parkland at Pratoni del Vivaro, enabled both flowing routes and tight turns, for all combinations. The positioning of the obstacles around the natural grandstand of a central mound gave a great vantage point for spectators to view some exciting driving.
In the horse fours, Jόszef Dobrovitz Jr. produced a polished and consistent round with his fit and athletic Dutch warmblood horses to win the marathon and take the overall lead. Beforehand, he thought that the obstacles might be tight for his big horses, but he used all his skill to ensure that they kept moving forward and with a blend of quick turns and springing the horses into canter where possible, his slick rein handling gave the appearance of a smoothly driven marathon.  His performance is all the more remarkable as he was unwell on Friday so to have recovered and be able to clinch a win in this demanding phase shows what a first-class driver he is.
Pairs
The horse pairs class is often one of the most exhilarating to watch on the marathon with attacking driving resulting in lightening times. True to form, Italy's Giorgio Proietti stormed the obstacles to record a decisive win, being fastest in five of the six obstacles.  His score of 86.98, combined with his dressage, gives him 144.63 to rise from fifth into first, just ahead of countryman Jozsef Dibak, who retains his second place on 144.80.
Misdee Wrigley Miller, with Boyd Exell as back stepper, drove her striking black horses round safely, not quite getting the times of the leaders, but did enough to secure third position after both phases.  All nine of the pairs drivers completed the course and with the quality of the competitors, the showdown in the cones should be scintillating.
Valuable insights
In the three-star horse singles, two of the three completed and lying first is Gabriele Grasso, who showed some quality driving, aided by a positive and willing horse.  Elsewhere, the junior, children and U25 drivers made the most of being able to tackle a world class course alongside some of driving's most famous names.
With the newly built obstacles, and the introduction of the initial timed warm-up that includes a test obstacle which the drivers have a limited time to practice in, there was plenty for the organisers to consider during this important dress rehearsal for the World Championships themselves.
FEI Director of Driving Manuel Bandeira de Mello, who is at Pratoni for the weekend, stated: "After today's excellent marathon, we were able to gain some valuable insights into any adjustments we can make ahead of the World Championships."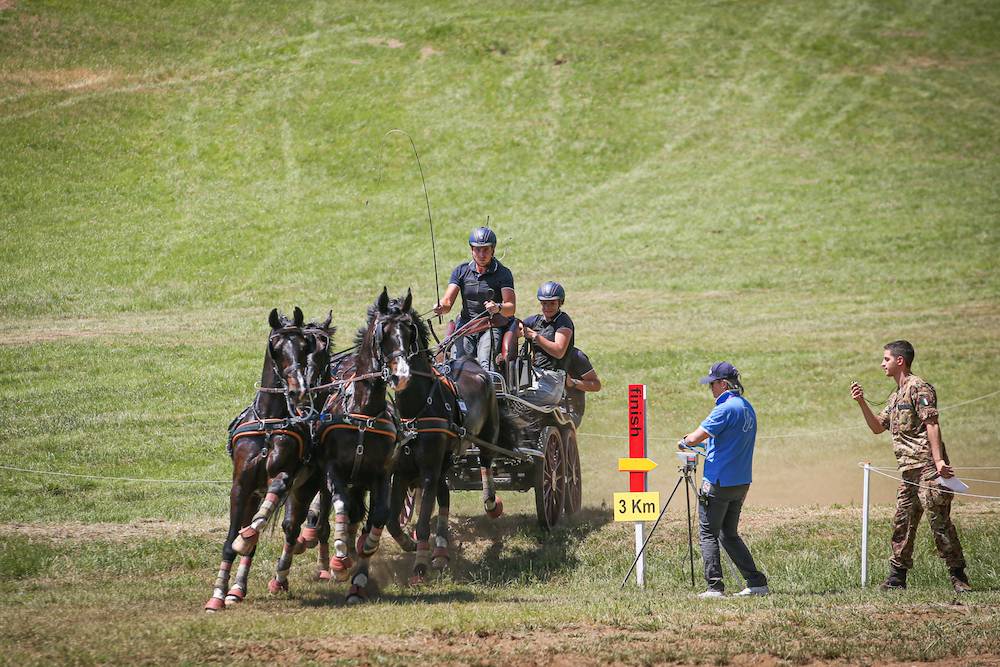 Jozsef Dobrovitz Jr.
Photo:
Massimo Argenziano