28 December 2018
Theo Timmerman renews cooperation
At the time when some of the world top drivers concentrate on the ongoing World Cup season and others are taking a rest, Theo Timmerman is busy with the new arrangements for his team. He reconfirmed cooperation with Roman Petr, his sponsor over the past four seasons, and changed the home location for his team of driving horses from Varsseveld to Laag-Soeren.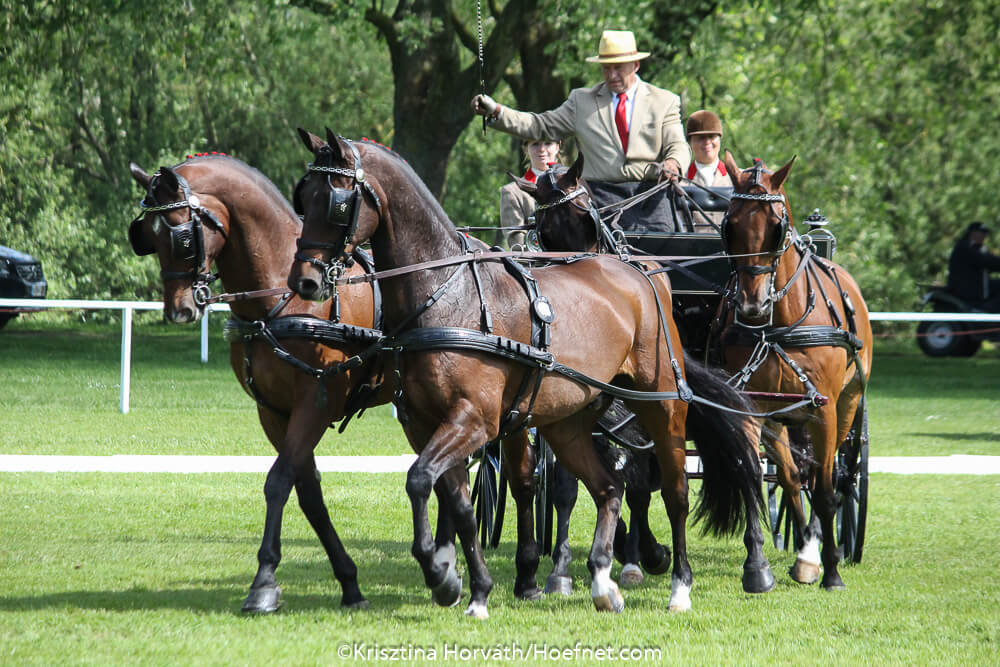 Photo:
Krisztina Horváth
Timmerman, who wants to concentrate on the 2020 World Championship that takes place in Kronenberg, the Netherlands, is going to use a combination of older, very experienced horses, and the younger talent. His team, owned by Roman Petr, will consist of his longtime leader pair, Boy and Mister, young, but experienced Alex, and Binkie, whom he has already used in competitions in the 2018 season. A new addition to the team is Alex's half-brother Sam, who will either join him in a wheel and possibly move aside Boy in the lead. Some options are still open for the sixth horse to this "old-new" team. "I want to build the team for the upcoming two seasons on experience, of which Boy and Mister provide a lot. At the same time, we have quite some young talent in the stable, some of it with enough experience already. All in all, I believe we can combine experience and talent in our team for the next two seasons and come up with the setup that can aim for the top placements in the next World Championship", says Timmerman about his future ambitions. While dropping off from the Dutch four-in-hand national team and missing the first Championship since 2006, he is still very much convinced he can do well in the future, whether a team member or an individual driver.
Helping Timmerman prove he still belongs to the world's top drivers club after a "strange" 2018 season is what made his sponsor, Roman Petr, renew the cooperation. "The last season has been a little weird with the World Championship overseas and Theo dropping off from the team. Nevertheless, I will continue my support for Theo and let him use my horses. I am positive he can achieve some good results in the 2019 European Championship and 2020 World Championship. For me, personally, I will not be present at every competition like in the past seasons, but will definitely be in touch as much as the time permits and actively participate in some competitions as well", outlines Roman Petr the new setup with Timmerman.
Despite moving into a new location just before the end of the year and some time needs to settle in a new place, Timmerman is already busy with the team and working to have everything fine-tuned for the first major competition of the season, which is, coincidentally, taking place in Kronenberg – the same place where he is aiming to do well in 2020.
Copyright reserved. Acquisition without acknowledgment and permission from info@hoefnet.nl is not allowed.