23 January 2019
The best of driving coming to Beekbergen and Valkenswaard
The KNHS has awarded the Dutch National Championships and the Dutch CAIO to the organizations of Beekbergen and Valkenswaard. The Dutch national championships for four-in-hand drivers will be driven in 2019 and 2020 during CAI Beekbergen, and Driving Valkenswaard International (DVI) will host the nations cup for the second time.
CAI Beekbergen
The organization behind CAI Beekbergen are an experienced group. With more than 30 years of history, the international competition has held an important place on the driving calendar for many drivers. Mieke van Tergouw, owner of the Riant Equestrian Centre in Beekbergen and the driving force behind the event tells: "We are very happy to be hosting the National Championships the coming two years. Our competition will be undergoing a number of changes this year. Our sponsors and other relations have pushed to hold the competition outside of the summer vacation, and as a result will now take place the end of June. The main show grounds will be undergoing a transformation with a larger VIP tent, and a roof-top terrace which will overlook the entire terrain. The course design will be done by Barry Hunter, who will also be building the course in Germany this year for the Pair World Championships."
The National Championships is part of the international four-in-hand competition which will be run alongside an international pair horse competition and the KNHS Witte Van Moort Para Men Trophy.
A full program is expected with more than 50 pairs and 30 four-in-hand drivers starting. In 2019 CAI Beekbergen will be held from 26-30 June.
More information can be found at: www.caibeekbergen.nl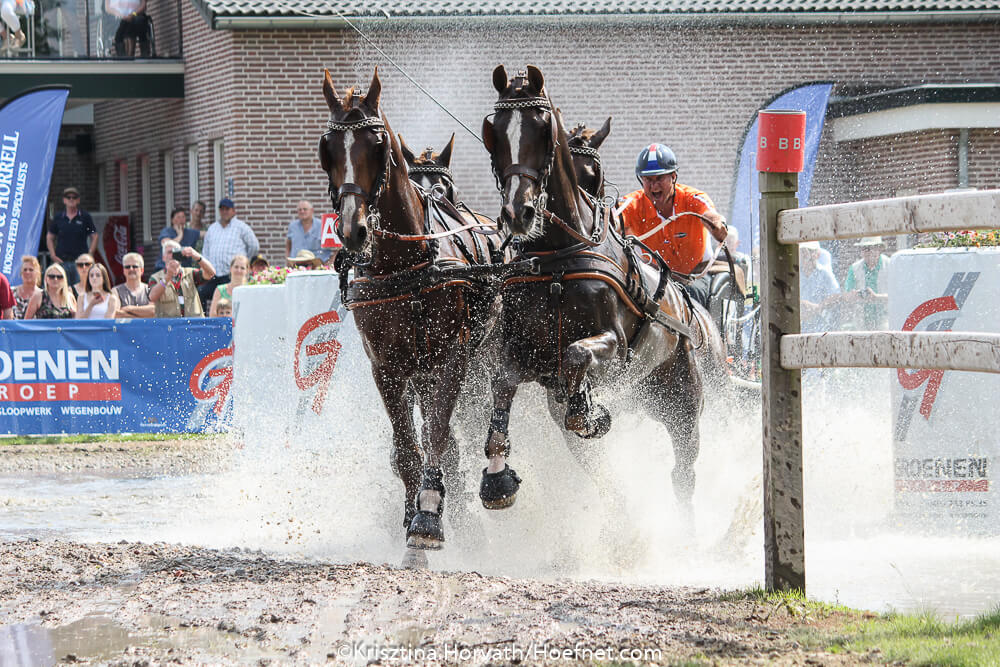 Photo:
Krisztina Horváth
DVI Valkenswaard
After a successful edition of the four-in-hand nations cup in 2018, the KNHS has once again awarded the four-star status (CAIO4*-H4) to Driving Valkenswaard International for both 2019 and 2020. DVI will be held this year from 29 May to 2 June on the grounds of Exell Equestrian in Valkenswaard.
"We are honoured that the KNHS has once again trusted us, and has given us the opportunity to host this four-star competition," tells organizer and host Boyd Exell. "This will be the fourth edition of Driving Valkenswaard International. A driving competition featuring all of the international top teams. The four-star status has the added bonus of awarding the four-in-hand drivers extra points towards the World Cup qualification rankings."
During Driving Valkenswaard International the top of the international driving sport (pair and four-in-hand) will battle against one another for the top honours. In addition to the nations cup, drivers will also compete against each other in an individual competition.
Driving Valkenswaard offers five full days of programming with more than just the spectacular international equestrian top sport.
For more information see www.drivingvalkenswaard.com