21 September 2018
Tryon 2018: Boyd Exell and Team USA in the lead
The World four-in-hand Driving Championships at the FEI World Equestrian Games in Tryon started early this morning when first starter Jerome Voutaz entered the dressage arena. Title defender Boyd Exell started later in the morning and drove his beautiful team to a well-deserved first place. USA's Chester Weber finished in second place, while his team member Misdee Wrigley-Miller finished in fourth place, herewith topping the leaderboard position of Team USA in the Team rankings.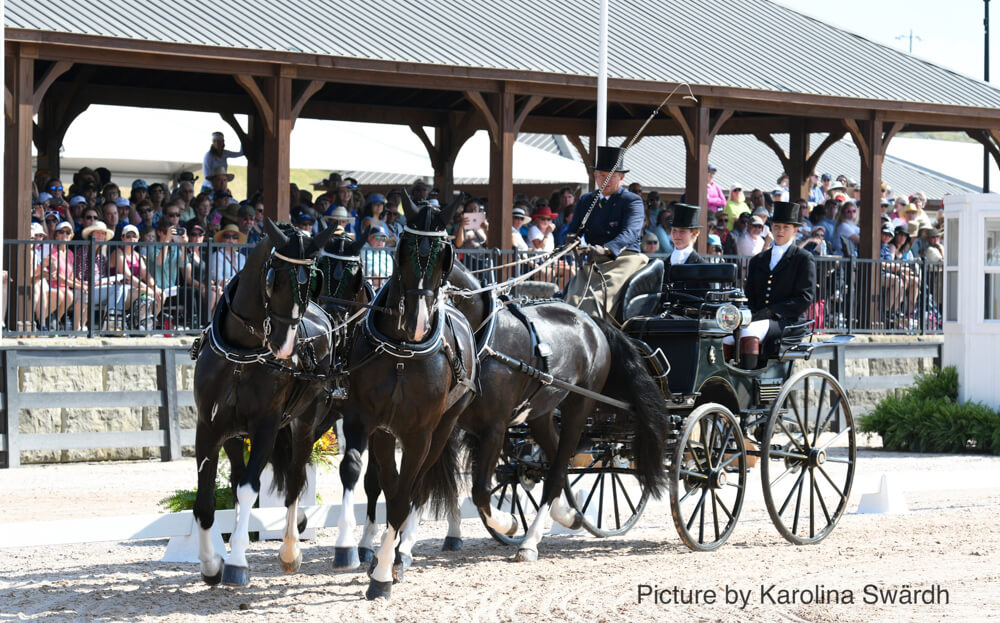 Boyd Exell
Photo:
Karolina Swärdh
Because of the fact that the alternative driven dressage arena was to be transformed immediately afterwards into a jumping training area, the dressage tests were scheduled every 10 minutes instead of the normal 11 minutes. But this worked out fine and the competition finished in time.
Boyd Ewell was unanimously awarded with the first place by the international ground jury, who gave him a total score of 31,68 which puts him in the lead of the individual competition: "This is a super experienced team. We parked up under the covered building and only started trotting ten minutes before the test. We kept them cool and then came out. This was not my personal record; in Kentucky, I had a score of 30 points. We did a beautiful test, but not the same power and movement as this team. It is almost as if the judges don't want to break a barrier. This is a shame because these horses deserve a better performance. They are the Valegro and Totilas amongst the driving horses. This is the best team I have ever had. That does not come very often, it takes 20 years to build a team."
Chester Weber finished in second position and was very pleased: "The horses felt really good, I could not be more pleased with them. I am humble and proud of what they all did, including the team behind me."
IJsbrand Chardon was the last man in the arena and drove a nice and clean test: "I had trained for Tryon with Darco, but two days before we left he turned out to be not fit enough, so I had to change. But I have not scored 41 points before this season and to have this score at a World Championships is a satisfying score. My goal tomorrow in the marathon is to reduce the gap with Chester (5,96 points) to one ball in the cones. The gap with Boyd (9,38 points) is too big, but nothing is impossible," concludes Chardon.
There is a discussion about the A-section, which is going, much uphill and downhill. Because of the heat and the humidity, the chefs d'equipe have asked to replace the A-section with a more horse-friendly warm-up phase.
Click here for all starting orders and results.
Click here for the photos of the dressage.