21 April 2018
Test event Tryon 2018: Wrigley-Miller Claims Leader Position
Following the conclusion of the Dressage phase of FEI CAI 2* competition as part of the venue's inaugural Driving event, Misdee Wrigley-Miller (USA) holds the lead heading into Saturday's Marathon on a score of 39.99. Chester Weber (USA) sits in second with 41.12 points, and third place is controlled by Allison Stroud (USA) after receiving a score of 49.97.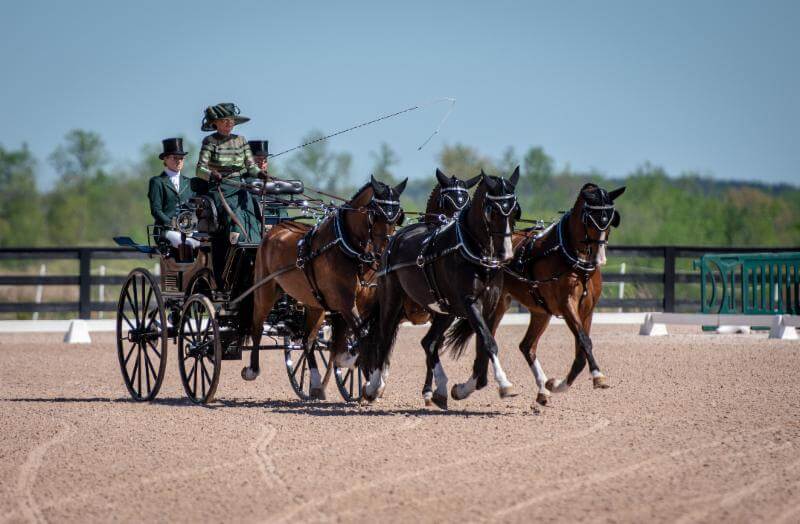 ©Sue Stickle Photography & ©TIEC.
Wrigley-Miller considers herself a newcomer to the sport despite having competed at WEG in 2014, as she more recently added Driving to her lifelong experience in traditional saddle seat competition. She trains with Boyd Exell (AUS), the highest-ranked driver in the FEI World Cup™ Driving Standings, at his home base in Holland throughout the year and has gained valuable experience since 2014. 
Coming to TIEC following a strong finish at the Live Oak International CAI 2*, she reflected on adjustments made to her team, composed of horses Bravour 54, Beau, Bolino D, and Calipso 85: "I've been playing with my leaders a little bit – I changed one of my leaders and that worked out really well for me. The horse that I drove in the lead at Live Oak wasn't a confirmed leader and it just showed. With his inexperience, he didn't really understand his job. I swapped him out with a horse that knew his job and he saved me a few times today," she explained.
 For the first Driving competition ever held at the venue, Wrigley-Miller said she was very impressed with the facility and looks forward to testing the Marathon track. "It's looking like it's going to be amazing. Number one, the barn facilities are the best I've ever seen at a show facility – the safety of the barns – it's all top, top class," she commented. "There's no question that the venue is just absolutely gorgeous. We were going along by the creek today and it's going to be very soothing tomorrow to hear the creek – it'll be like a zen fountain!"
The Marathon phase for the FEI CAI 2* will be held at the White Oak property at TIEC, beginning at 11:00 a.m. EST.