24 October 2016
Second consecutive National title for Steve Wilson
The Hermitage Classic CDE played host to the 2016 USEF Pair Horse Driving National Championship on October 21-23. The picturesque Hermitage Farm provided the backdrop for co-owner Steve Wilson to claim his second consecutive championship title on his home turf.
Wilson (Louisville, Ky.) began the competition with a great dressage test, earning a score of 49.79 from the Ground Jury of Martha Hanks-Nicoll (USA), Danute Bright (USA), Barry Capstick (IRE), Joaquin Medina (SPA), and Jiri Kunat (CZE) to take the early lead.
"I've got a new young pair of Dutch Warmbloods that I found in Hungary. One of them is hotter than the other. I really had one of the best dressage tests I've ever had, regardless of the score; I felt really good about it," Wilson explained. He and his own mixed KWPN and Lipizanner pair put forth a determined effort over the tough marathon course designed by Barry Hunter (GBR), winning the phase with a total of 95.67 penalties and having the fastest times in four of the seven obstacles. Wilson clinched the 2016 title following Sunday's cones phase. His lead going into the final phase came in handy as he had three balls down for nine penalties and 6.13 time penalties over the challenging track. Wilson won back-to-back titles with a final score of 160.59.
U.S. Driving Coach Thorsten Zarembowicz pointed out that Wilson had three different horses from the last time he won the national title, making Wilson's win quite impressive.
Chet Halka (Millstone, N.J.) started off the weekend with a solid dressage test that received a score of 54.51. He and his own KWPN and Oldenburg pair had a strong marathon performance, collecting 101.66 penalties and having the fastest times in three obstacles. In the cones phase, Halka left all the balls up, but had 7.59 time penalties. His performance was good enough to win the cones phase and earn the Reserve Champion title with a final score of 163.76.
Joan Fernandez (Murrieta, Calif.) and her own Friesian pair had a respectable dressage test to receive a score of 67.55. They had a steady marathon round to tally 174.82 penalties. Fernandez and her pair finished out the competition with four balls down for 12 penalties and 20.8 time penalties in the cones phase, finishing third with a score of 275.15.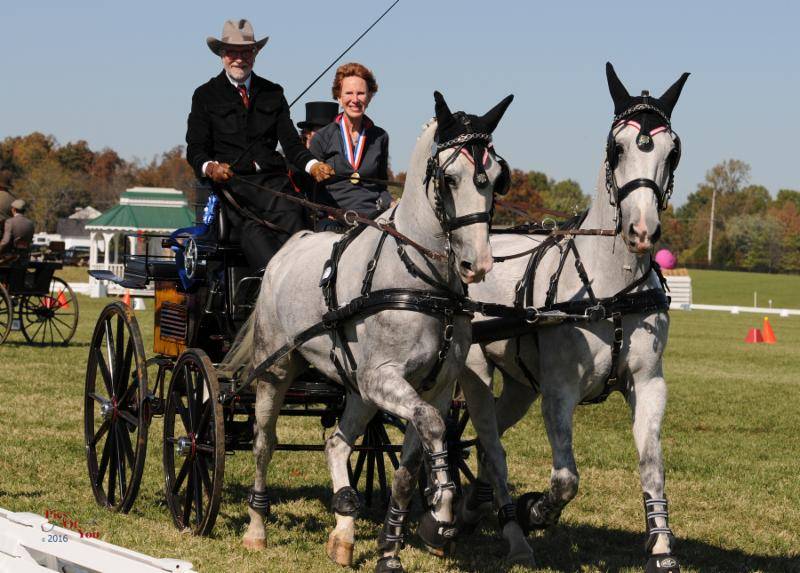 Steve Wilson won the national title for the second consecutive time
Photo:
PicsofYou
Elimination Chester Weber
International top four-in-hand driver Chester Weber was eliminated following the cones phase as it appears his new carriage was too narrow following inspection from the FEI steward. Unfortunately, Chester's carriage was measured by the same steward on Friday and they failed to notify him of the issue.